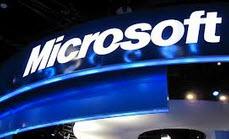 Executive Summary
Microsoft (NASDAQ:MSFT) recently announced that its CEO, Steve Ballmer, would be retiring within the next twelve months. The Board of Directors is starting a CEO search. Ballmer is leaving with the company in the midst of a transition. This is actually the exact right time for Ballmer to go. The company is embarking on the next leg of its journey and needs an infusion of fresh blood at the top.
The company announced that it was realigning its divisions to focus on services and devices. Microsoft has been shifting its business away from only personal computers to creating a Microsoft eco-system, a computing platform where various devices will access data through the internet. Microsoft is focused on creating a seamless experience across all end user devices.
Currently Microsoft is a solid value stock with a fortress balance sheet and priced accordingly. I posit the stock is on the cusp of a major paradigm shift toward growth. All bets are off in regards to what happens next for the company. I believe Microsoft has substantial upside from here. In the following sections I will perform an analysis of the stock and lay out my bull case.
Recent Earnings Report Quick Recap
On 7/18/2013, MSFT reported fourth quarter 2013 earnings of $0.66 per share. This result missed the $0.75 consensus expectations of the 29 analysts following the company and missed last year's fourth quarter results by 1.49%. The next earnings announcement is expected on 10/14/2013.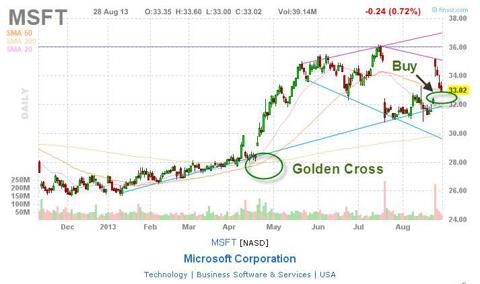 Market Comparison

Microsoft looks strong in comparison to the industry, sector and the S&P 500. The big stand-out is the huge discount in Microsoft according to P/E ratio comparisons. The stock is trading for a 40% discount to the S&P 500 even though Microsoft's growth rate is expected to be nearly 30% higher next year. Another major positive is the PEG Ratio. Microsoft's is 1.5; this is about a 50% discount to the average PEG ratio of stocks in the S&P 500 and Technology sector specifically.
Fundamental Peer Comparison
Please review the following analysis of key fundamentals regarding Microsoft vs. its peers and industry averages. The tables were provided by Scottrade.
Profitability

Microsoft is outperforming the industry and its peers with regard to profitability. With gross margins slightly better than its peers and on par with the industry average Microsoft is performing well. Moreover, when it comes to net profit margins Microsoft is doing considerably better than its peers and the industry average. This tells me Microsoft is doing a good job of managing overhead and fixed cost.
Valuation

Microsoft looks good when it comes to valuation. The P/E comparisons have Microsoft trading substantially lower than its peers and the industry average. Microsoft's P/E ratio being below the industry average signals that investors are not willing to pay a premium for this stock, so, if you're looking for value, Microsoft has it. Microsoft is trading for 10.8 times free cash flow. The company is a massive cash cow. Efficient and effective use of this cash flow is one of the keys to success for Microsoft.
Growth

Sales growth is meager and that is the company's main point of concern. EPS growth is up 29% and much better than its peers and the industry average at negative 33% and 1.84%, respectively. EPS leads the way. This is a good sign the company has the firepower to fuel growth. Furthermore, during the past year, earnings growth has outpaced its historical five-year growth rate.
Financial Strength

As you can see, Microsoft is not highly leveraged. Microsoft has plenty of liquidity and cash reserves. The issue for Microsoft is how to use the cash wisely and stay on a path to increased profits. You can see how one could get distracted with all the evolving opportunities in the marketplace. Therefore, not every acquisition is going to be a home run. Finally, a 35% payout ratio regarding the current dividend is for the most part in line with peers and the industry average. Microsoft has been steadily buying back shares on plan as well.
Management Effectiveness

Management's effective use of company profits and assets is probably the most important data to analyze when deciding to invest in a company. Microsoft's management is doing a good job regarding ROA, ROE and ROI, but there is always room for improvement. Another big positive is the ROI comparison specifically. Microsoft's ROI blows the industry average away by nearly 100%. Microsoft's is 22.59% while the industry average is only 12.94%.
Positive Catalysts
Ballmer's Departure
The timing of Steve Ballmer's departure is perfect. The fact the stock popped on the news is a huge tell. The announcement of the new CEO should provide another bump for the stock. With Ballmer gone, the company can reinvent itself. The selection of the new CEO is paramount. Even so, I don't expect Microsoft to screw this one up. Whoever it is will be a boost to the stock and to the morale of company employees.
Financial Strength
Microsoft has an enormous amount of firepower. It can move into a new industry and start making profits in short order by acquisition and expansion. Microsoft's strong financial position allows the company to make moves which lead to opportunity for greater profits.
Downside Risks
Competitive Pressures
The industry is cyclical and subject to abrupt fluctuations in pricing for products and services. The company has done a great job of creating value in the PC space, but it has been a different story when it comes to its mobile efforts. The fact that Microsoft has realized it needs to make major changes to keep up with the times is good news, but it doesn't necessarily mean the company will be successful. There is a vast amount of risk ahead for Microsoft.
Production Cost Risk
Companies are always looking for ways to cut costs. Sometimes hidden or unexpected costs occur during the process which results in less-than-expected unit cost reductions. This will also have a negative effect on profits.
Macro Market Exposure
The month of August has been one of highs and lows. It seems the summer doldrums may finally be taking effect as the performance of the major averages have turned south. The market looks frothy to me. The latest Bull Run looks extremely long in the tooth at over four years. A rising tide lifts all boats, but it can sink them just as easily. Stocks tend to take the stairs up and the elevator down. With the recent geopolitical tensions over Syria rising, it would be prudent to proceed with caution.
Execution Risk
The fact that Microsoft is so formidable regarding to size and strength is both good and bad. With a company of this size, the constant redeployment of personnel and assets can become a money drain if not managed closely. Microsoft will need to stay on track regarding the realignment of operations to be successful.
Conclusion
Microsoft may have some more downside near-term given the recent softness in global markets and news regarding Syria. Nevertheless, I posit this sell off is a buying opportunity for potential shareholders. What I like most about Microsoft is the fact that the company is looking to stay relevant. The changing of the guard at the top prior to the company embarking on its next evolution is just what the doctor ordered. When the news of Ballmer's exit came out recently, the stock popped 7%. Now, that entire gain has dissipated due to the Syrian crisis. The stock is starting to look attractive at these levels. I plan to layer into a position over time to reduce risk. I think the macro market selloff isn't over just yet and Microsoft's stock will not be immune to a selloff based on geopolitical risk.
Disclosure: I have no positions in any stocks mentioned, and no plans to initiate any positions within the next 72 hours. I wrote this article myself, and it expresses my own opinions. I am not receiving compensation for it (other than from Seeking Alpha). I have no business relationship with any company whose stock is mentioned in this article.
Additional disclosure: This is not an endorsement to buy or sell securities. Investing in securities carries with it very high risks. The information contained within this article is for informational purposes only and is subject to change at any time. Do your own due diligence and consult with a licensed professional before making any investment.