Protectionism is alive and well and the Chinese government is tightening pressure on foreign investment. Most recently the country's lucrative online gaming industry is seeing tougher regulations aimed at protecting local gaming companies who are finding it difficult to compete with larger players.
On Saturday, the China regulatory body, the General Administration of Press and Publication issued an announcement which bans foreign investors from participating in profits from the country's online gaming business. These investors are not allowed to participate in wholly owned investments, joint ventures, or any other manner in which they could profit from the thriving business.
While the issue at stake appears to be protectionism (an individual country protecting industry within its borders by shutting out foreign competition), the method used to enforce this issue appears to be censorship. The new restrictions would require approval for all new games launched within China. This adds another layer of risk to businesses who produce these games as companies could spend millions of dollars to develop games only to be turned down by regulators after the games had been produced.
New games are not the only targets as any upgrades to existing programs will also have to be approved. Nearly every game that has been successful for a long period of time, has performed well because of continual upgrades to the platform. Gamers continue to play and generate revenue because the game continues to evolve and capture their imagination. If this process is thwarted it will likely allow smaller gaming companies to compete, but it could also be very detrimental to to the industry as a whole.
One of the companies which could be most affected by the regulations is Netease.com (NASDAQ:NTES), which recently bought the license to distribute World of Warcraft in China. Despite the fact that this license was formerly held by The9 Ltd. (NASDAQ:NCTY), China has delayed approval of the game now that NTES has the license. If games that are currently licensed in China face scrutiny once they are transferred to another parent company, it could be a significant burden on commerce.
Other companies that may be effected include Shanda Interactive (NASDAQ:SNDA) and their recently issued spin off Shanda Games (NASDAQ:GAME). The uncertainty in the market surrounding these regulations has caused the stocks to trade off even given the positive fundamentals. It does little good to own a company with strong earnings and a healthy cash position if the Chinese government is going to cap growth or potentially nationalize the industry.
While the news is certainly negative for the industry, there are many regulatory bodies in China – not all of which appear to be against foreign investment. The GAPP has significant influence, but China is also cognizant of the benefit of foreign investment to drive industry growth and technology advancement. One player in the sector that appears to be holding up well is Perfect World (NASDAQ:PWRD). The stock has pulled back to its 50 day average, but technically still looks very sound. The company is expected to earn $3.43 per share in 2010 which represents a 21% growth rate over 2009. The stock is just above $40 which is a reasonable multiple given the growth.
Investors should probably wait for a bit more clarity from regulators before committing significant capital, but PWRD may merit further investigation. A good strategy may be to initiate a small or partial position at the current price and then begin to build that position as the situation improves.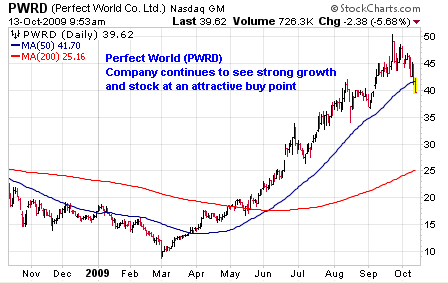 Disclosure: Author has a long position in SNDA and NTES in the ZachStocks Growth Model