Shares of GameStop (NYSE:GME) have enjoyed a strong ride this year, up over 96% YTD and 172% in one year. Just over a year ago (August 14, 2012), I recommended buying GME based on unrealistically poor expectations, a strong balance sheet, enormous short float, strong dividends, and growth in digital sales. I set a value of $35 on GME - a value I believe was higher than any major analyst at the time. For reference, a chart of GME is below.

(Source: Google Finance)
Past Recommendations/Actions
Feel free to skip this section if you want to get to more substance. However, I think it is important to see my previous actions on the stock for the perspective that I understand the risks inherent in this stock and potential upside as well. It is also crucial to understand my short approach so that you understand my potential biases.
In late November ('12), I sold off some shares (approx. 30%), recording a 58% return in 3m:

On January 6th, I updated based on my expectations for Holiday sales:

During the January dips, I emphasized the buying opportunity:

In late April, I closed the position as the price clearly began to diverge from performance:

I sold close to $34, and as you can see from the 1y chart, the stock tanked post-earnings.
For clarity on my current short position, I have included the two relevant stocktalks below:
I always update my holdings on both Seeking Alpha and Twitter, and I often talk about my intentions in attempts to be as transparent as possible.

Primary Driver of GME Gains: The Shift in Short Interest
Last August, GME had a short interest of 40% against a stock yielding a dividend of over 5%, a solid balance sheet, and a massive repurchase program. Not difficult to tell this wouldn't end well. Shorts have covered significantly since then, with the August 15 ('13) reading at 16.8% of total shares. This is the lowest % I have seen since I first started watching GME back in 2010, unfortunately Nasdaq only posts the last 12m, so I am working off of memory, but I remember 2011-2012 readings in the 30% range.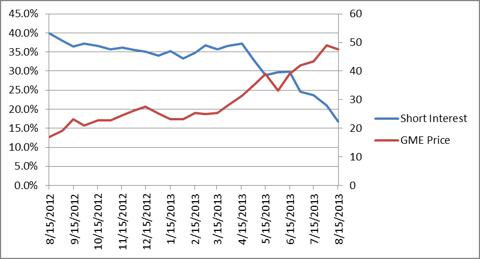 Of course, correlation does not necessarily mean "causation," but frankly speaking, with GME only 2 things have changed in the 'investment thesis' since last year: the price, and the shares shorted.
Console Refresh is not a 'New Development'
Anybody following the gaming sector has known that the next Microsoft Xbox (NASDAQ:MSFT) and Sony (NYSE:SNE) Playstation were coming out in fall 2013. Honestly, the only surprise since last summer has been the horrendous performance of the Nintendo (OTCPK:NTDOY) Wii U.
I have seen a few ridiculous articles hyping GME's pending performance, which include a 26 August article from Business Week and a 27 August article from Gamasutra. The Business Week article is a rehash of all things obvious - generally that this season will provide a "major boost" to performance.
I don't doubt that GME will post an awesome quarter or two. They might even earn over $4 per share, a record year! However, make no mistake: this is the last console cycle where GME will have any relevance in the market. GME will have a thriving market for Wii, Wii U, Xbox 360, and PS3 trades until 2016 or so, then we will be looking at a declining business that more or less resembles a RadioShack (NYSE:RSH).
Growing Digital Sales a Misnomer
The Gamasutra article highlights GME's success in growing "digital revenues," but it also mentions some of the ridiculous metrics. Most of these revenues are not actually online purchases from GME's digital platforms such as Kongregate or GameStop Impulse, but are actually "digital goods" purchased in hard copy format from local stores.
These "digital sales" include items such as booster packs, expansion sets, downloadable content cards (DLC), and even Steam Wallet gift cards. These are items that are being purchased at GME by consumers who do not purchase online either because they do not have a credit card (under-banked) or because they are under 18 and only have cash. Both of these consumers could easily purchase the same products from Wal-Mart (NYSE:WMT) or any local convenience store. Here in the Washington DC Metro area, all of the local 7-11 stores now sell Steam Wallet cards. How much longer until they sell the latest Call of Duty DLC cards too?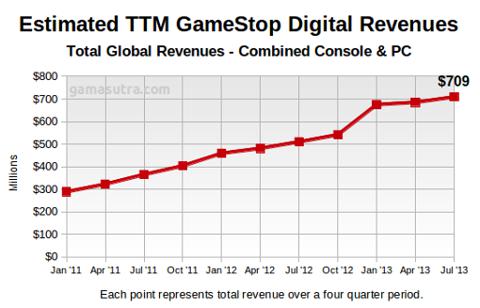 Source: Gamasutra Article: "How GameStop may thrive - not just survive - in the age of digital."
Mobile Hardware Business is Nothing Special
GameStop has also recently branched out into digital hardware sales competing more directly with RadioShack and Best Buy (NYSE:BBY). GameStop is well managed, and this business promises to offer incremental EBITDA, but at what levels?
Ultimately GameStop will just be "another player" in the direct sales business and "another player" in the pawnshop type environment for digital hardware. With many cellphone companies, such as Sprint (NYSE:S) and AT&T (NYSE:T) getting into the repurchase/trading business with their handsets, GME's margins will ultimately fall close to commodity levels. Best Buy is also emerging as a major player in this market.
Valuation?
GameStop was clearly undervalued last fall based on realistic expectations for free cash flow, but they have now surpassed a reasonable level. GME has earned an average of $440M in free cash flow over the past 5 years, and I expect $600M this year. I expect $500M the next year, and a steady tapering downward by approximately $50M each year. I expect GME to level off around $200M of FCF by FY21, marking the tail end of the 'new' console cycle. I expect GME to be a purely hardware/trading play by that time, but I expect management to be able to transition the business to a steady $200M or so of FCF with 5% annual growth.
Applying a 10% discount rate to this model results in a "fair valuation" of $4.06B for GME, based on approximately 117M shares outstanding, this is a "fair price" of $34.70. I believe my FCF assumptions are very generous considering the headwinds that GME will face and represent close to a "best realistic case" scenario. I believe a 10% discount rate is very conservative (small) considering the inherent risks.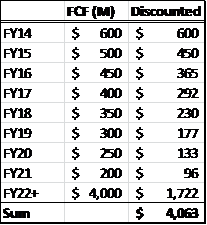 Investment Recommendation
I believe the best way to short GME at these levels is to go directly short the stock with at the money calls as 'insurance.' The October $50s are trading around $2.75 which provides a breakeven around $47.15 (2 month horizon), and a maximum loss of $265 per 100 shares (5.31%). This approach assumes broad market weakness and economic signals will continue to disappoint.
If you want a longer time horizon, and are expecting a disappointing console launch (I am), then the April 14 $45 puts for approximately $5.25 are a good entry point. Breakeven is at $39.75 prior to expiration (8 months). I personally decided to play the $40 puts last week, but I believe the entry point on the $45s is currently more attractive.
Disclosure: I am short GME. I wrote this article myself, and it expresses my own opinions. I am not receiving compensation for it (other than from Seeking Alpha). I have no business relationship with any company whose stock is mentioned in this article.
Additional disclosure: I am short via direct shares and Apr14 $40 puts.