This article is about Nautilus Minerals (OTCPK:NUSMF). Nautilus Minerals has a market capitalization of about $185 million. The company is a pioneer in the mining space in that it holds land leases and explores for resources on the ocean floor. It is also the only major mining company that is involved in exploring the ocean floor. Because of this there is virtually no demand for ocean floor land, and so Nautilus Minerals has been able to accumulate an unheard of 500,000 square kilometers on which to explore.
It has two primary land claims in the Pacific Ocean: Solwara and Clarion-Clipperton.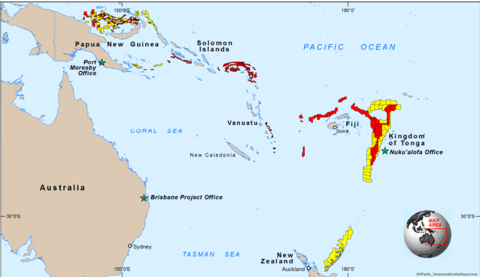 (Solwara)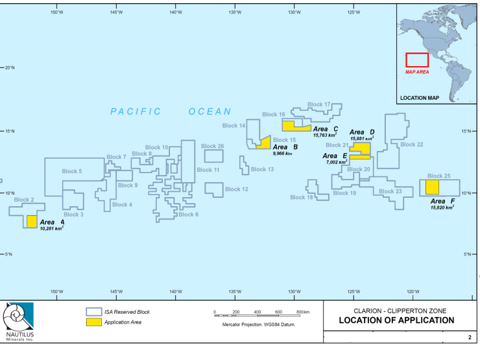 (Clarion-Clipperton)
It has also been developing technology with which it can explore and hopefully in the near future mine the ocean floor.
Nautilus Minerals offers investors a unique opportunity to participate early on in what could be the single largest mining company in the world. However there are numerous unknowns regarding mining costs, exploration success, and the environmental impact that could easily lead to Nautilus Minerals' failure, or at least to an undesirable amount of share dilution.
Ocean Floor Mining Has a Future
Given the exploration results at Solwara 1 and Clarion-Clipperton, which I detail below, there is undoubtedly a future in this industry. For example, Nautilus Minerals found uncannily high grades of copper at Solwara 1.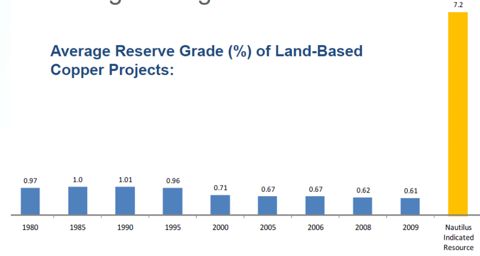 As land-based metal mining projects become lower and lower grade the added cost of exploring the ocean floor becomes more worthwhile as mining companies set out to satisfy humanity's insatiable need for metals.
As a potential investor in Nautilus Minerals one has to determine the company's specific position and its ability to take advantage of the opportunity that exists. As a pioneer in ocean floor mining Nautilus will inevitably stumble several times. However it is uniquely positioned to take advantage of sea floor mining.
Nautilus Minerals' Resources
The vast majority of Nautilus Minerals' land is unexplored, and in all likelihood it has enough land to explore for decades to come. However it has already taken the first major step forward at its Solwara and Clarion-Clipperton properties: it has found NI 43-101 compliant resources.
Solwara
Solwara, which is located off the coast of Papua New Guinea, has 19 areas that the company is exploring.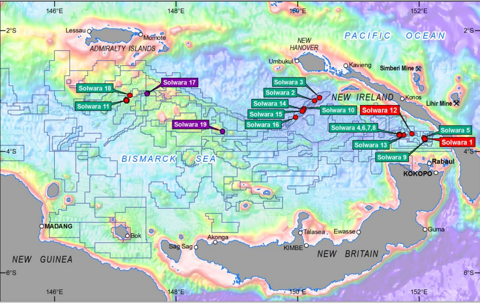 The company has found an NI 43-101 compliant resource at Solwara 1 that is primarily copper, with some gold and traces of silver and zinc. In all the property has:
178 million pounds of indicated copper resources at 7.2%
166,000 ounces of indicated gold resources at 5 grams per tonne
764,000 ounces of indicated silver resources at 23 grams per tonne
10 million pounds of indicated zinc resources at 0.4%
300 million pounds of inferred copper resources at 8.1%
318,000 ounces of inferred gold resources at 6.4 grams per tonne
1.7 million ounces of inferred silver resources at 34 grams per tonne
33 million pounds of inferred zinc resources at 0.9%
The details are provided on the following table.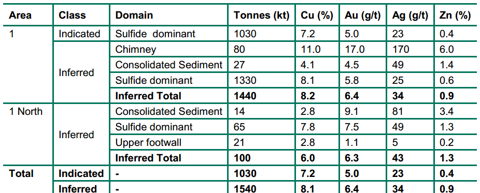 Compared to land resources this is a very small deposit that might become a short-life mine only because it is such a high grade resource. However as the first ocean floor NI 43-101 compliant resource it is a step in the right direction for Nautilus Minerals. However it does raise the question of how expensive it will be to bring this metal to the surface. These resource estimates are high grade relative to copper resources that are mined on land profitably, but until the region is actually mined there is a very real possibility that this resource is too low grade to be profitably mined at the current copper price of $3.30/lb.
Clarion-Clipperton
The Clarion-Clipperton project has an enormous inferred resource of 410 million tonnes of ore with:
1.2% nickel, or nearly 12 billion pounds
1.1% copper, or nearly 11 billion pounds
0.24% cobalt, or 2.4 billion pounds
26.9% manganese, or 265 billion pounds
Without considering mining costs this is an incredibly valuable resource (the manganese alone, mined and refined, is worth $300 billion). As of now the company has no immediate plans to bring this property into production as it focuses on its Solwara 1 property.
Production
Production is in the foreseeable future for Nautilus Minerals' Solwara 1 property. However there are several unknowns such as:
Capex
Where the capital will come from
A specific timeline
Production costs
In this respect it is not unlike a land-mining company that has just discovered a large mineral resource but which knows little else about its future. But while land mining companies have a fairly standard and straightforward procedure for transforming a recently discovered resource into an economically feasible mine, Nautilus Minerals does not.
Fortunately, the company has been developing technology that it believes will enable it to cost-effectively bring mined ore to the surface where it can be processed and sold into the market. General Electric's (NYSE:GE) subsidiary GE Oil and Gas is developing a pump that is similar to those used by deep-sea oil producers that will pump ore in the form of mud to the surface (I should note that ocean floor mining may be a huge opportunity for GE and possibly other companies that produce deep-water oil pumps). Nautilus Minerals compares it to a similar pump made by GE for Chevron (NYSE:CVX), pictured below.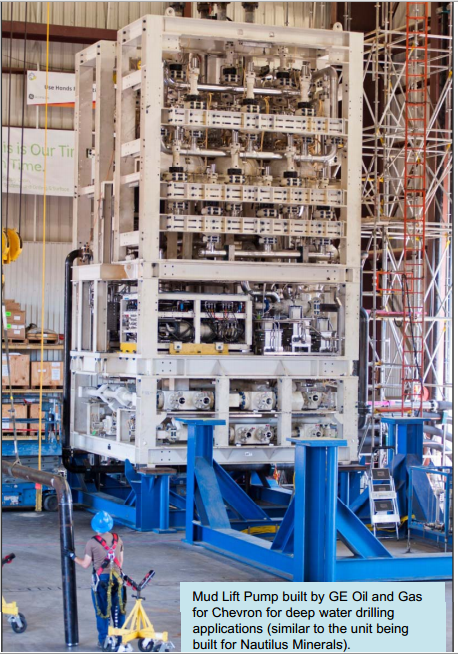 This technique certainly makes sense, especially since it has been successful in offshore oil production. However there is no prior history of ocean floor mineral production, and so there is still uncertainty regarding the success or failure of the process.
Risks
A: Uncertainty In the Mining Process
Nautilus Minerals is ridden with uncertainty as to its mining process and the economics of this process. The following is a list of these unknowns.
The cost of mining
The method of mining
The environmental impact
The time-frame of bringing Solwara 1 into production
While the company has a general idea of how to answer these unknowns (particularly the last three as it is not giving production cost guidance), the fact that sea floor mining is a new process means that nobody can answer these unknowns with a high degree of certainty until the company starts mining.
B: What is Being Mined?
From its NI 43-101 reports, we know that Nautilus Minerals has the following metals:
Copper
Zinc
Nickel
Manganese
Gold
Silver
Lead
Cobalt
All of these metals have different fundamental drivers, and there is simply a lot of information to keep track of. Furthermore, given that the company's property covers so much area, and given that it is relatively unexplored, we simply do not know what metals it will find and in what quantities. Therefore a prerequisite to an investment in Nautilus Minerals is that you are bullish on the metals complex in general.
C: Metals Prices
It follows that Nautilus Minerals' future cash flow will be leveraged to metals prices. Again we do not know which metals, but the company will likely begin mining copper, which appears to have broken its downtrend.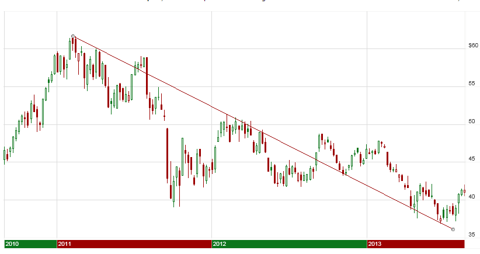 While the company will not be mining at the Clarion-Clipperton property for some time the value of this property will largely depend on manganese prices. The price of manganese is down significantly from its 2008 high, but it seems to have support around $2.20/kilogram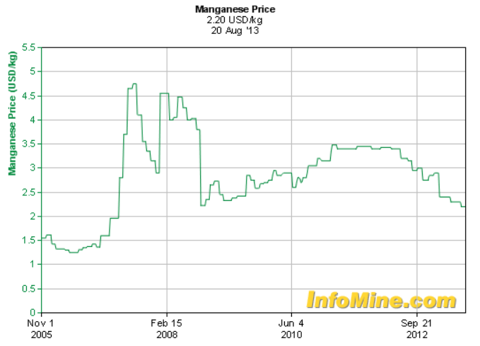 Manganese is an industrial metal used in alloys such as stainless steel and aluminum alloys. Thus its demand should parallel that of other industrial metals.
D: Nautilus Minerals' Ongoing Dispute With the Papua New Guinea Government
Environmental groups, marine biologists, and Papua New Guinea citizens are attempting to persuade the government to rescind Nautilus Mineral's mining permit at Solwara due to environmental concerns. An arbitration hearing was held earlier this week (August 26th), although the company has yet to release any news regarding this. Ultimately we simply do not know the environmental impact of mining on the sea floor, and we also do not know how governments are going to respond to this unknown. If the company's mining permit is rescinded then the market will likely react very negatively to the news.
E: Valuing Nautilus Minerals
Given the plethora of uncertainties surrounding this company it is virtually impossible to objectively value it.
It is impossible to determine its future cash flow because we do not know the company's production costs.
It is impossible to determine the value of its resources because we don't know how long it will take to extract them or how costly the process will be.
It is virtually impossible to value the company's unexplored land because of the first two unknowns, and because there simply is no market for sea floor property.
The only thing that we can value is the company's $65 million in cash as of the end of June.
Conclusion
There are certainly no investment opportunities quite like Nautilus Minerals. The potential reward is unfathomable if the company's operations are successful, but the risk is incredibly high given the unknowns pertaining to sea floor mining. While there is no way to conclusively assert that the reward justifies the risk, Nautilus Minerals does have two things going for it that lead me to believe that aggressive investors might consider taking a small position.
The company has found high grade metal (particularly copper and manganese) that indicate that sea floor mining has a future, and no company is better positioned to take advantage of the opportunity than Nautilus Minerals.
The company has a plan and, despite some setbacks, it is moving forward with this plan.
Disclosure: I have no positions in any stocks mentioned, and no plans to initiate any positions within the next 72 hours. I wrote this article myself, and it expresses my own opinions. I am not receiving compensation for it (other than from Seeking Alpha). I have no business relationship with any company whose stock is mentioned in this article.