As someone who covers a lot of short ideas on this site, one of the most important items I follow is short interest data. One must always be aware of the short interest in a stock. A large short base could spark a short squeeze on good news, while low short interest could spark a huge drop on bad news. Every couple of weeks, we get an update from Nasdaq on short interest data, and I report on what I am seeing. Today, I'm here to discuss the middle of August numbers. I'm going to look at five specific names that saw significant moves in short interest. This time, it will be a mix of names that have seen rises and falls, but large moves that I feel are noteworthy.
lululemon (NASDAQ:LULU):
The Canadian apparel maker saw short interest jump by more than 7.5% in the final few weeks of August. That puts short interest back above the 20 million mark for the first time since May, marking a three month high in short interest. In the past month-and-a-half, short interest in lululemon is up by nearly 3 million shares, or 16.75%. You can see the recent jump in the chart below.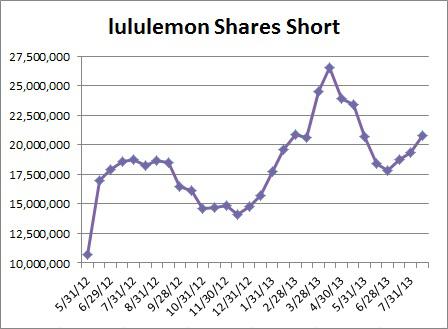 The retailer has bounced around a bit, and is right now in the middle of its $60 to $80 rough yearly range. The stock tanked last quarter after CEO Christine Day announced she was leaving, so this quarter's report will be very interesting. They should be reporting in the next couple of weeks, but we haven't gotten a definite date yet. Current estimates call for $342.62 million in revenues, which is basically the midpoint of the company's $340 million to $345 million range. The average earnings per share estimate is $0.35, the high end of the $0.33 to $0.35 range guided to by the company.
BlackBerry (NASDAQ:BBRY):
After two straight sizable declines in short interest, BlackBerry saw its count increase again. The increase was about 4.8% for the first few weeks of August, wiping out more than 18% of the recent decline. BlackBerry short interest is still elevated, as you can see in the chart below. One must now wonder if we are about to make a run back to the recent short interest highs.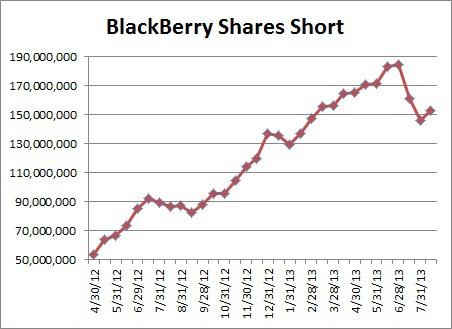 BlackBerry shares rallied from less than $9 to $12 in early August, and the rally picked up after a special committee was formed to explore strategic alternatives, which includes a sale of the company. You might have thought that a potential sale would chase away short sellers, but it appears that the rally in the stock made the number of short positions increase at higher prices. BlackBerry has come down about $2 since the recent high, so it will be interesting to see what happens at the next short interest update.
Zillow (NASDAQ:Z):
The real estate website saw its short interest decline by more than 11.3% in the first few weeks of August. Over the past month, short interest has declined by 17.4%, putting it at its lowest point since the end of May. Zillow short interest is nearing the 5 million mark again, and is within reach of cracking that at the next update.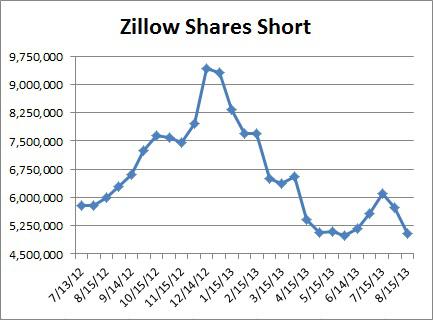 The real estate website had zoomed past $97 a few weeks ago, after being in the mid $20s last November. However, some profit taking did occur, and the stock took a hit after a secondary offering diluted investors. Zillow has been one of the year's best growth stories, along with several other names in the social media category. Part of the reason for the rally may be due to the short covering you saw above.
VMware (NYSE:VMW):
VMware saw its third straight decline in short interest, putting the number under the key 10 million mark for the first time since late April. Over the past three updates, nearly one-sixth of all short sellers have covered. You can see the recent decline in the chart below.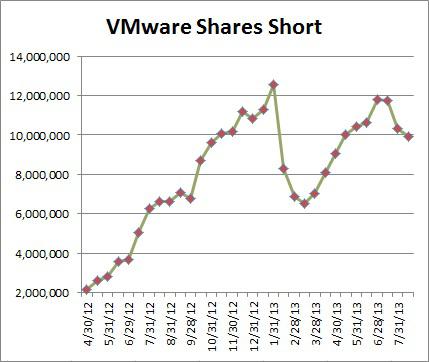 The recent turning point for short interest in VMware was the latest earnings report. The company beat on both the top and bottom line. More importantly though was the company's guidance, which was in-line. That might not sound very impressive, but the last couple rounds of guidance were below expected. So "not bad" was good enough for VMware, and shares rocketed from $71 to $83. That pop was part of an extended rally from $65 to $88, and shorts definitely covered a bit, as you saw above. Now that the company has seemed to turn their fiscal year around a little, it will be interesting to see if more shorts cover at the next update.
Cisco Systems (NASDAQ:CSCO):
Cisco saw a nearly 8% decline in short interest during the first few weeks of August. While that does not seem like much, this drop was significant, putting short interest below the 50 million mark, and a new 52-week low. Since the November peak, more than 35% of Cisco short positions have been covered.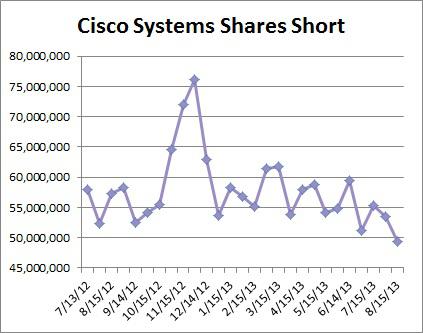 Cisco short interest dropped as the stock was rallying to its 52-week high. However, the latest earnings report and disappointing guidance has knocked the stock down about $3. The company also announced a round of job cuts. Cisco's near $10 rally since last November was one of the best performances of any large cap tech name, and shorts have definitely run away from the name. The next update on short interest will show how those shorts feel after the latest earnings report.
Final Thoughts:
All five of these names have seen significant moves in short interest. Canadian apparel retailer lululemon saw its short interest top the 20 million mark again as we approach the company's quarterly report. BlackBerry short interest reversed the recent downward trend, as the stock has rallied on hopes of a buyout. Zillow short interest has come down, and the company sold stock after the latest update. VMware shorts have started to flee, especially after the latest earnings report was good enough. Cisco shorts have been running, but the stock fell after the latest earnings report. Will any of these names make the list next time? We'll see in a couple of weeks.
Disclosure: I have no positions in any stocks mentioned, and no plans to initiate any positions within the next 72 hours. I wrote this article myself, and it expresses my own opinions. I am not receiving compensation for it (other than from Seeking Alpha). I have no business relationship with any company whose stock is mentioned in this article.
Additional disclosure: Investors are always reminded that before making any investment, you should do your own proper due diligence on any name directly or indirectly mentioned in this article. Investors should also consider seeking advice from a broker or financial adviser before making any investment decisions. Any material in this article should be considered general information, and not relied on as a formal investment recommendation.