Detrex Corporation (OTCQX:DTRX) is a rising American chemical production company in a niche market for high purity hydrochloric acid used in semiconductor, ACS reagent, food and pharmaceutical processing.
Hydrochloric acid is important in the preparation and cleaning of these multi-million dollar manufacturing equipments. Not just any kind of Hydrochloric acid can be used. Only good quality high grade HCl is essential for the maintenance of these expensive equipments.
Detrex has two plants based in Southfield, Michigan. Detrex sells these cleaning solutions to domestic and international companies requiring them. This business model is simple to understand, and with their proven product, their business has grown year over year.
Detrex generates its largest revenue primarily through selling purity hydrochloric acid across a wide variety of industries with a high profit margin and renewable business rate. Chemical manufacturing plants have often been vilified by the Environmental Protection Agency as an environmental polluter resulting in new taxes to help fund cleanup costs.
These environmental fees could leave a dent in Detrex's valuation but not as much as anticipated by analysts. Here is a look at the income sheet: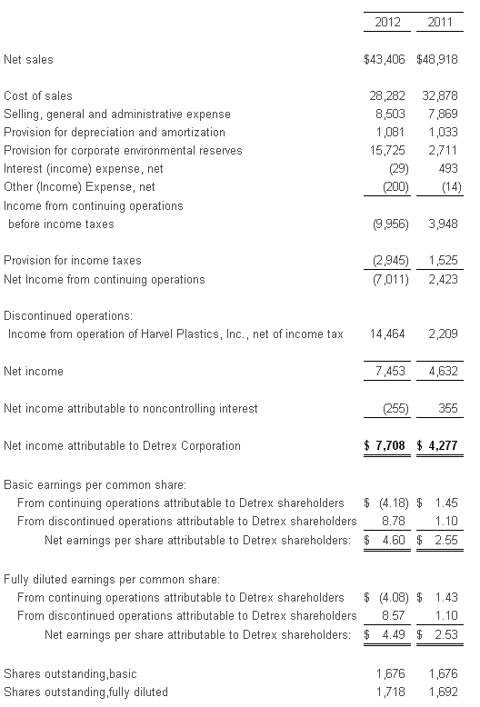 Net income increased from $4.2 million to $7.7 million despite lower sales from $48.9 million in 2011 to $43.4 in 2012. Provision for corporate environmental reserves increased from $2.7 million to $15.7 million. (Income Sheet)
The environmental reserves have been the biggest rise in expense. This impact affects the Selling General and Administrative category which contributes to a negative total operating expense.
While environmental fees have been rising, this may only be temporary. As soon as this disappears, this could result in nearly double profits for Detrex.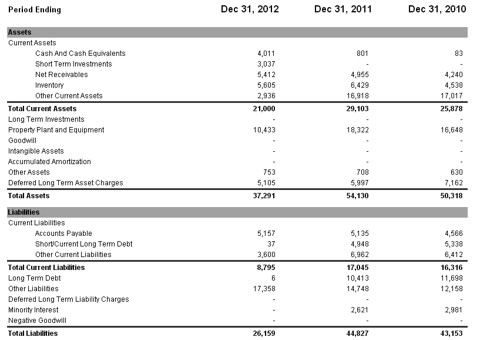 Detrex no longer has any debt and was able to pay back its $15.3 million loan at the beginning of January 2012.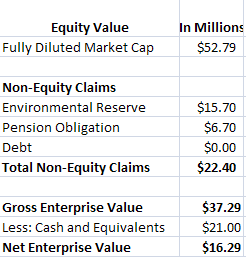 With a Net Enterprise Value of $16.29 million, Detrex currently trades at 4.1 times EBITDA using a stock price of $31.50 and net income of $7.71. By comparison to other companies in its peer group, other niche chemical companies with comparable margins are trading at greater multiples.

Detrex's lack of coverage and lower liquidity exempts many hedge funds and capital management groups from participation in the upside of this company. Therefore Detrex shares offers a large discount. Yet, the discount is far too large to ignore and is unwarranted. In time, the company will properly rise back to its correct valuation once the market realizes this undervalued opportunity.
Further reduction in Environmental fees along with a higher valuation for Detrex closer to its peer group will bring back up the company's price.
The only risk that can be foreshadowed is the small possibility that Detrex will incur further significant costly environmental charges, or management will waste excess capital on bad acquisitions.
Disclosure: I am long OTCQX:DTRX. I wrote this article myself, and it expresses my own opinions. I am not receiving compensation for it (other than from Seeking Alpha). I have no business relationship with any company whose stock is mentioned in this article.