Earlier this week I presented at EcoEngineers RIN Academy in Des Moines. I stayed for the full day of presentations and found it to be very eye-opening, as experts from diverse industries across the country came to present on subjects ranging from Renewable Identification Number [RIN] price drivers to the blend wall to next-generation biofuels under the revised Renewable Fuel Standard [RFS2]. (As a reminder, RINs are the tradable compliance commodities that are generated when a gallon of qualifying biofuel is produced and separated when it is blended with or sold as retail fuel. Separated RINs can be submitted to the EPA to demonstrate compliance with the RFS2's volumetric mandate or sold to another party. Refiners are required to submit a number of RINs determined by their fossil fuel sales to the EPA at the end of the year.) Given recent RIN price volatility and substantial uncertainty regarding future RIN prices, the gathering was well-timed. I noticed a common theme throughout many of the presentations, however: uncertainty regarding RINs has only increased as RIN prices have. This has a number of important implications for investors in those sectors affected by RINs.
Fundamentals exit stage right
First, biofuel fundamentals are no longer driving RIN prices. I've written in the past how RINs, especially corn ethanol [D6] RINs, have undergone a transformation from a biofuel production subsidy to a biofuel consumption subsidy. This is why we've seen biofuel producers such as Biofuel Energy and Pacific Ethanol flounder even as others such as Green Plains Renewable Energy (NASDAQ:GPRE) and Renewable Energy Group (NASDAQ:REGI) have greatly outperformed the S&P 500 index this year (see figure). The discrepancy is likely due to the outperformers owning substantial biofuel blending capacity whereas the underperformers do not. This is best illustrated by the curious case of Valero (NYSE:VLO), which expects to spend up to $800 million on RINs in 2013 despite being one of the largest U.S. producers of corn ethanol. If RINs were still functioning as a production subsidy then Valero should have been a beneficiary from expensive RIN prices. There has been a scramble for blending capacity in the industry due to the high value of the RINs generated via blending, which makes sense if high RIN prices are needed to incentivize biofuel consumption via higher blends of biofuel with petroleum-based fuels.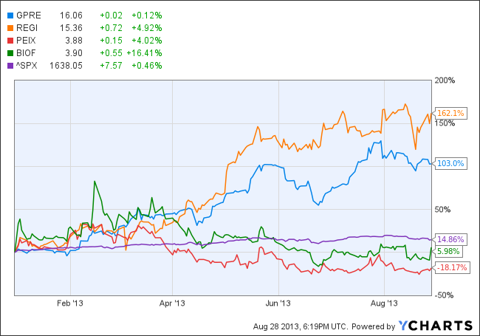 Based on what I heard at the RIN Academy, however, I'm no longer sure that RIN prices are even operating entirely as a function of consumption fundamentals. I spoke with a number of RIN brokers who reported that D6 RINs struggle to remain above $1 as sellers then enter the market on the assumption that the $1 threshold is the point at which political activity aimed at keeping RIN prices low becomes likely. This sentiment is reflected by RIN price movements since May (see figure). On July 15 a federal court ordered the EPA to undertake regulations that could potentially make corn ethanol more expensive to produce (and thus consume). D6 RIN prices promptly moved to a new high of $1.45. That was the high-water mark, however, as Congressional hearings on RFS2 reform the following week drove RIN prices down by 33%. RIN prices then recovered a bit before being slammed by the EPA's August 5 announcement that it would consider applying the 2014 volumetric mandate in a flexible manner; D6 RIN prices fell by another 36% in the three days following the announcement before stabilizing. (At the time of writing the D6 RIN price is 52% below its July high.) Biofuel consumption fundamentals will likely provide a floor under RIN prices until the prospect of RFS2 repeal becomes feasible (if ever), especially when the ethanol blend wall (as the point at which the U.S. gasoline supply becomes saturated with ethanol, or approximately 10 vol%, is popularly known) is hit in late 2013/early 2014. In the meantime, however, there is mounting evidence that RIN prices are being driven more by political and regulatory uncertainty than by biofuel fundamentals.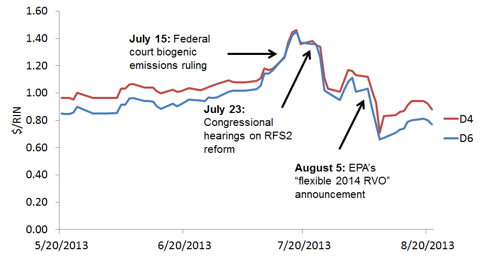 Nobody knows anything?
My second takeaway from the RIN Academy was that the RIN market is proving to be incredibly opaque. Everyone knows who the RIN buyers are, as these companies - Valero and PBF Energy (NYSE:PBF) being two of the most notable examples - have made no secret of the fact that their disappointing returns in Q2 2013 were due in no small part to their RIN purchase obligations. However, with the exception of the RIN brokers, who were understandably unwilling to divulge the names of their clients, nobody had much information on the identities of the sellers. When BP's (NYSE:BP) chief executive of refining and marketing stated in the company's Q2 conference call that,
"[W]e're quite well-positioned in the short term on RINs. We're actually net long RINs and so we've been able to trade into this spike recently and have done quite well out of it. I'm very pleased about that."
The statement made the company one of the few to actually state that it had benefited from high RIN prices. Even then, an actual monetary value wasn't mentioned. This secrecy isn't surprising, as the American Petroleum Institute's lobbying efforts to have the RFS2 either repealed or reformed would be far less convincing if word got out that petroleum majors were benefiting under the RFS2 at the expense of independent refiners. (For the record, I have no information that other petroleum majors have or have not profited from RINs, although I do find it hard to believe that BP was the only petroleum major to not be blindsided by the increase in RIN prices this year.) On top of that, there is little public information on the daily volume of the RIN market. EcoEngineers is the only entity I know of to make daily RIN price data freely available, and even that is limited to the day range and closing price. The only information I've been able to find on daily volumes and transaction sizes is from those parties that are intimately involved in the trades. This is a far cry from equity and derivative markets, where anyone with a smartphone and a 3G connection can track this information in real-time.
Why does it matter?
This market opacity is detrimental for three reasons. First, the RIN market has become very important to the companies affected by them and their investors, having reached a maximum "market capitalization" of $22 billion in mid-July (this number accounts for D4, D5, and D6 RINs based on July 19 prices and the annual renewable volume obligations [RVO] for each). When a company with a market capitalization of $19 billion such as Valero reports that it is legally obligated to spend up to $800 million on RINs each year, investors are affected. PBF Energy, for example, reported in its Q1 conference call that its RIN costs could exceed its combined costs of natural gas and electricity. Meanwhile, investors have very little information regarding the identities of the parties on the opposite end of those trades, as well as the sizes of the trades themselves.
Second, this opacity makes for poor public policy. While the RFS2 is often portrayed by its supporters as a free market solution to a government concern, at the end of the day RINs are a government creation. Simply put, RINs would not exist but for Congressional action that occurred in 2007. As such, taxpayers are responsible for the costs of the program's implementation and oversight, if not for the costs of the program itself (which is borne by drivers and industry participants). At present there is a large debate raging in Washington D.C. over the future of the program; at the same time, however, the public ultimately knows very little about its inner workings. Some independent refiners such as PBF Energy have gone on record saying that biofuel producers are capturing the value of high RIN prices rather than passing it to consumers. Looking at commodity price data and biofuel producer earnings reports suggests that blenders are actually capturing this value. Barring the rare situation when a company such as BP, Buckeye Partners L.P. (NYSE:BPL) or Kinder Morgan Energy Partners L.P. (NYSE:KMP) self-identifies as a beneficiary, however, the public is left guessing as to which entities are benefiting. Even some members of industry are operating on hearsay, as an analyst at J.P. Morgan Chase & Co.'s research division demonstrated when, during a recent earnings call, she reported hearing that RIN prices are being driven by hedge fund purchases rather than supply and demand. This echoed statements from executives at refiners HollyFrontier Corp (NYSE:HFC) and Valero back in March that hedge funds were using the RIN market as a "casino." (To make matters even more confusing, one RIN broker told me when I mentioned the analyst's comment to him this week that hedge funds aren't participating.) It is concerning to think that Congress is considering changes to the RFS2 at a time when such little information is available to the public regarding the operations of the existing version, let alone to those companies that are most affected by it.
Finally, neither state legislatures nor Congress seem entirely sure of the program's consequences. A bipartisan group of U.S. senators earlier this month asked both the Department of Justice and the Federal Trade Commission to investigate alleged anticompetitive activities taken by petroleum companies in violation of federal law to restrict biofuel consumption, which the FTC agreed to do yesterday. Iowa, which is the country's primary producer of both corn and biofuel, last month passed legislation that would prohibit such anticompetitive activity at the state level. While portrayed as a means of maximizing biofuel availability to consumers, an earlier staff analysis of the Iowa legislation suggested that it was needed to prevent petroleum companies from using their position of strength to take over blending capacity, and thus RIN profits, from smaller fuel jobbers and retailers. While this latter interpretation makes more sense (a prominent theme in Q2 conference calls has been of refiners buying up blending capacity as a means of minimizing their RIN costs, not vice versa), this summer has thus seen politicians accuse petroleum companies of trying to both minimize and maximize the amount of blended biofuel they offer to consumers.
The EPA's burden
Let me emphasize that this is not a call for the imposition of new "sunshine" requirements on companies' financial statements. While I personally prefer as an investor to have access to as much information as (legally) possible, I can understand why most companies are hesitant to self-identify as beneficiaries of a controversial government program, especially during Congressional hearings on the same program. That said, the RFS2 falls under the oversight of the EPA and there is much that the organization could do to increase its transparency. To start with, the EPA could provide more granular data on RIN volumes within its EPA Moderated Transaction System [EMTS]. At present the EMTS only shows the public monthly data on biofuel production and RIN generation; RIN separation and retirement numbers are provided on a YTD basis. At a minimum these numbers should be made available on a monthly basis, and optimally they would be made available on a daily basis so as to provide investors with more insight into the causes of major RIN price movements.
Second, the development of an electronic trading platform and RIN derivatives would increase the amount of transparency regarding daily price movements and volumes. Ultimately these roles would be unlikely to be filled by the EPA, and rightfully so: it is a government regulator, not a software or financial engineer. It could support development efforts (such as CME's recent RIN futures program) by making important RIN data more readily accessible, however. The EPA's EMTS website is currently a thicket of acronyms and vaguely-named tabs, and those who are able to find their way to the relevant data are left with YTD numbers that are only updated on a monthly basis at best (the current numbers on the EMTS website at the time of writing are dated from nearly two months ago). Aggregators such as EcoEngineers (and I suspect OPIS as well) are forced to collate and synthesize trade data from market participants for more detailed information on prices and volumes, and naturally the results are not publicly available for free given the effort that goes into producing them.
Conclusion
At present small investors have insufficient data regarding the RFS2 and RIN prices to facilitate a deep understanding of how companies are being affected by both. My most important takeaway from the EcoEngineers RIN Academy was that biofuel fundamentals do not explain RIN price volatility in 2013. Without these fundamentals as the primary explanation, however, investors are left with industry speculation and guesswork regarding why RIN prices are moving and how companies will be affected by them moving forward. The EPA, which is in charge of implementing and overseeing the RFS2, could do much to increase the transparency of the RIN markets by providing more detailed RIN data on its EMTS website. In the meantime, however, small investors should be cognizant of the fact that their understanding of the RIN market is unlikely to be as comprehensive as that of the equity and derivatives markets, and they should adjust their analyses of biofuel producers, blenders, and refiners accordingly.
Disclosure: I am long REGI. I wrote this article myself, and it expresses my own opinions. I am not receiving compensation for it (other than from Seeking Alpha). I have no business relationship with any company whose stock is mentioned in this article.
Additional disclosure: I may initiate a short position in BIOF over the next 72 hours.