Despite PM Abe's best efforts to demean the value of the yen, is it possible there are still some traders who regard the yen as a safe haven destination during troubled times? Times are indeed troubled, as the pieces are being located for an attack upon the dictator who has crossed the line.
For President Obama, who drew the line, he must respond. Failing to respond, would reveal him to be a bluffer, and there would then be further challenges to his leadership. From the press leaks, it appears the military response will be several days of guided missiles, perhaps followed by some smart and bunker bombs.
The military action may be brief, but not so the aftermath. Russia and now China are siding with the Syrian dictator Assad. How will they respond? Retaliation is now promised against Americans abroad, and parts of the Arab world will again confront Israel.
Fearing a supply reduction, the price of oil topped $110 for WTI and $116 for Brent. There are always those who get wildly bullish at tops and bearish at bottoms, as they get caught up in the emotions of the moment. Currently the crude oil bulls are touting their trade, with some talking 130 to 150 per barrel.
From a consumers point of view, this would be devastating, but for the professional money manager looking for any asset with momentum, and who is aware his friend the banker, is sloshing around in ample money to lend, this is possible.
A price of $130 to $150 a barrel, if it remained for any length of time would end the U.S. recovery, and strangle growth throughout the world. Should that happen, the yen, in comparison to other currencies, might not look so bad.
Longer term, the Japanese demography is troublesome. For the fourth year in a row, the Japanese population contracted, down .21% to 126,393,679. The number of people 65 and over increased to 30, 834,268, and the number under 14 dropped to 16.6 million. A shrinking population is not a recipe for economic growth. This, however is old news, and in the market.
The speculative community has been short the Japanese yen for months, according to our COT studies. The last report showed they had reduced their positions, but they were still short a combined 95, 034 contracts. Confronted with turbulent times many specs like to head for the exits, and wait for a calmer day to trade.
Would an upside breakout in oil cause this type of buying in the yen? Looking at the daily and weekly chart of the USDJPY, (FXY) the market is coiling in to an ever narrower triangle. It appears we are heading for a break out. My guess is the yen is due to gain on the USD. How much? This has been a big move and the sell off may be bigger than expected, but it is best to wait for the breakout, and then trade accordingly. As always manage your money.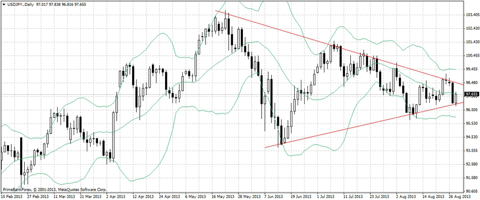 Click to enlarge
(Click to enlarge)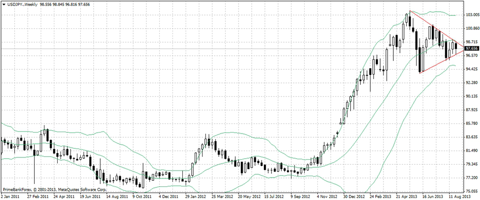 Click to enlarge
(Click to enlarge)
Disclosure: I have no positions in any stocks mentioned, and no plans to initiate any positions within the next 72 hours. I wrote this article myself, and it expresses my own opinions. I am not receiving compensation for it. I have no business relationship with any company whose stock is mentioned in this article.