A smart shopper who wants to buy something generally waits for a good sale in order to save money, instead of paying the retail price. Others take this savvy concept a step further and shop for products that are a little damaged, such as a refrigerator with a small dent on the side. These shoppers reap exceptional savings, as the fridge works just as designed, and considering the placement of the tiny dent it even looks good aesthetically. So why pay a higher price for an insignificant detail?
Followers of investing icons Warren Buffett (Berkshire Hathaway (NYSE:BRK.A)) and Benjamin Graham are value shoppers, who hope to profit off stocks that exhibit similar undervalued properties. Like the dented fridge, these companies may be trading at discounted values for various reasons, such as a recent earnings miss or being in the trough of a cyclical industry. And a popular methodology used to find undervalued stocks is the Graham Number.
There are a couple of ways to reach this number, but the most commonly used is surprisingly simple to calculate. It's the square root of 22.5 times earnings per share times book value per share. The result is a maximum price that any defensive investor should pay for that stock. After running a screen for stocks with a high Graham's Number, we found three that have an upside potential of over 38%.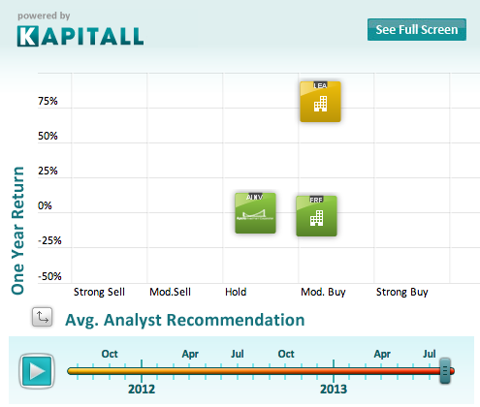 Sourced from Zacks Investment Research.
All three stocks are undervalued according to the Graham Number and are classified as small or mid-size companies with a market cap of less than $7 billion. The forward price-to-earnings numbers are all lower than their current P/E, which indicates an expectation of higher earnings growth over the next five years as well.
Fortegra Financial (NYSE:FRF) is an insurance services company that provides administrative services and insurance products directly to insurance companies, brokers, and others in financial services. The company also has 19 subsidiary companies and operates in three segments: Payment Protection, Business Process Outsourcing, and Brokerage.
Fortegra's Graham Number: 10.90
Diluted EPS (TTM) is 0.72
Book value per share is 7.34
The stock currently trades around $7.85, so there's a potential gain of 38.85%.
According to Fortegra's second quarter earnings transcript, "Total revenues increased 40.4% to $100.1 million for the second quarter of 2013 compared to $71.1 million for the second quarter of 2012. The increase included $1.3 million of net realized investment gains, and $402,000 gain on the sale of Magna Insurance Company."
The investment gains are noteworthy as rising interest rates should prove beneficial for Fortegra's investment activities with more potential in the fixed income markets. In addition, 200,000 shares were repurchased in the second quarter and the board of directors approved an increase to its buy-back plan, bringing their total capacity to $7.2 million.
The second value name we found is Lear Corp. (NYSE:LEA), an auto parts company that focuses on seating and electrical systems. A $6 billion dollar company with a global presence, Lear recently reported positive second quarter earnings, which beat estimates by 18%.
Lear's Graham Number: 99.18
Diluted EPS is 13.21
Book value per share is 33.1
The stock recently traded at $71.32, which is a potential upside of 39%.
Lear's stock has been on a tear - up around 76% over the last 12 months. The momentum in its trading pattern is still going strong with a clear upward channel established in its chart. Like Fortegra, Lear has also implemented a strong buy-back program with $200 million already repurchased in the first quarter. Lear management has entered into an "Accelerated Share Repurchase" program that promises another $800 million by March of 2014.
Lear gave positive guidance in its second quarter results: "As a result of the company's positive second-quarter earnings, management has raised its 2013 revenue guidance from $15.0-$15.5 billion to $15.8 billion. Its operating earnings guidance was raised to $750 - $800 million, a difference of $25 million.
Industry vehicle product was raised 1% to 16.2 million units in North America, 1% to 19.2 million units in Europe and Africa. Guidance was slightly lowered in industry vehicle production in China with the guidance now at 18.7 million units."
Rounding out our search for value is Apollo Investment Corp. (NASDAQ:AINV), a business development company that provides debt and equity capital for a variety of companies such as Allied Nevada Gold (NYSEMKT:ANV), Avaya, and Molycorp (MCP). They earn income on the interest, fees, and capital gains and pass those profits on to investors through a dividend.
Apollo's Graham Number: 10.92
Diluted EPS is 0.65
Book value per share is 8.16
The stock is currently hovering around $8, which gives investors a potential 36.5% gain.
One of Apollo's most attractive features is its dividend of 10%, which gives investors plenty of downside protection. In June, CEO James Zelter bought 20,000 shares of stock, signaling his confidence in the company. Earlier in the year, Zelter bought 10,000 shares and seems to be slowly accumulating a larger position, which is a signal of strength to investors.
As the economy picks up, Apollo Investment's biggest downside, default risk, is minimized. Take into account the increased investment activity of $788 million Apollo Investment reported in its second quarter filings and this private equity company could have momentum to go even higher.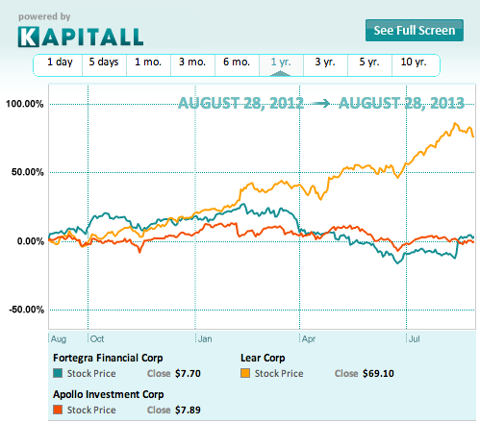 Sourced from Zacks Investment Research.
Value investors are known for their ability to identify companies with more potential than their stock price would seem to convey. Using the Graham Number is an effective way to find those stocks whose price doesn't quite match their growth expectations. As the U.S. economy continues to stumble and the threat of Fed taper action looms, the uncertain climate should provide value stock seekers with plenty of discount opportunities to take advantage of.
Disclosure: I have no positions in any stocks mentioned, and no plans to initiate any positions within the next 72 hours.
Business relationship disclosure: Kapitall is a team of analysts. This article was written by Daniel Cross, one of our writers. We did not receive compensation for this article (other than from Seeking Alpha), and we have no business relationship with any company whose stock is mentioned in this article.