This article analyzes the most recent quarterly and the trailing twelve months ("TTM") results of Magellan Midstream Partners, L.P. (NYSE:MMP) and looks "under the hood" to properly ascertain sustainability of DCF. The task is not easy because the definitions of "Adjusted EBITDA" and Distributable Cash Flow ("DCF"), the primary measures typically used by master limited partnerships ("MLPs") to evaluate their operating results, are complex. In addition, each MLP may define these terms differently, making comparison across MLPs very difficult. In an article titled "Distributable Cash Flow" I present MMP's definition and also provide definitions used by other MLPs.
Estimating sustainable DCF is an exercise that must be undertaken in conjunction with evaluating an MLP's growth prospects. Sustainable distributions coverage provides some protection in a downside scenario. When faced with such a scenario, MLPs that cannot maintain their distributions, or are totally reliant on debt and equity to finance growth capital, are likely to suffer significantly greater price deterioration
Revenues, operating income, net income and earnings before interest, depreciation & amortization and income tax expenses (EBITDA) reported by MMP for 2Q13, 2Q12, and the TTM ending 6/30/13 and 6/30/12 are summarized in Table 1 below. Given the seasonality of the businesses of some MLPs and given quarterly fluctuations in working capital needs and other items, a review of TTM numbers tends to be more meaningful than quarterly numbers for the purpose of analyzing changes in reported and sustainable distributable cash flows. However, I present both: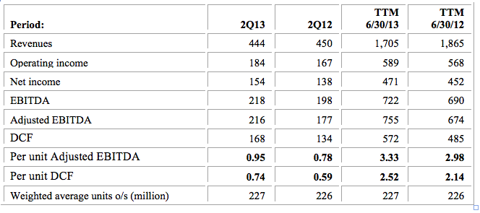 Click to enlarge
(Click to enlarge)
Table 1: Figures in $ Millions
Operating income, net income and EBITDA increased by ~3.5% to 4.5% in the TTM ended 6/30/13 vs. the prior year results. When the partnership physically sells products that it has economically hedged (but were not designated as hedges for accounting purposes), it includes in its Adjusted EBITDA and DCF calculations the full amount of the change in fair value of the associated derivative agreement. Adjusted EBITDA increased ~12% from the TTM ending 6/30/2 largely because that period included a relatively large loss of this type, while the latest TTM period did not.
In 1Q13, MMP completed a reorganization of its reporting segments undertaken, in part, to reflect the increasing importance of crude oil activities to MMP's business. The newly defined reporting segments are:
Refined products: this segment includes an 8,800-mile refined products pipeline system with 49 terminals, as well as 27independent terminals not connected to MMP's pipeline system, and its 1,100-mile ammonia pipeline system;
Crude oil: this segment is comprised of ~800 miles of crude oil pipelines and storage facilities with an aggregate storage capacity of approximately 15 million barrels; and
Marine storage: this segment consists of marine terminals located along coastal waterways with an aggregate storage capacity of approximately 26 million barrels.
The improvements in total segment operating margins and total operating income in the periods under review are principally due to the Crude Oil and Marine Storage segments, as shown in Table 2 below: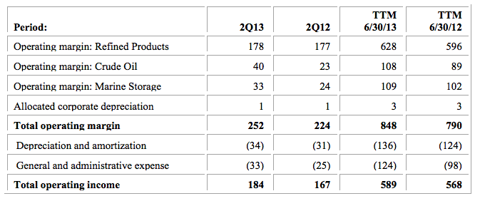 Click to enlarge
(Click to enlarge)
Table 2: Figures in $ Millions
In 2Q12 and the TTM ended 6/30/12 the Refined Products segment's operating margin benefited from a ~$20 million mark-to-market of hedge activities, absent which the 2Q13 and latest TTM numbers would have shown greater improvement over the prior year periods. In 2Q13 and the TTM ended 6/30/13 the Marine Storage segment's operating margins benefited from a ~$7 million decrease in expenses as a result of the reduction of previous excess emission accrual. Absent this, the improvement shown by this segment over the prior year periods would have been more modest.
The bulk of the operating margins seen in Table 2 are generated by fee-based transportation and terminals services, with commodity-related activities contributing ~17% MMP's operating margin in both 2Q13 and the TTM ending 3/31/13 (vs. ~25% and ~21% in 1Q13 and the prior year TTM period, respectively).
MMP's reported DCF for the TTM ended 6/30/13 was $572 million ($2.52 per unit), up from $485 million ($2.14 per unit) in the prior year period. However, reported DCF may differ from sustainable DCF for a variety of reasons. These are reviewed in an article titled "Estimating sustainable DCF-why and how". An analysis specific to MMP is presented in Table 3 below:

Click to enlarge
(Click to enlarge)
Table 3: Figures in $ Millions
Table3 indicates the differences between reported and sustainable DCF in the periods under review are not material.
Based on results to date, management increased its 2013 DCF guidance by $50 million to $630 million and revised prior distribution growth targets from 10% for both 2013 and 2014 up to 16% for 2013 and 15% for 2014. MMP's strong coverage ratios are shown in Table 4:

Click to enlarge
(Click to enlarge)
Table 4
Table 5 below presents a simplified cash flow statement that nets certain items (e.g., acquisitions against dispositions, debt incurred vs. repaid) and separates cash generation from cash consumption in order to get a clear picture of how distributions have been funded
Simplified Sources and Uses of Funds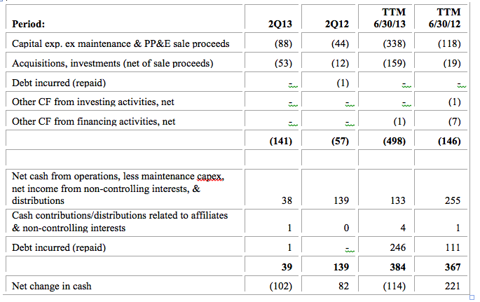 Click to enlarge
(Click to enlarge)
Table 5: Figures in $ Millions
Net cash from operations, less maintenance capital expenditures, less cash related to net income attributable to non-controlling interests exceeded distributions by $133 million in the TTM ended 6/30/13 and by $255 million in the prior year period. Clearly MMP is not using cash raised from issuance of debt and equity to fund distributions. On the contrary, the excess cash generated constitutes a significant source of capital for MMP and enables it to reduce reliance on the issuance of additional partnership units that dilute existing holders, or issuance of debt to fund expansion projects.
Of these expansion projects, Longhorn (the conversion of a large portion of the partnership's Houston-to-El Paso pipeline to crude oil service) is of particular note. At $375 million, this is the largest organic growth project ever undertaken by MMP. The reversed pipeline system will transport crude oil from Crane, Texas, to refiners or third-party pipelines in Houston and Texas City, Texas. Deliveries of crude oil began in mid-April 2013 and, as expected, averaged ~90,000 barrels per day through the end of 2Q13 (generating ~$15 million of incremental revenues in 2Q13). By 3Q13 deliveries should increase up to Longhorn's full capacity of 225,000 barrels per day. The reversed pipeline is expected to have a materially favorable impact on MMP's results of operations.
MMP spent $199 million and $365 million on acquisitions and growth projects during 2011 and 2012, respectively. It currently expects to spend ~$900 million in 2013 on projects now underway, with additional spending of approximately $320 million in 2014 to complete these projects.
MMP's current yield is at the lowest end of the MLP universe. A comparison to some of the MLPs I follow is provided in Table 6 below:
| | | | |
| --- | --- | --- | --- |
| As of 08/28/13: | Price | Quarterly Distribution | Yield |
| Magellan Midstream Partners | $54.76 | $0.53250 | 3.89% |
| Enterprise Products Partners (NYSE:EPD) | $59.72 | $0.68000 | 4.55% |
| Plains All American Pipeline (NYSE:PAA) | $50.90 | $0.58750 | 4.62% |
| Targa Resources Partners (NYSE:NGLS) | $49.07 | $0.69750 | 5.69% |
| El Paso Pipeline Partners (NYSE:EPB) | $42.31 | $0.63000 | 5.96% |
| Buckeye Partners (NYSE:BPL) | $70.27 | $1.06250 | 6.05% |
| Kinder Morgan Energy Partners (NYSE:KMP) | $83.35 | $1.32000 | 6.33% |
| Energy Transfer Partners (NYSE:ETP) | $52.63 | $0.89375 | 6.79% |
| Regency Energy Partners (NYSE:RGP) | $27.32 | $0.46500 | 6.81% |
| Williams Partners (NYSE:WPZ) | $49.89 | $0.86250 | 6.92% |
| Boardwalk Pipeline Partners (NYSE:BWP) | $30.28 | $0.53250 | 7.03% |
| Suburban Propane Partners (NYSE:SPH) | $46.27 | $0.87500 | 7.56% |
| Inergy (NRGY) | $13.77 | $0.29000 | 8.42% |
Table 6
In over two years (since 3Q 2010), MMP has not issued additional partnership units (excluding units issued in connection with compensation arrangements), a significant accomplishment and rare achievement in the MLP universe. This is all the more so given that MMP has done this while keeping its leverage much lower than most MLPs (currently below 3x EBITDA on a TTM basis). Its revolving credit facility is currently untapped and cash on hand totaled $119 million as of 6/30/13. Another impressive performance metric is MMP's net income per unit. It exceeded distributions per unit in the TTM ended 6/30/13 ($2.08 vs. $2.03 per unit), as well as in the prior year TTM period. That too is unusual for an MLP.
Given these factors, its performance track record, a management team that is disciplined and unwilling to pay the premiums that other MLPs have been paying for acquisitions, an impressive portfolio of growth projects, advantageous structure (no general partner incentive distributions), ability to generate significant excess cash from operations, and proven ability to minimize limited partner dilution, MMP's premium price may be justified.
Disclosure: I am long EPB, EPD, ETP, PAA, SPH, WPZ. I wrote this article myself, and it expresses my own opinions. I am not receiving compensation for it (other than from Seeking Alpha). I have no business relationship with any company whose stock is mentioned in this article.