On Tuesday, August 27, it was announced that Statoil ASA (NYSE:STO) had struck oil in the Flemish Pass basin offshore Newfoundland, marking its second discovery in the basin this year. To be a bit more specific, the discovery was made on the Bay du Nord prospect, located approximately 500 km northeast of St. John's, Newfoundland and Labrador, Canada. In the wake of Tuesday's discovery, I wanted to take a closer look at Statoil's operations in Newfoundland and highlight a number of fundamental catalysts behind my decision to remain bullish on the company's stock.
Company Profile
Headquartered in Stavanger, Norway, Statoil ASA is an integrated energy company, engages in the exploration, production, transportation, refining, and marketing of petroleum and petroleum-derived products in Norway and internationally. The company is involved in the exploration, development, and production of crude oil and natural gas, as well as extraction of natural gas liquids in 42 assets in the North Sea, the Norwegian Sea, and the Barents Sea. It also transports, markets, and trades crude oil, natural gas liquids, and refined products, including methanol; and operates, maintains, and develops gas processing plants.
Performance and Trend Status
On Tuesday, shares of Statoil ASA -- which currently possess a market cap of $69.38 billion, a P/E ratio of 10.96, a forward P/E ratio of 8.42, and a forward yield of 3.99% ($0.87) -- settled at $21.81. Based on Tuesday's closing price of $21.81, shares of Statoil ASA are trading 1.45% above their 20-day simple moving average, 1.71% above their 50-day simple moving average, and 4.66% below their 200-day simple moving average.
These numbers indicate a short and mid-term uptrend and a long-term downtrend for the stock, which generally translates into a near-term buying mode and longer-term selling mode for most traders. As of June 30, 2013, and from a cash and debt perspective, Statoil ASA has a total of $9.98 billion in cash and a total of $24.08 billion in debt on its books.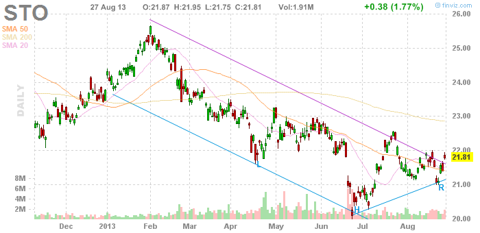 Tuesday's discovery marked the second discovery for Statoil in the Flemish Pass basin this year, and third discovery since 2009. In June of 2013, a discovery was made at the Harpoon prospect, which is located approximately 10 kilometers from the Bay du Nord prospect, and is also the site of Tuesday's announced discovery. "The success of Bay du Nord is the result of an ambitious and targeted drilling campaign in the Flemish Pass Basin," says Statoil Exploration executive vice president Tim Dodson. "This discovery is very encouraging."
Mr. Dodson also explained that as the volumes of both the Bay du Nord and Harpoon wells continue to be evaluated, Statoil is developing a greater understanding of the geology and potential of the basin. It should be noted that the Bay du Nord and Harpoon wells were drilled by the semi-submersible rig West Aquarius, and both are in approximately 1,100 meters of water.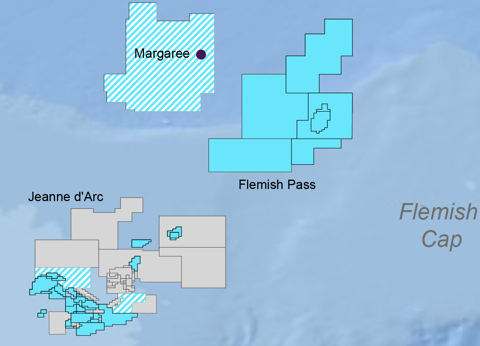 Several Risks Associated With The Flemish Pass
In an effort to support the notion that the Flemish Pass could be considered a high-risk, high-reward area of exploration, I'd like to reference the recent work of Dr. Michael Enachescu.
Dr. Enachescu noted that, "the basin is a high-risk, high-reward exploration area for three reasons and those reasons are the fact that a majority of the area is unexplored, the pass itself is located in intermediate deep water (400-1500 meters) and it also contains very large, undrilled faulted anticlines".
Although a number of developments in terms of oil exploration have occurred between September 2012 and August 2013, I strongly believe that such geological risks such as water-depth and underwater anticlines could continue to impact any continued development within the Flemish Pass.
Conclusion
For those of you who may be considering a position in Statoil ASA, I'd keep a watchful eye on a number of catalysts over the next 6-12 months. These catalysts include but are not limited to the company's efforts to initiate and maintain oil production in the waters offshore Newfoundland and the continued improvements of the company's earnings over the next several quarters as I strongly believe that the company's recent discoveries will positively impact earnings performance.
Disclosure: I have no positions in any stocks mentioned, but may initiate a long position in STO over the next 72 hours. I wrote this article myself, and it expresses my own opinions. I am not receiving compensation for it (other than from Seeking Alpha). I have no business relationship with any company whose stock is mentioned in this article.