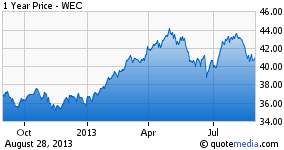 Wisconsin Energy Corporation (NYSE:WEC) provides electric and natural gas services to customers in Wisconsin and Michigan's Upper Peninsula. The stock currently trades slightly above $40 per share with an attractive dividend yield of 3.74% according to Google Finance. WEC is up 8.76% YTD, but down 5.43% over the last month.
Consistent Earnings
Prior to their Q2 Earnings Report on July 31, WEC had reported EPS numbers that exceeded consensus estimates four quarters straight; their most recent quarter continued that trend. The company reported EPS of $0.52, 13% higher than the estimate of $0.46 per share.
Renewable Energy
In addition to their two wind farms, WEC has undertaken a massive project in Rothschild, WI, creating a biomass-fueled plant. Although, this plant is going to increase their operational capacity, CEO Gale Klappa claims that with the new environmental controls constructed into the plant, total emissions will decrease by 30%. WEC subsidiary We Energies is responsible for the development of this bio-friendly plant, which will be operational by the end of the calendar year according to Klappa. Upon completion of this plant, WEC will be given a federal tax grant which CFO James Patrick Keyes projects will add approximately $0.12 per share in earnings for the entire year (projections made on WEC's most recent Quarterly Conference Call.)
WEC is also very proud to be operating 13 hydroelectric plants in Wisconsin and Michigan.
Future Outlook
According to Klappa on WEC's Conference Call, Wisconsin Energy has seen continued growth in electric service installations and new requests for natural gas, up 3% and 7% respectively in 2013. Mr. Klappa also mentioned the company's shift in focus for the next five years. As part of their "Power the Future" initiative, they will be redirecting their attention from large projects such as the biomass-fueled plant in Rothschild, to many "smaller scale projects designed to upgrade our aging distribution infrastructure."
WEC in the process of converting their Valley Power Plant from cogeneration to natural gas. Klappa believes that the conversion of this plant will decrease operational costs and strengthen the environmental performance of the plant without affecting capacity.
In an attempt to meet growing consumer demand in Western Wisconsin, WEC has filed an application with the Public Service Commission of Wisconsin to develop a natural gas lateral that will span 85 miles from Eau Claire County to Tomah in Monroe County.
Recently, the State of Wisconsin has decided to make some state-owned properties available for purchase in order to decrease their $8 billion in debt. Among these properties are plants that service state-run entities such as UW campuses, prisons, health institutions and veterans homes, with a market value that is "unknown." The lack of knowledge regarding the potential sale value is very intriguing and poses a great opportunity for WEC's management to evaluate the plants and decide if they want to pursue the matter any further. WEC's management has proven to be very meticulous in the way they deal with large corporate decisions, as exemplified by the methodical progression of their Power the Future movement, which gives me full confidence in their ability to acquire these buildings at a discounted price.
Dividend and Buyback Programs
Wisconsin Energy has consistently issued a dividend since 1986 while seeing a gradual increase in payouts since 2000. Their most recent of $0.38 per share represents an increase of 11.8% from the dividend before that and a 26.7% increase from the dividend issued for the same quarter a year ago.
In 2011, WEC's board approved a share repurchase worth approximately $300 million; the board's authorization extends through the remainder of this year according to Klappa on the conference call. WEC bought back 1.06 million shares in the second quarter of 2013 and 5.97 million shares since the inception of the program.
Analyst Opinion
WEC has been the subject of positive sentiment from rating agencies as well. Of the 13 analysts reported to be covering the stock, none of them have applied a sell rating and their average price target is $45.11, a 10.13% upside as of the end of trading on Wednesday. WEC is also being credited with an A+ BUY rating at TheStreet.com.
Conclusion
Wisconsin Energy Corporation is a very well-run company with several projects that will add to their current profitable status. On top of all the positives mentioned above, WEC has a beta rating of 0.23 according to Google Finance indicating a very low risk factor. This stock is likely to steadily climb upwards over the next few years given the increasing demand in Wisconsin along with their cost-cutting and environmentally friendly initiatives. I believe that WEC is a buy at current levels (especially given the pull back over the last month) with a very healthy dividend for shareholders to cash in on while they wait for future prospects to play out.
Disclosure: I have no positions in any stocks mentioned, but may initiate a long position in WEC over the next 72 hours. I wrote this article myself, and it expresses my own opinions. I am not receiving compensation for it (other than from Seeking Alpha). I have no business relationship with any company whose stock is mentioned in this article.