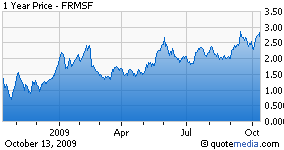 First Majestic Silver (OTC:FRMSF) released production figures for the third quarter, and what a quarter it was, if you take into account what lies ahead over the next year. This Mexico-focused silver mine is firing on all cylinders, while the market still regards this high growth company as a micro-cap. It has a nice asset base as well as advanced stage projects necessary to achieve mid to high double digit production growth for the foreseeable future. As most are unfamiliar with this company as it only trades on the TSX and pink sheets, the following paragraphs provide a brief overview of their current operations as well as their pipeline. But first, a rundown of the current quarter.
1.1m ounces of silver production or a 30% year over year growth rate.
Higher ore grades of 205 grams per tonne as opposed to 196 grams last quarter.
This is spite of the fact the large La Encantada expansion project will not show revenue until the fourth quarter.
The Core Assets:

La Encantada silver mine is their highest grade mine, which lies on a 7,000 acre property. As if often the case, La Encantada also possesses the lowest cash costs of those in operation. To maximize peak production levels, a twenty one million dollar expansion project will soon enable 4m-5m ounces of production per annum. The reserve base is currently around 90m ounces, making this a 20+ year mine.
The La Parilla Mine has surpassed investors' expectations since it was acquired, at least in regard to the actual size. As the surrounding claims cover over 100,000 acres, there are numerous targets for near and long term exploration and development. Due to the size of this mine and the surrounding claims it has taken some time to commence production as operational improvements, mill expansion and modernizations have been ongoing for the last five years. In the process, a rather significant mining area in Las Vacas has been under development and is set to begin production in the coming year. Though nearly 88 million ounces of reserves and resources have been discovered, peak production levels remain a question. With the addition of production from Las Vacas, it wouldn't be unreasonable to estimate peak production levels between 5m-8m ounces per annum.
The San Martine silver mine, which still has approximately 64 million of reserves remaining (which is significant given the fact it has been in operation since 1983), is expected to produce between 1m-2.0m+ oz per annum after the expansion project is complete.
Advanced Stage Projects:
Aside from the previously mentioned ramp up in production of their core mining assets, First Majestic's growth spurt can also be contributed to new operations being brought online. The Del Toro silver mine will commence initial production early in 2010 and expected to produce 1m in approximately 3 quarters of operations.
Despite cash costs in excess of $8 per ounce in La Parilla and San Martine, La Encantada boasts costs bring down the average rather significantly, from over $7/oz in 2007 , $5.50/oz in 2008 and around $5/oz in the current fiscal year. Though costs for the Del Toro mine will likely be near $10/oz for the coming year, as well as La Parilla (the initial and ramp up stages can be costly), this should not be indicative of their overall operating efficiency as it will likely retreat back to between $5-$6 per ounce in 2011. First Majestic will see their production growth increase 3 to 5 fold over the period from 2008-2013, with the added bonus of being able to fund future growth organically via through there numerous mine claims in La Parilla. Given that First Majestic has yet to hit their stride, they executed a great quarter. When you take into account the lack of catalysts in terms of production, high double digit growth, improving ore grades and reasonable cash costs, First Majestic will reports a quarter that will likely go dismissed, but not for long.
Disclosure: Long FRMSF.PK