It has been a good two months to be an Apple (NASDAQ:AAPL) shareholder. After watching a steady decline in its share price since September, which saw the stock plunge from $700 a share to less than $400, the stock has gained more than 100 points in the last 8 weeks.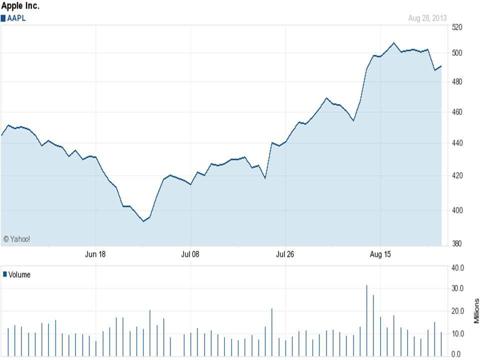 The rise has primarily been driven by what some investors would call "financial engineering." Pressed by activist investors David Einhorn and now Carl Icahn, the company upped its stock repurchase program from $10B to $60B. The company has already bought back some $16B in stock within this program. In addition, Apple raised its dividend some 15% to $3.05 a share.
These changes have been very important in changing investor sentiment on the stock and to arrest its nine month decline. However, it appears the gains triggered by these efforts have run their course and the stock could be locked into a somewhat tight range of ~$480 to $520 a share while awaiting further developments. The "first stage" of Apple's comeback appears complete.
In order to break out from this range on the upside and start to head higher, hopefully above the all-time highs seen in 2012 - the company needs to succeed operationally from a new product and distribution front. Here are the key items the company has to execute successfully to ignite the next stage of stock market appreciation.
New iPhones:
The company is widely rumored to be releasing its next phones, the 5S and 5C, on September 10th. They should have faster processors, a new OS and the 5S will have fingerprint sensing. The importance of the next version of the company's core iPhone franchise cannot be overstated. Although Apple has several product lines (iPads, MacBooks, iTunes, etc…), it still gets ~70% of its revenues from its iPhone franchise.
In order for AAPL to take the next step higher, the new iPhones have got to gain traction and sell well. The buzz and rumors on the phone's features, release date, production schedule, etc., have already started and should build until the "official?" release date of September 10th. Early reviews and analyst takes when Apple unveils its new iPhones will be crucial to Apple's stock being able to take the next leg forward. Actual demand should be able to be gauged soon after launch.
New Distribution Deals:
Other than the new iPhones, the second most crucial development for Apple's near-term future is ability for the company to land distribution deals with China Mobile (NYSE:CHL) and/or NTT DoCoMo (NYSE:DCM). There are some recent positives on a possible deal with China Mobile. The Chinese carrier recently announced over $3B in contracts to build its 4G capability which could be a precursor to an iPhone deal. China Mobile's chairman also recently said he was "optimistic" about reaching a deal. In addition, UBS raised its price target to $560 from $500 a share recently partly on a belief that the company will soon sign a deal which it calculates could mean 17mm additional iPhone sales in China in FY2014.
An NTT DoCoMo deal also has been rumored for some time. This would be a nice "get" and I think it will eventually get done despite DCM playing hardball. However, NTT DoCoMo's subscriber base is about 1/10th that of China Mobile, so the China Mobile distribution deal is the one that will really move the needle on Apple's stock price.
New Product Lines:
There will continue to be a lot of buzz about new possible product lines like the iWatch or iTV, but both of these potential products are minor compared to the success of the new iPhones and closing major distribution deals. It looks like Apple is progressing on the iTV front and these developments bear watching. More important in my opinion is launching an iPhone with a bigger screen which is already rumored to be part of the iPhone 6 launch in 2014.
Conclusion:
Apple has had a better than 25% run over the past two months and still is not an expensive stock at approximately 8x this year's earnings after taking the company's huge cash balance out of the equation. However, I believe its recent run is over and the stock is likely to trade in a range until new developments present themselves. I have outlined the most crucial events above. Given that Apple is the largest position in my portfolio, I will be watching intently to see how the company does in enabling these catalysts. Their progress will determine whether I hold, add to or liquidate my position in Apple. It should be an eventful rest of the year for Apple shareholders.
Disclosure: I am long AAPL. I wrote this article myself, and it expresses my own opinions. I am not receiving compensation for it (other than from Seeking Alpha). I have no business relationship with any company whose stock is mentioned in this article.