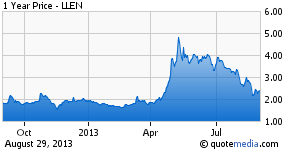 In my previous article on L&L Energy (NASDAQ:LLEN), I based my bullish thesis on its excellent valuation. In this article, I will look at the high coal demand from China and how that impacts LLEN's growth prospects.
On the one hand, a bullish sentiment on an American coal stock may sound shocking, given how in the past year-and-a-half, coal stocks in the U.S. have been hammered as demand for coal has fallen here.
On the other hand, various trust issues preclude American investors from liking Chinese coal companies despite the rising demand for coal in that country.
Combine these two ideas, though, and there's every reason to be bullish on L&L Energy, a U.S.-based, U.S.-regulated American coal company with an amazing book value that is absolutely focused on coal operations in China. This company is a value stock because its growth tracks the rising Chinese coal demand while usual accountability issues associated with many Chinese companies is absent in this Seattle-based company.
Coal demand in China
While coal consumption in the U.S. has slowed over the years, globally it has been rising, primarily due to strong demand from China and India. In fact, according to BP's (NYSE:BP) Statistical Review of World Energy 2013, despite nearly a 12% fall in coal consumption in the U.S. in 2012, globally coal consumption rose 2.5% last year. This was mainly due to a 6.1% rise in coal consumption in China.
China has been the world's top coal consumer for over two decades. In 2012, the world's second-largest economy consumed more than half of the world's coal.
These numbers establish China's hunger for coal. But what about the outlook for coal demand in the country?
There have been talks of reducing China's carbon emissions over the years. Recently, there were reports that the country is renewing its carbon reduction targets and clamping down on production. So will it have significant impact on coal demand in the country? I don't think so. The reason is quite simple. Over the years, coal has fueled China's development, and the country will not abandon it so quickly. There might be some slowdown; however, coal demand will remain robust.
LLEN well positioned
LLEN currently owns 5 mines in southern China, which include the newly acquired Luozhou and Lashu mines. In the fiscal year ended April 30, 2013, the five mines produced approximately 670,000 tons of coal. More importantly, once these mines are fully expanded, LLEN expects to produce approximately 1.8 million tons.
In addition, L&L Energy has been also evaluating larger mining operations with more than 1 million tons of annual production in northern China. The company notes that these mines have inherently lower production costs and will enable it to grow its mining segment exponentially.
Not only is LLEN ramping up its production, but the company is also expanding its distribution. Earlier in the year, the company secured a major contract with Datang Power.
Solid financials
Last month, LLEN reported strong financial results for its fiscal year 2013, which ended on April 30, 2013. Revenue for the year rose 76% to $199 million. The company's net income for the quarter rose 169% to $38.4 million. On a per share basis, earnings for the quarter were $1.03, up from $0.43 per share reported for the same period in the previous year.
In contrast, U.S. coal producers such as Peabody Energy Corporation (BTU) and Arch Coal Inc . (ACI) have been struggling. For the quarter ended June 30, 2013, BTU had reported a 13% drop in revenue to $1.73 billion. BTU's income from continuing operations for the quarter totaled $101.4 million, down from $214.5 million reported for the same period in the previous year.
Arch Coal, meanwhile, had reported a net loss of $72.2 million, or $0.34 per share for the second quarter of 2013. On an adjusted basis, the company's net loss for the quarter was $60.5 million, or $0.29 per share, up from $22.1 million, or $0.10 per share reported for the same period in the previous year. ACI's revenue for the quarter dropped to $766 million.
A growth company trading at more than 50% below book value
China's robust coal demand, LLEN's rising production and outlook, would suggest that the company's stock would be trading at a premium. However, LLEN is trading at a huge discount. On Monday, August 26, the stock had closed at $2.42. That is more than 50% below the company's book value of $5.55 per share at the end of fiscal 2013. Given LLEN's growth potential, this is a huge discount.
LLEN would be a value stock in terms of valuation alone. However, when you add the company's growth potential, this turns out to be an even better opportunity.
Disclosure: I am long LLEN. I wrote this article myself, and it expresses my own opinions. I am not receiving compensation for it (other than from Seeking Alpha). I have no business relationship with any company whose stock is mentioned in this article.