Intel price performance over 10 years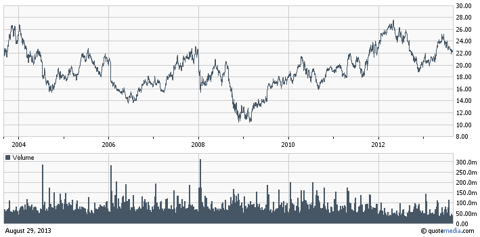 Intel (NASDAQ:INTC), the stock, has been dead money for the better part of the last ten years. Investors who have held on and waited, compensated in part by dividend growth and buybacks, have yet to be rewarded in the form of capital appreciation from P/E expansion and earnings growth.
But I contend that Intel is now a classic value play where the trinity of quality (specific business risks/financial risks), valuation (margin of safety), and growth (earnings visibility, expected earnings growth, and dividends) converge toward a consensus of undervaluation. The only problem? Growth has yet to emerge.
The problem of growth for Intel is twofold in a nutshell:
1.) A declining PC market
2.) Simultaneously missing explosive growth in mobile and tablet computing
While the prospects of a declining PC industry are incredibly worrisome, I strongly disagree with market participants who expect it to completely go away, to be replaced by mobile and tablet growth in what would be a zero-sum transformation.
However, competitors like Qualcomm (NASDAQ:QCOM) and Nvidia (NASDAQ:NVDA) have forced Intel into the corner like Intel did to AMD (NYSE:AMD) of yesteryear. As a result, Intel finds itself on thin ice and against the accelerated risk-factor of time.
Growth
One of the reasons why Intel seems attractive at the moment is its 4% yield. Out of all exchange-traded semiconductor companies ranging from small cap to large cap, Intel is one of about four companies that pay 4% and above.
Unfortunately, Intel did not increase the dividend in its last quarter. I want to take this time to clear up some confusion regarding the dividend in general.
Dividends have made up around 90% of total return during past range-bound markets in the 20th century (from Katsenelson's Active Value Investing). It's easy to dismiss the power of dividends in cyclical bull markets, such as the current one we're in now, but during downturns they can be life-savers against P/E compression. Dividends reduce the amount of risk a company would need to take in order to generate growth, and they are a far more tangible form of capital return/wealth creator than stock buybacks. Smart managements are aware of the psychological floor that a solid dividend can put in an investor's mind, and are therefore highly reluctant to cutting it. I honestly don't know why Intel did not raise the dividend, but I'm guessing at this point in Intel's history, their number one focus is on the Atom chip development as reflected in their increased R&D and growth capital expenditures.
In the following section on Intel valuation I assume an expected growth rate of 5%. The point of this number is not to forecast Intel's fundamentals, but to highlight what I believe will be the single saving grace for Intel's future: its competitive moat in the form of economies of scale. A company needs two ingredients in order to cook up some economies of scale:
1.) Sales growth - The cost structure of high level of fixed cost and a constant level of incremental variable costs means a firm has to have sales growth in order to minimize those same fixed costs per each unit of product produced. Intel's ability to manufacture their chips in-house means, unlike Qualcomm and other fabless players, higher margins once economies of scale kicks in from rising sales.
2.) Operating leverage in the form of large fixed costs
Intel currently lacks the sales growth needed to compete against Qualcomm and Nvidia, but that's about to change as the company seeks to release products like Merrifield and Cherrytrail Atom CPUs in 2013 and 2014. And as other authors on Seeking Alpha have pointed out, the production of 14nm Atom chips should give Intel a major advantage over its rivals. The simple take on this is that Intel seriously screwed up when it treated the mobile and tablet market as nothing but niche markets better left for companies like Qualcomm and Nvidia. Unfortunately for competitors, the imminent hanging of Intel has made the company aggressive and desperate in its attempt to catch up and outrun its rivals. The situation is eerily similar to Apple (NASDAQ:AAPL) and the cries for innovation from its investors. The difference is that Intel doesn't have to worry about trying to come up with a "cool" product, only better ones in terms of efficiency.
Another advantage that Intel has is luck in the form of a growing mobile and tablet market. Market growth does not favor incumbents who enjoy a competitive advantage in the form of economies of scale. To see why this is so, consider the following example given in Bruce Greenwald's Competition Demystified:
In the market for mobile and tablets, Qualcomm is the incumbent and Intel is the entrant.
As a market grows, fixed costs remain constant, but variable costs grow as fast as the market itself.
As a result, fixed costs decline relative to total costs.
Assume that fixed costs are $100,000 per year. If Intel has sales of $500,000 and Qualcomm has sales of $2.5mm, fixed costs take up 20% of Intel and 4% of Qualcomm's sales leading to a gap of 16%.
If the market doubles in size, that gap reduces to 8%.
If the market were to grow 10x, that same gap reduces to 1.6%.
The gap of 1.6% mentioned above is essentially the hurdle that Intel must clear against Qualcomm if the mobile and tablet market were to continue to grow exponentially. To what degree does this situation conform to reality? Well, ironically last year the demand for Qualcomm chips were so high they ended up contracting with one of their main competitors Samsung (OTC:SSNLF). If the entire market continues to grow and displace the traditional PC market, the economies of scale advantage for Qualcomm and Nvidia will shrink and be eaten up by a hungry Intel.
Valuation
I'm going to value Intel using several different methods. As a note of warning, however, any valuation at this point in the company's history will involve some strong assumptions regarding growth rates which have yet to materialize. Furthermore, most forms of valuation with respect to cash flows will be highly sensitive to assumed growth rates.
A quick and dirty first pass requires a look at Intel's basic P/E using absolute valuation technique. Based on data compiled by Vitaliy Katsenelson on the S&P 500 over the last one hundred years, the average P/E for a stock growing at 5% with an average yield of around 4% is about 15 times earnings. If we assume that Intel can conservatively grow at 5% over the next five years (half of analyst projections) with an expected dividend yield of 3.5% that gives us a basic P/E of around 14.75 times earnings. We can adjust the latter number upwards and give it a premium based on low business and financial risk, and long-term visibility of earnings based on mobile and tablet growth; but for the sake of simplicity we'll leave it (14.75).
Comparables
| | | | |
| --- | --- | --- | --- |
| | EV/EBITDA (TTM) | P/E | P/BV |
| INTC | 5.35 | 12.02 | 2.062 |
| AAPL | 7.69 | 12.24 | 3.60 |
| MSFT | 7.62 | 12.80 | 3.51 |
| GOOG | 14.32 | 24.55 | 3.56 |
| QCOM | 12.83 | 17.68 | 3.03 |
| NVDA | 6.78 | 16.35 | 2.08 |
*from (finance.yahoo.com)
On conventional relative measures, Intel turns out to be extremely cheap. No other company in the above table has the kind of iron-clad competitive advantage that Intel commands, yet the market ignores it like cold turkey.
Intel is even cheaper when we adjust its book value. The concept of replacement cost comes in handy here. We can safely assume that any company wishing to compete with Intel would need to spend a gargantuan amount of money to match Intel. As a result, we will capitalize both the R&D expense and MG&A expense back onto the balance sheet. For R&D, we depreciate it straight-line over 5 years.
R&D Adjustment
| | | | |
| --- | --- | --- | --- |
| Year | R&D Expense ($millions) | % | $millions |
| Current (2013) | 10,277 | 100 | 10,277 |
| -1(2012) | 10,148 | 80 | 8,118 |
| -2(2011) | 8,350 | 60 | 5,010 |
| -3(2010) | 6,576 | 40 | 2,630 |
| -4(2009) | 5,653 | 20 | 1,131 |
| -5(2008) | 5,722 | 0 | 0 |
*from Intel 10-K
Value of research asset = $27,166
Another adjustment we need to make is for Marketing (MGA). According to Interbrand, Intel ranked #12 last year among the top 100 brands in the world; so we know this is an important off-balance sheet asset that a competitor would need to match against Intel. For MGA, we get a value of $11.6B. If we adjust the current book value of Intel for these assets, we get the following:
INTC adjusted BV
| | |
| --- | --- |
| | June 2013 ($millions) |
| Book Value | 53,840 |
| R&D adjustment | 27,166 |
| MGA adjustment | 11,614 |
| Book Value adjusted | 92,620 |
| Market Value | 111,020 |
| P/Adj. BV | 1.20 |
In other words, Intel currently trades very close to its book value. Why are these numbers important? Because while competitors of Intel like Qualcomm spend around 20% (average) of their sales on R&D (~5% greater than Intel), its absolute spend is about 4x less than Intel's spend. And if I remember correctly, it's that kind of advantage combined with economies of scale that allowed Intel to pummel AMD into irrelevance. As I've said before, you need just two ingredients to get economies of scale: sales growth, and operating leverage. Intel's in-house manufacturing prowess provides the operating leverage. Now all they need is some sales growth in mobile and tablet to ignite the fire of economies of scale. Given Intel's history, I'm betting that they will in due time.
In conclusion, we can peg Intel as a classic value play where quality and valuation are there, but growth isn't. In this instance, an investor can either require an increased margin of safety or look for a catalyst. How much margin of safety depends on the investor's assumptions. For example, if we're looking for a required return of 15%, and we believe Intel can close the value gap in four years, taking into account expected growth of 5% and an expected yield of 3.5%, our margin of safety would be 26%. If we shorten the timeline and say that Intel can do it in three years, the margin of safety shrinks to 19.5%. Ultimately, the required margin of safety depends on the investor's psychological state of mind. As for the catalyst, they are coming in the form of an accelerated development for Intel's Atom chips for mobile and tablet which should either make Intel super-competitive or a market leader like in the past. Do I think Intel is a multi-bagger? No. We still haven't taken into account some of the cyclical headwinds facing the American economy. As resilient as Intel's stock has been, I'm not sure how much the market has baked in a global slowdown from an emerging markets crisis, possible Fed tapering, debt-limit shenanigans, and another war in Syria. But from this point in time, the analysis points to an undervalued stock and a great company that can make for some decent returns in the next three to five years.
Disclosure: I am long INTC. I wrote this article myself, and it expresses my own opinions. I am not receiving compensation for it. I have no business relationship with any company whose stock is mentioned in this article.
Additional disclosure: Not intended as investment advice. Please do your own research.