I am adding Black Earth (OTC:BLERF) to my developing country farm theme. Black Earth is one of the largest farming operators in the Russian heartland of one of the most fertile farm belts in the world. Company management includes experienced westerners. Its land was originally purchased for about $236 per hectare [HA]. The company owns 250,000 ha (617,763 acres) and has an exclusive lease on 68,000 more. In addition, it put $198 million into machinery, storage facilities with a 500,000-ton total capacity and fixed assets.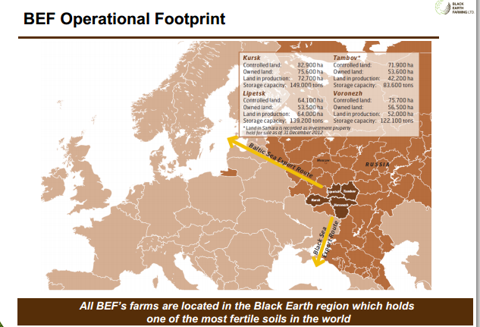 Click to enlarge
To enhance production, the company has completed 80% of liming to raise soil pH and has completed 160,000 ha of sub-soiling to relieve compaction. The benefits will materialize over the next several years. Fertilizer costs are down. Black Earth grows diverse crops, the largest being wheat.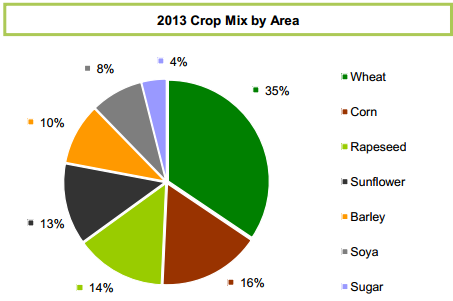 Mr. Market assigns an enterprise value of $238 million for Black Earth, which is less than the old land costs, equipment and facilities ($257 million). Book value is put at $302 million. If valued similarly to other transactions in Russia at about $600/ha, book value would be closer to $391 million. In comparison, farm land in eastern Europe goes for $3,120/ha in Bulgaria, $4,855/ha in Romania and $6,300 in Poland. In stark contrast, and to illustrate just how inflated U.S. assets are, Indiana, Illinois and Iowa farmland is $15,000 to $17,000/ha.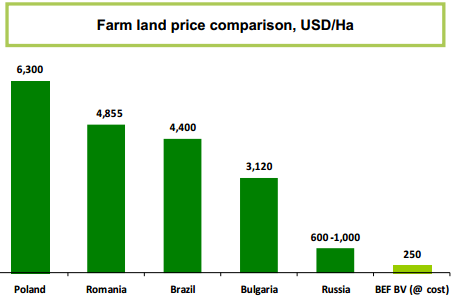 Although this kind of disparity in land values is too extreme in my view, one reason is variation in crop yields and prices versus the U.S. and Western Europe. To mitigate this, in October 2012 BEF signed a 3-year strategic agreement to supply PepsiCo with sunflower seeds, sugar beets and potatoes, which are all inputs for Pepsi's Frito-Lay brand. CEO Warburton released a statement regarding the deal:
The PepsiCo contract could potentially represent 30% of BEF's revenue by 2015 and this combined with our export program completely changes our profitability, risk profile and growth potential."

Click to enlarge
Beyond ultra cheap valuation placed on quality farm land, the simple fact is that there have been three large commodity spikes over the last six years. Add in extreme global money printing and an undervalued ruble, and that makes Black Earth a very inexpensive call option on a spike occurring again.
Black Earth trades in illiquid fashion on the U.S. pink sheets. It trades well on the Swedish exchange, and I have decided to buy it there with my Fidelity international account, timing it with when the missiles fly in Syria. Sweden trades from 3 a.m. to 11:30 a.m. EST. Of the major discount brokerages with international trading, Schwab does not trade in Sweden as of yet.
The steps to carry this trade out involve a conversion to Swedish Krona, a hard currency. Amounts under $100,000 are at 1% exchange commission. The commission to trade in Sweden is 180 krona or $27.50 U.S. I'm not treating this as a trade. I'm just going to put the stock away pending a major ag commodity spike.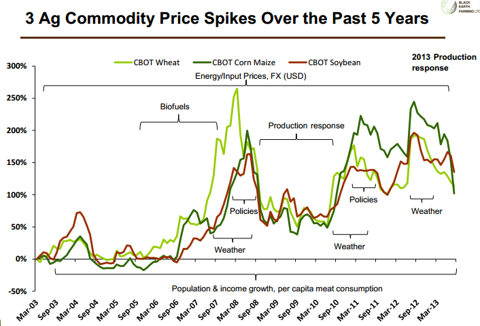 Click to enlarge
Disclosure: I am long OTC:BLERF. I wrote this article myself, and it expresses my own opinions. I am not receiving compensation for it (other than from Seeking Alpha). I have no business relationship with any company whose stock is mentioned in this article.