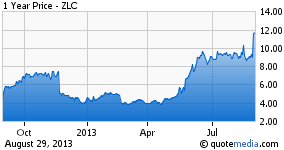 Shares of Zale Corporation (ZLC) rose some 30% after the jewelry retailer reported the first full year profit since the start of the financial crisis. Given the continued improvements in the business and the both low absolute and relative valuation, shares offer appeal to long term investors.
Fourth Quarter Results
Zale generated fourth quarter revenues of $417.1 million, up 2.5% on the year before. Growth was driven by a 5.6% increase in comparable store sales. Revenues came in ahead of consensus estimates of $409 million.
The company reported a $8.0 million loss compared to a $19.7 million loss a year ago. Diluted losses per share came in at $0.25 per share, ahead of expectations for losses of $0.33 per share.
CEO Theo Killion commented on the developments in the final quarter of the year, "We are pleased to report another solid quarter with a 5.6% percent comp and significant improvement to margins. Importantly, for the year we achieved a significant milestone by delivering our highest net income in six years."
Looking Into The Results
On top of the 5.6% increase in comparable store sales, gross margins were increasing as well. Zales branded stores saw a 8.1% increase in comparable sales in its Zales Jewelers and Zales Outlets business.
Gross margins were up by 150 basis points to 53.1%. The margin progress was made largely undone by increasing selling, general and administrative expenses which rose by 90 basis points to 51.9%. All in all, operating losses narrowed to $3 million, or 0.7% of total revenues.
Valuation
Zale Corp ended the fiscal year with $17.1 million in cash and equivalents. The company operates with $410.0 million in total debt, for a net debt position of around $393 million.
Revenues for the full year of 2013 came in at $1.89 billion, up 1.1% on the year before. The company reported a full year profit of $10.0 million, compared to a $27.3 million loss last year.
Trading around $11.50 per share, the market values Zale at around $375 million. This values the equity of the firm at just 0.2 times annual revenues and 37 times annual earnings.
Zale does not pay a dividend at the moment.
Some Historical Perspective
Long term holders in Zale have seen poor returns. Shares have traded in a $25-$35 trading range between 2003 and 2006, but have fallen to lows of just $1 in 2009. Shares have recovered ever since and after nearly tripling in 2013 alone, they are trading at the highest level since 2008.
Between 2009 and 2013, Zale increased its annual revenues by a cumulative 6% to $1.89 billion. After reporting years of losses in a row, Zale turned a $10 million profit last year.
Investment Thesis
Investors were pleased with the fourth quarter results, which is traditionally a weaker quarter. Zale has long been hurt by the recession and poor past management which led to years of consecutive losses in the recent past. After receiving a $150 million lifeline from private equity firm Golden Gate Capital back in 2010, things started to turn around.
Now the company is reporting healthy same store sales growth again, totaling of 5.6% over the past quarter. The company continues to close unprofitable locations.
For the coming fiscal year, Zale anticipates to close another 50 stores on a total of 1,694 retailer locations. Despite these closures the company anticipates further sales and profits improvements. While Zale did not quantify this guidance it reckons store closures will cut sales by 250 basis points. Operating margins should expand by at least 50 basis points, from 1.9% over the past year.
The 2012 introduction of Vera Wang and Celebration fire collection have been great successes, as the exclusive lines boosted margins. Other good news included the deal with Alliance Data Systems (ADS), which will start in 2015, which offers better terms for branded credit cards compared to the current program with Citigroup (C).
Larger competitors Tiffany's (NYSE:TIF) trades at $77 per share, valuing the business just shy of $10 billion. Tiffany's reported annual revenues of $3.8 billion over the past year, on which it reported net earnings of $416 million. Based on this valuation, Tiffany's is valued at 2.6 times annual revenues and roughly 24 times annual earnings.
Based on the low absolute revenue multiple, which implies a significant discount to Tiffany's valuation, which generates roughly twice as many sales as Zale, shares might be worth the gamble in the long term.
With the business being stabilized, as Zale has returned to profit and is showing continued signs of improvements. Investors still have the opportunity to pick up some shares for the long haul.
Disclosure: I have no positions in any stocks mentioned, and no plans to initiate any positions within the next 72 hours. I wrote this article myself, and it expresses my own opinions. I am not receiving compensation for it (other than from Seeking Alpha). I have no business relationship with any company whose stock is mentioned in this article.