4G LTE-Advanced Is Necessary
Many areas of the mobile market are going to grow. 4G LTE-Advanced offers network improvements so more data can cross the wires and faster, to put it simply. The deployment of this new wireless standard will further allow the mobile market, and all of its branches to grow. 4G LTE-Advanced is a mobile communication standard set forth by the 4rd Generation Partnership Project (3GPP) that is a major enhancement of the Long Term Evolution standard. From payment transactions to the amount of time it takes to download a new application, 4G LTE-Advanced offers a new wave of mobile functionally that will propel mobile speeds and quality well into the future.
Wireless Telecommunications
Wireless communications through mobile telephones are obviously growing, to the demise of landlines. The ICT Data and Statistics Division, Part of ITU demonstrates the growth of mobile phones. I have created a graph from their statistics to demonstrate the global growth of mobile subscriptions and the decrease in fixed telephone subscriptions. This organization was founded by the United Nations in 1865.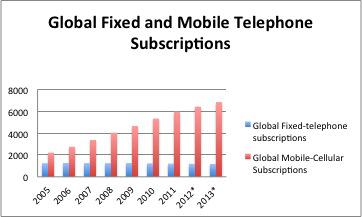 Who Will Benefit:
Wireless communications companies such as Verizon Wireless (NYSE:VZ), AT&T (NYSE:T) and Sprint (NYSE:S)
Intel (NASDAQ:INTC) that provides mobile phone platforms for devices and devices themselves.
Growth Of Mobile Data Usage
Qualcomm (NASDAQ:QCOM) has announced the 1000x data challenge that is coming and that they are at the forefront of tackling this problem through more spectrum, more small cells and more Ad-Hoc small cells. The increase in global mobile data usage will also put the burden on wireless communications companies to advance their network capabilities. Companies such as AT&T, Verizon, T-Mobile (NASDAQ:TMUS) and Sprint will have to increase their data thresholds to amount to handle mobile data growth.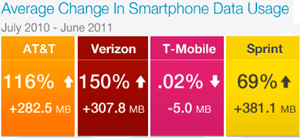 How To Tackle Data Usage Growth With 4G LTE-Advanced
One such advancement to tackle the growth of data usage is the deployment of 4G-LTE Advanced, very different from the 4G that is marketed on television. 4G-LTE Advanced offers peak data rates of 1Gbps compared to 300Mbps on 4G-LTE and 10x-30x faster download speeds than its predecessor. Upload speeds on advanced would be 2x-14x faster as well according to Digital Trends. This means that providers will be able to offer users much faster speeds on their mobile devices. 3GPP claims that 4G-LTE Advanced release 10 will provide an increased peak data rate of 1.5Gbps, higher than what Digital Trends has reported.
The usage of the new standard, 4G-LTE Advanced will help providers:
Keep up with data capacity
Offer network improvements
Offer customers extremely faster speeds
Who Benefits Other Than Humanity:
Providers that will offer 4G-LTE Advanced services to their customers such as Verizon and AT&T
4G LTE-Advanced device manufacturers such as Apple (NASDAQ:AAPL) and the android manufacturers.
Qualcomm that offers the hardware to providers to make these changes possible:
"... Qualcomm Technologies' third-generation solutions that powered the world's first LTE Advanced carrier-aggregation launch in June 2013. "
VirnetX (NYSEMKT:VHC) is sure to benefit from the further adoption of the new standard in telecommunications. Companies such as Apple that are going to produce 4G-LTE Advanced devices will have to license with VirnetX for use of their patents, which can provide licensing income for the company. VirnetX has now identified 18 specifications or developing specifications in the 3GPP LTE, SAE project to which its patents and patent applications are or may become essential.
Snapdragon 800 Processors
Qualcomm has unveiled its series of Snapdragon processors that will power the world's first 4G LTE-Advanced smartphone. The snapdragon 800 processors with 4G LTE-Advanced will first be utilized by the new Samsung Galaxy S4 LTE-A and offer data rates up to 150 Mbps. Snapdragon processors will not only be a key component of 4G LTE-Advanced devices, but it will directly benefit Qualcomm's bottom line.
"Snapdragon 800 processors with LTE Advanced are designed to deliver maximum performance and connectivity to users who want the fastest and best mobile experiences, from watching high-definition video to playing the latest mobile games," said Murthy Renduchintala, executive vice president, Qualcomm Technologies, Inc. and co-president, Qualcomm mobile and computing. "LTE-Advanced represents a significant improvement over current standards and will only enhance these experiences on the Galaxy S4, and other future devices worldwide."
Murthy Renduchintala, Executive Vice President of Qualcomm technologies opined in the new technology, providing an overview of the new communications technology and the new Snapdragon 800 processors.
Examples Of Growth In The Mobile Market One: Worldwide Payment Transactions and Users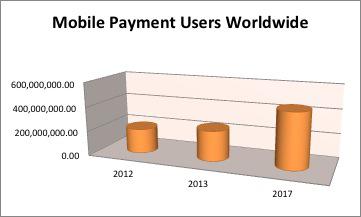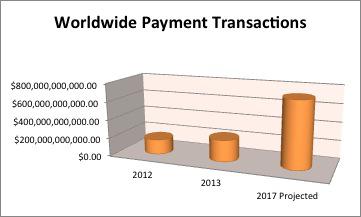 Worldwide mobile payment transactions are set to grow $486 billion in the next four years, and mobile payment users is set to add 204.8 million users by 2017. This is just one example of growth in an area contained in the mobile market. 4G LTE-Advanced can address growth needs in the mobile market with its improvements to the various networks.
Brand Competition In 4G LTE-Advanced
4G LTE-Advanced will likely be offered among all major brands. Although there is constant competition in the mobile device market. The big four are constantly working to gain market share for their brand with new devices coming to market incessantly whether with drastic changes, or minimal upgrades. If any of the below companies are not planning to readily include 4G LTE-Advanced devices in their product lineup in the future, they may see a severe decrease in product sales as consumers want the best available technology this is available. This is not to be confused with Qualcomm, the company that makes the snapdragon processor used within the actual devices.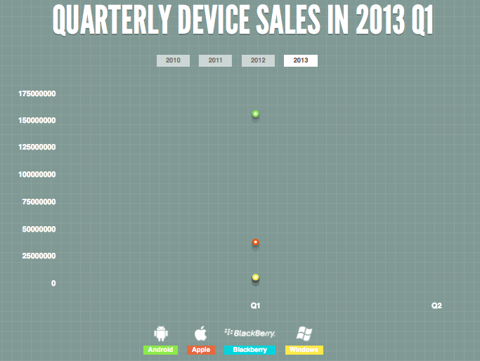 The Four Biggest Brands Are:
Apple most notably known for the iPhone line and their new push to gain market share in the non-premium market with the iPhone 5C. The deal can include Apple's iPhone 5C in China Mobile's sales (NYSE:CHL) which has over 700 million customers.
BlackBerry (NASDAQ:BBRY) has been struggling to stay afloat, with some users valuing the patent holdings of the company more than the actual mobile business that Forbes describes as worthless.
Windows (NASDAQ:MSFT) has been working with (NYSE:NOK) trying to gain marketshare, although the operating system Microsoft is pushing on Nokia has been virtually abandoned by almost every OEM states SA contributor Ashraf Eassa. It looks as though Nokia is doing worse with its tablets than its competitors.
(Click to enlarge)
The results are fairly straightforward and known by the market, As iPhone and Android gain marketshare, Windows and BlackBerry continue to lose marketshare. This may lead the two latter companies to exit the mobile business, or require great leaps to obtain marketshare. The growth of the various brands will be dependent on their ability to improve their devices, making 4G LTE-Advanced a key upgrade to improve brand growth in the future.
Applications
App purchases by users has not only grown to be extremely profitable, although very telling when looking at the number of downloads per brand. Microsoft is virtually non-existent, a very detrimental statistic for the company's mobile brand. BlackBerry has been stagnant, and more interestingly Android has caught and surpassed Apple in total app downloads. This is shocking because Apple has always flaunted their app store as a selling point of their products, although Android users are just as likely to click the purchase button. This demonstrates that Apple can no longer use their app store as a leading selling point, not that their app store is not phenomenal, just that Android has caught up. 4G LTE-Advanced can allow applications to undoubtedly download faster as well.
Business Use Of Mobile:
Businesses are growing more and more reliant on using mobile advertising as part of their marketing efforts.
Last year, only 12% of consumers bought anything through social media.
The global mobile ad market will grow from $3.4 billion in 2010 to $22.0 billion in 2016
US mobile ad spending reached $2.6B in 2012
The first statistic demonstrates that the number of consumers buying products through social media has plenty of room to grow. This can benefit social media giant Facebook (NASDAQ:FB) and Twitter.
The latter two statistics demonstrate the growth in the mobile ad market. This will directly benefit Google, which pulls about 95% of its revenue from advertising. Although this will benefit Google, it will also benefit applications that profit from advertising in their apps, such as games that are freely downloaded.
Online business giant Amazon (NASDAQ:AMZN) will see growth from an increase in mobile sales as its business is strictly web based. With new speeds and mobile functionality that 4G LTE-Advanced provides, consumers will be able to purchase goods online much faster. Although speed doesn't not influence how much a consumer will spend online, it will certainly improve the user experience to be able to purchase what you want, faster.
Mobile Wallets and Cyber Security
The physical wallet is getting out of date, according to the tech world. Jokingly, the growth of the mobile wallet will likely lead to a decrease in wallet sales. Google has been advancing Google wallet that will most likely out date carrying around a wallet. Although the use of a mobile wallet can lead to security concerns and the charging of customers for using such an application. For all we know, Google wallet will remain free and feature advertisements. 4G LTE-Advanced is also more secure, giving consumers more security with their mobile devices.
Within five years, half of today's smartphone users will be using mobile wallets as their preferred payments method.
The Cyber Security market will reach $120 Billion by 2017.
Industry Analysis: The mobile industry is undoubtedly set to grow. With the worldwide global ad market reaching $22 billion by 2016. The cyber security market reaching $120 billion by 2017 and worldwide payment transaction set to grow nearly $500 million in the next four years.
Conclusion:
The new wave of communications is just around the corner. 4G LTE-Advanced will offer a major enhancement to the current LTE standard.
Who Benefits With 4G LTE-Advanced
Reason
Qualcomm
Snapdragon 800 Processors utilized in 4G LTE-A devices
VirnetX
Their essential patents for 4G LTE-A; Manufacturers will have to license to use their technology or face willful infringement since the technology is encompassed and documented in the new 4G LTE-A standard
Verizon, Sprint and AT&T
They will profit from offering wireless services to the consumer, including 4G LTE-A communications.
Apple, Google,

BlackBerry, Microsoft

4G LTE-A device manufacturers such as Apple, Google and the Android world including HTC.

BlackBerry and Microsoft will have to as well to remain competitive in the marketplace.
Moreover, we all know mobile is advancing and if you spot a company that is unable to adapt with the mobile world that should send up a red flag. This is something Microsoft has been criticized for in the past. Moreover, the flow of 4G LTE-Advanced into the market place will undoubtedly provide a lightning fast mobile experience for the consumer and major network improvements for providers.
Disclosure: I am long VHC. I wrote this article myself, and it expresses my own opinions. I am not receiving compensation for it (other than from Seeking Alpha). I have no business relationship with any company whose stock is mentioned in this article. Informational, not a recommendation to buy or sell any security. Always contact a financial professional before executing any trades. More sources: docs.google.com/document/d/1YtCAtKba_L-8.../edit