This past earnings season, eBay's (NASDAQ:EBAY) stock price took a hit because the company described continuing challenges to its international operations:
Macroeconomic headwinds in Europe and Korea will continue to be a challenge in the second half of the year.
Seeing the stock's reaction, I wondered if there might be other big name companies who might suffer from the same "headwinds." And since I was seeking alpha, I preferred that these be the kind of companies who aren't as open with their challenges as EBAY is - such that the problems would not already be reflected in the current stock price. After some research, two familiar names came to the fore: Netflix (NASDAQ:NFLX) and Amazon.com (NASDAQ:AMZN). Having previously written on AMZN (here and here), I'll focus on NFLX in this article, adding in AMZN commentary where it helps make the wider case. Then, after discussing my international thesis, I'll conclude by fleshing out other factors that might be relevant to a possible short sale of NFLX.
To begin, let's consider the bull case for NFLX. While there's still room to grow domestically, and there's a definite buzz around original content development, much of the long-term story relies on the company rolling out its offerings internationally, i.e. reproducing the model they've perfected domestically in the many markets available around the world.
During its recent earnings conference call the company confirmed that it's investing heavily in its international operations as this will drive future growth:
Reed Hastings - Chief Executive Officer

[…]We're choosing a business strategy which has a split essentially all of our domestic profits into international expansion. And that's the right move, but it definitely takes a strong stomach on the part of investors.

Rich Greenfield - BTIG

So, Reed, really following up on that international point. What is the strategy? I mean do you want to essentially grab as much market share over the next five years as you can without regard to profitability or do you think you are actually going to start showing meaningful international profitability before going to too many more markets?

Reed Hastings - Chief Executive Officer

Now what I said is the statements we have put in the long term letter, which is we are investing substantially all domestic profits in international expansion. And we think that's very smart. If you look at our international growth, it's tremendous. We think there is a huge opportunity around the internet in the international markets and we're investing for the long term in that. And I think we've been very clear in that for almost three years now.
Moreover, it would seem that the market expects the strategy to pay off big time, for otherwise it's hard to justify the lofty multiples the company currently trades at (Yahoo stats are with the stock trading at Wednesday's closing price of $283.36):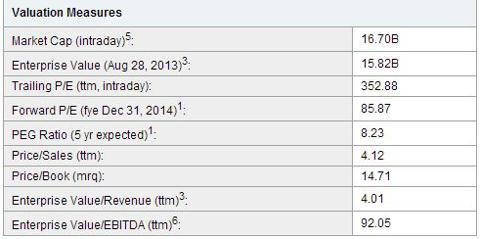 Click to enlarge
(Click to enlarge)
So my question is, how do we assess the prospects and likelihood of success of this international foray?
Replicating a Domestic Model Internationally
A first step to answering this is to look at the international sales of other successful (and more mature) tech companies to see how well they were able to replicate their domesticate model. (Please note I'm not citing these companies as directly comparable or direct competitors, I'm simply using them to gain an understanding of the potential to leverage domestic success on an international scale.)
Following are log graphs showing the quarterly and trailing twelve month (TTM) revenues for eBay and Amazon domestically and internationally. Quarter 1 is the time at which the relevant division's revenue first exceeds $15M (i.e. big enough to matter, small enough to get a full data set). For eBay domestically this is June 1998, and internationally it's March 2001; for AMZN (which is divided into North America and International) it's March 1997 and March 1999.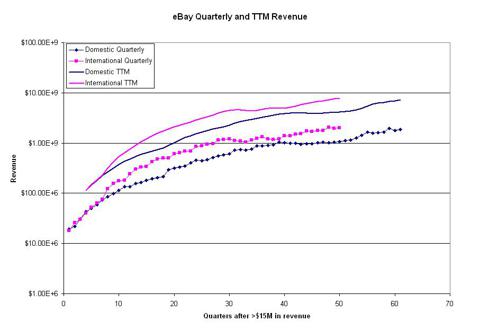 Click to enlarge
(Click to enlarge)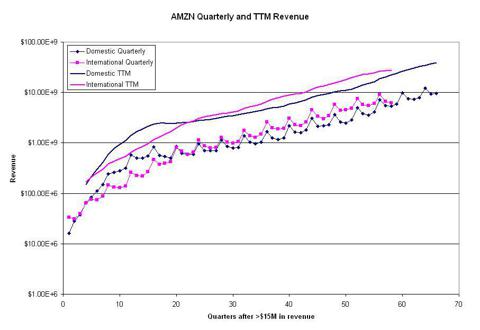 Click to enlarge
(Click to enlarge)
Both AMZN and eBay were able to ramp up international sales on a growth path similar but faster than their initial domestic/North American origins. (eBay did it right away, AMZN's first few years of international sales didn't quite match its domestic levels.)
NFLX took much longer to establish its international business, so the comparables are bit more difficult, particularly since in its early domestic days, Netflix was a DVD rental company - not a streaming company. But by the time it broke its streaming operations out in its financials, streaming was already generating $475M in revenue a quarter; too far along in the development to compare with its new international streaming operations. As a result, I've elected to show the international streaming growth compared to the earlier domestic operations, again beginning in the quarter where the $15M revenue mark is eclipsed. But please keep the above caveat in mind. (For reference, domestic Q1 is June 2001, international Q1 is Jun 2011).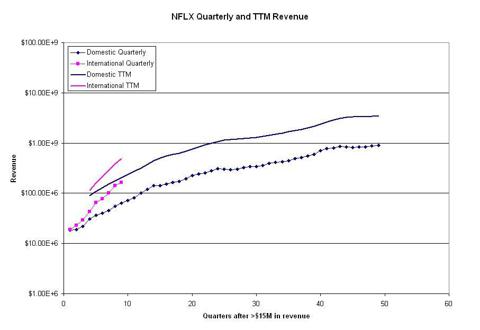 Click to enlarge
(Click to enlarge)
In the early going at least, NFLX's international growth is outpacing not only its comparable domestic growth, but also the trends set by eBay and AMZN. No doubt some of this comes from the fact that streaming is easier to distribute than were DVDs, but it's also likely that the company's decision to wait longer to launch its international operations allowed it to dial-in its systems and hence roll the new service out faster.
So far, so good. But what about the costs?
Unfortunately, eBay doesn't break out any measure of profitability for its geographic segments, so we can't get a comparable there. But we can look at AMZN, because, starting in March 2002, it began breaking out North American and international operating income along with the associated revenues. Using the same quarter numbering as above, here's a comparison of the operating margins (segment operating income / segment revenue) for North America and International.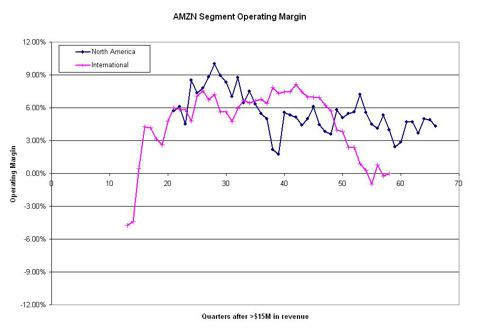 Click to enlarge
(Click to enlarge)
For the early periods where we have comparable numbers (quarters 21 through ~50) AMZN managed to maintain relatively similar operating margins in NA and internationally. But recently (and remember that the end points on each line correspond to the company's most recent quarter), international operating margins have plunged, while those in North America have only fallen slightly if at all. Before we analyze this, let's look at a similar metric for NFLX.
Beginning in March 2011, the company began breaking out something it calls "contribution profit (loss);" defined as "revenues less cost of revenues and direct marketing expenses." Previously, there was no real equivalent, but for a very conservative comparison (i.e. a comparison that should make the new international operation look very good), we can compare the company's net margin early on to the international "contribution margin" now. (Net margin of course includes indirect marketing costs + R&D + G&A costs, so we'd expect it to be significantly lower than "contribution margin.") Yet here's what the early data looks like: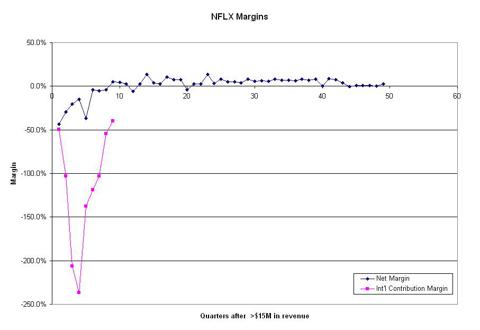 Click to enlarge
(Click to enlarge)
International operations are performed at a huge loss, much larger than anything the company experienced in its domestic operations - even when compared to net margins. (We could try to subtract out R&D and G&A costs from the early company data to come up with a proxy "contribution margin," but the data is already so clear that it doesn't seem necessary.)
Much as eBay noted in its earnings release, both AMZN and NFLX seem to be afflicted with international "headwinds." In the case of the latter two, let's try to probe deeper to see whether the causes are temporary or enduring.
Currency Effects
In explaining any international adversity, AMZN inevitably points to "unfavorable" exchange rates. To verify this claim, I've supplied 5 year price charts of the US$ index and the Euro/US$ below. (Before turning to them, however, let me vent a bit and say that as much as exchange rates might hurt international sales - for a company like AMZN they'll also improve domestic sales and margins as the costs to import goods will likewise come down. Yet AMZN always harps on the negative while remaining silent on the positive!)

Click to enlarge
(Click to enlarge)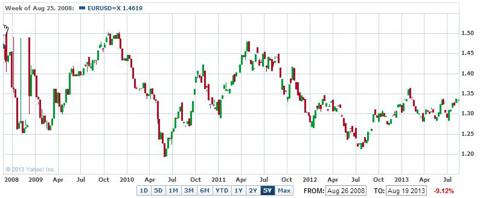 Click to enlarge
(Click to enlarge)
The charts show that the average exchange rate hasn't changed much over 5 years, so it's hard to take AMZN's excuse too seriously.
So what might be other factors?
International Headwinds
There are of course macroeconomic issues. From the PIIGS, Cyprus and even France, to concerns about China's growth rates, the world is not the booming place it once was. This is an important consideration, and I refer the reader to knowledgeable sources like Kyle Bass and John Mauldin to learn more.
But there are also company specific factors which play into the reduced profitability experienced internationally.
First for NFLX is the fact that early in its life, content providers didn't know how to properly value their property - viewing any revenues they might generate through a young upstart like Netflix as a "bonus." Nor did NFLX have competitors bidding up content, hence it was able to move to profitability very quickly (see the net margin graph above).
But by the time NFLX was ready to roll out its international offerings, none of this was true. Foremost, content providers not only knew how to value their property, but they even began to view NFLX as a competitor (since it's now in the business of funding original content). Next, as we'll discuss below, there were plenty of other bidders vying for the content. This made it much more difficult for what is essentially a middleman (i.e. a purveyor of content which neither develops and owns the content, nor controls the network on which it's transmitted) to make the margins that it did in its early days.
So the advantages of mispricing during a "price discovery" phase of the market's development were no longer available by the time NFLX expanded internationally. (Just to make it clear, NFLX has to license content for each geographic region separately, it can't simply stream anywhere it wants to based on its domestic license.)
Next comes competition.
Competition and Competitors
Let me begin here with my view of competition which many readers might disagree with. I used to hold firmly to the idea of "first-mover" advantage as the single most crucial aspect of competition. And while I still think there's something to it, especially for companies which benefit from a network effect (like eBay and Facebook), I now wonder more about the dynamics of competition, particularly the advantage of understanding and taking on a known competitor, vs. being "hit" out of the blue by a young upstart.
All three companies considered here - eBay, AMZN and NFLX - had first mover advantages, but only eBay started a whole new paradigm. AMZN and NFLX moved from brick and mortar to the internet, which is a significant shift, but part of their success was also due them being forward-looking, nimble competitors set on taking out established giants. NFLX did it with Blockbuster; AMZN with Borders and Barnes & Noble among others. In all three cases, not only did consumers benefit, but the market awarded premium valuations to the companies themselves.
Yet in many ways - particularly in the international arena - NFLX and AMZN are now the incumbents being targeted by newer, more dynamic young competitors.
A humorous way to make the point is to consider Netflix's recent claim to have "secured exclusive online distribution of 'The Hunger Games' in the U.K." The company, of course, was looking solely at the established players whom it was targeting as competition. But Tesco (NASDAQ:TESO) - despite being the U.K.'s biggest retailer - was still new to the streaming business (with its Blinkbox offering), and hence wasn't even on NFLX's radar! This changed when on March 1, 2013, Tesco tweeted the following correction: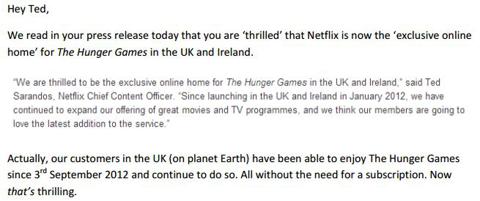 Click to enlarge
(Click to enlarge)
(That's just an excerpt, read the whole letter at the link above to be further amused.)
During the time that Netflix waited to perfect its domestic streaming before launching it internationally, many actual and potential competitors were learning from and setting their sights on Netflix. Thus the competitive story internationally is nothing like the domestic one which Netflix was able to transform and dominate a decade ago.
To get a sense of today's competitive landscape, let's survey a sampling of competitors. First off, there's AMZN itself which is growing its streaming operations (offered under Amazon Prime) at a break neck pace and which some content providers prefer for a variety of reasons. For example, consider this report of Viacom's take on the subject of allowing a licensing deal with Netflix to lapse but replacing it with a license to AMZN:
Dauman said that while Amazon Prime has less reach now, "our content will help drive their sub number up. "He added that "we also like the Amazon environment in that our brands are brought out more clearly in the Amazon Prime environment than they are in the Netflix environment.
Amazon also owns and operates LoveFilm in the U.K. And that's just one competitor. There's also Google's (NASDAQ:GOOG) YouTube, Hulu, and HBO's Go. Moreover, we've already mentioned the very well financed Tesco and its Blinkbox offering whose strategy is to leverage its millions of existing customers via loyalty points (among other things). Then there's the self-proclaimed "Amazon Destroyer," Japanese Rakuten, which recently bought Spanish VOD company Wuaki.tv and plans to expand it across Europe. In China, both Baidu (NASDAQ:BIDU) and Alibaba have or are set to buy streaming video companies.
Given that all of these companies have built their streaming offerings with Netflix in mind as their prime competitor (at least in Europe), and given that most if not all of them are better financed than Netflix, it's hard to see how Netflix could ever be more than marginally profitable internationally, much less duplicate the amazing success it's had domestically.
Of course, the effect of international competition on NFLX isn't yet visible in terms of revenue growth, since NFLX is so new to the international scene. (Instead the effect is best seen by the incredible losses NFLX is absorbing, see the international contribution margin graph above). But for AMZN - which is a much more mature international player - the effect can also be seen by the fact that while domestic growth still produces greater quarterly year-over-year revenue gains, internationally absolute dollar growth is decreasing. (The graph below shows quarterly revenue gains measured year-over-year and the smoothed line is a moving average of the 4 most recent quarters.)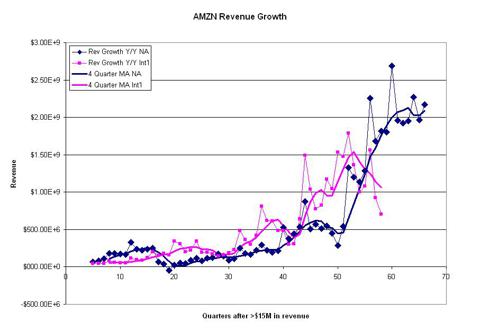 Click to enlarge
(Click to enlarge)
By any measure, international "headwinds" are a problem for NFLX (and AMZN); and these "headwinds" are the primary reason for my negative view of NFLX going forward. Having said that though, there are additional factors that make the short enticing, including a potential catalyst event.
Insider Selling
Another reason to consider a short sale of NFLX is that by and large, insiders are selling. Below I've used the traditional volume bars of a stock chart to instead show dollar volume of insider sales per month versus stock price. Insiders showed steady selling when the stock was making its all-time highs in 2011, but when the stock got hit by the failed Qwikster separation, insiders stopped selling. Now that the price has rebounded, they've renewed their selling with a vengeance (the April 2013 bar goes off the chart at >$300M in that month alone!). I'm inclined to follow their lead.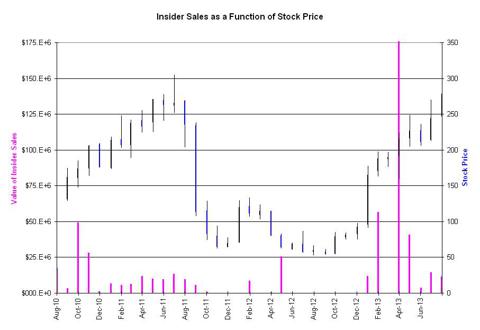 Click to enlarge
(Click to enlarge)
Management Obfuscation
Another possible red flag is the company's frequent unwillingness to discuss critical metrics. I'll let the discussion regarding churn during the latest earnings call speak for itself as a typical example:
Julia Boorstin - CNBC

Many investors have shared a concern that virtually every one in your potential market has already tried Netflix at least once so you have very few actually new customers. What is your level of churn?

Reed Hastings - Chief Executive Officer

You know what we really focus on is the net adds. Because someone has tried Netflix before, they're probably more interested in trying us again as the content gets better, as the streaming gets better, as the play back software and the devices gets better. And so there is lots of people who tried us and then they will try us again to see if we meet their future needs. So we're feeling very comfortable about that.

Julia Boorstin - CNBC

I understand you stopped reporting churn but can you tell us anything about the churn and what that might reveal about future growth?

Reed Hastings - Chief Executive Officer

I can tell you that as the CEO of Netflix, I focus myself. I don't even look at the churn numbers. Essentially, I'm looking at net adds all the time, because you get various trade-offs, and really what we care about is total growth. And so it's bringing the world in line with how management looks at it, which is in terms of net additions which we do check every week, every day.
Icahn as Catalyst
Finally, the short sale has a potential catalyst, namely the eventual sale by Carl Icahn of all or part of his 10% stake in the company. Remember that in Oct 2012, Icahn disclosed that he'd bought 5.5M shares (or share equivalents) at an average price of $58. His continued holding has been one of the factors contributing to the almost quintupling of the stock price subsequently. Sooner or later he'll sell, and when he does, my guess is that the stock will take an immediate 15-20% hit (assuming it's still trading at today's levels). I have no special insight into Icahn's trading or plans, but given all the other headwinds I see, I'm betting that he'll look to book his >$1.2B gain sooner rather than later.
Trading Position and Context
In a previous article, I indicated that I'm generally bearish on the U.S. equity markets and as such am looking to build a short portfolio. My first entry is Tesla (NASDAQ:TSLA), which so far is running against me. My second position is NFLX for the reasons outlined above. In this case, I'm taking a larger position ~ 6%-7% of my portfolio at an average price of ~$282, with the idea that there's a catalyst event in the offing. Should it materialize and the stock drop 15% to 20%, I'd look to book half the position and then hold a 3%-4% position for an ultimate target of a fully diluted market cap of < $6B.
Disclosure: I am short NFLX, AMZN, TSLA. I wrote this article myself, and it expresses my own opinions. I am not receiving compensation for it (other than from Seeking Alpha). I have no business relationship with any company whose stock is mentioned in this article. Though I'm short the stocks of NFLX and AMZN, I'm also a customer of both companies.