Brief introduction of Noah Holdings
Noah Holdings (NYSE:NOAH) is a leading wealth management service provider focusing on distributing wealth management products to the high net worth population in China.
According to its issued 2Q2013 results, as of June 30, 2013, NOAH had 525 relationship managers in 56 branch offices to serve three types of clients:
1. high net worth individuals,
2. enterprises affiliated with high net worth individuals, and
3. wholesale clients, primarily local commercial banks or branches of national commercial banks that distribute wealth management products to their own clients.
The number of its registered clients accounted for 45,839 as of June 30, 2013.
The OTC wealth management products distributed by the company primarily include fixed income products, private equity funds, private securities investment funds, investment-linked insurance products and mutual fund products. The company also raises and manages proprietary and innovative wealth management products, including fund of funds products and real estate funds products.
Financial and Operational highlights
Results of 2008-2012
For the last five years, NOAH has consistently recorded strong results despite the financial crisis, the European debt crisis and the slowdown of economic growth in China. During the period, the company experienced an average yearly compounded growth of 52.3% in its net revenue, or, in other words, 8 times the 2008 net revenue. The net income attributable to the shareholders of the company had a huge turnaround from a loss of US$0.40 million in 2008 to a gain of US$22.83 million in 2012. The following chart gives you a clearer insight of the trend.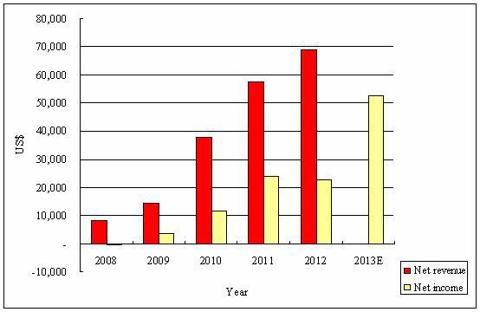 Results of 2Q of 2013 and 2013 guidance (US$50 million - US$55 million)
Due to the enhancement of the wealth management product development, NOAH continues to drive significant growth in transaction value and assets under management. The company's strong results in the second quarter of 2013 beat the market expectations impressively. Here are some key measures.
| | | |
| --- | --- | --- |
| | Amount/number/percentage | Increment YoY % |
| Net revenues | US$44.3 million | 132.1% |
| Active clients | 2602 | 76.4% |
| Aggregate value of wealth management products distributed | US$2.0 billion | 101.9% |
| Operating margin | from 37.7% to 41.6% | 3.9% |
| Net income attributable to the company's shareholders | US$14.4 million | 133.1% |
| Cash flow generated from operating activities | US$28.9 million | 280.3% |
(Source: PR Newswire)
In addition, the company lifted its net income guidance for 2013 in early August, which estimated that the non-GAAP net income attributable to shareholders for the full year 2013 would be in a range of US$50.0 million and US$55.0 million, representing a year-over-year increase in the range of 86.4% and 105.0%.
Valuation
In this section, I am not going to give an exact figure/target price on the stock. Instead, I will show why the price is a bargain from the valuation perspective.
(1)Comparable method
Noah Holdings and its comparables (Data as of August 27, 2013)
| | | | | |
| --- | --- | --- | --- | --- |
| | Price/Earning ratio ((ttm)) | Price/Book ratio | Net income growth YoY in the most recent period | PEG |
| Noah Holdings | 19.17 | 3.73 | 132.1% | 0.15 |
| Evercore Partners (NYSE:EVR) | 33.84 | 3.41 | 20.3% | 1.67 |
| Gluskin Sheff & Associates (GS.TO) | 15.01 | 7.59 | 10.9% | 1.38 |
| Ameriprise (NYSE:AMP) | 15.03 | 2.1 | 9.2% | 1.63 |
| Greenhill & Co. (NYSE:GHL) | 27.99 | 5.51 | 83.8% | 0.33 |
(Source: Yahoo! Finance)
Although the comparables are not exact matches, this can show the valuation of the company is apparently below the industry average. If its net income for 2013 is going to be above US$50 million as expected by the management, its PE ratio will further drop to a level below 14. Is a company with both its revenue and profits rocketing valued at PE of 14 reasonable? I sincerely doubt it.
(2)DCF model
For the DCF model, I use some conservative figures to try deriving a rough estimate for the value of company's equity. For example, the growth rate I adopt in the model is made reference to the industry average and the past robust growth record of the company is almost neglected.
Estimated FCFE for 2013

US$50 million

Cost of equity

15%

Annual growth rate

2014 to 2016: 20%
2017 to 2018: 15%
2019 onwards: 5%

Equity value

US$923.5 million

Net cash

US$165.3 million

Estimated market capitalisation

US$1,088.8 million

Current market capitalisation

US$698.5 million

Upward potential

56%
Other reasons to invest in NOAH
(1) A very healthy liquidity with cash amounted to US$165.3 million
According to its issued 2Q2013 results, the company had no bank borrowings as of June 30, 2013. The liabilities on the balance sheet mainly represented the current payables incurred from operations and accrued staff expenses. Its current ratio as of June 30, 2013 amounted to 5.2, which was a very high metrics compared to its industry peers.
As of June 30, 2013, the company held US$165.3 million in cash and cash equivalents, an increase of US$44.5 million from US$120.8 million as of March 31, 2013. So what will be the cash proceeds to be spent on? On May 22, 2013, the company's board of directors authorized a new share repurchase program of up to US$30 million worth of its issued and outstanding ADSs over the course of one year (Source: PRNewswire). In 2012, the company used US$7.9 million to pay an annual dividend and US$8.5 million to repurchase ADSs. I expect that it will keep or even increase the size of share repurchases/dividends in the coming quarters of 2013 and 2014.
(2) A good entry point from the technical perspective
Since its IPO in 2010, the company has experienced five times of decline over 33% in its stock price. Such volatility, in my perspective, has been mainly attributable to the low amount of outstanding shares in the market. The ADS issued in the IPO were 8.4 million shares, only representing about 20% of the total number of issued shares. On such basis, the share price of the company will be easily and greatly affected by the market sentiment.
The share price rose from around US$12.5 per share to a record high of US$18.65 per share after the lift of management guidance on 2013 results in August. Since the issuance of 2Q results on August 22, 2013, the stock has changed the momentum and has dropped 32% to the current price of US$12.73 per share on August 27, 2013. This means the boosted management guidance is neglected by the market. The share is priced at the same level for a further 49 percent growth (from US$37 million to US$55 million)? No way. This suggests the shares are oversold and, like the historical decline, I will expect a rebound soon after the 32% decline.
(3)Minimal economic influences on the company
The company proved to the investors that it was able to grow at a considerable pace during the past five years, during which global financial crisis and the slowdown of the Chinese economy happened. Nonetheless, there are still market concerns over the impact of the change of market liquidity on the 2H2013 results of the company, like the J.P. Morgan downgrade report. They concern that the company's first half results may be just boosted up as recent liquidity stress in inter-bank drove outsized product sales (Reference: Barron's). In my perspective, I take opposite stance and do not see a softer 2H2013 results due to the following reasons:
(1) The liquidity stress in 1H2013 should bring negative effects, instead of positive ones, on the company. As the market liquidity contracted, the banks and other wealth management companies increased the interest rate in an attempt to attract capital. This directly increased the competition against the company's operation and adversely affected its profitability.
(2) It is highly possible that the liquidity level will not volatile in the second half as much as it did in the first half, as the priority of the Chinese government is put on the above-7.5% economic growth in 2H2013.
(3) Lastly, I personally believe in the credibility of the company's management. I think if there is a softer 2H2013, the management would not raise the results forecast in August, during which they should be able to see evidences of deteriorating results, if any.
Conclusion
I would say this short-term decline of stock price represents a good opportunity to invest in this company. If situation warrants, I will further elaborate on my analysis of the management strategies and future business opportunities in the next article.
Disclosure: I am long NOAH. I wrote this article myself, and it expresses my own opinions. I am not receiving compensation for it. I have no business relationship with any company whose stock is mentioned in this article.