There are three words that you probably haven't heard in a while … well, for the past year or so anyway:
Bullish on gold.
And there's plenty of reasons for that, not the least of which is the anticipation of the Federal Reserve potentially tapering down its stimulus program in the near future. It seems almost on a weekly basis that rumors of a stimulus wind-down finds its way onto the airwaves -- something that 6 months ago would have sent the yellow metal into a free fall.
Lately however, it hasn't. Gold is up 17% since tapering rumors gained strength in early July. To me, this shows remarkable strength in the rally.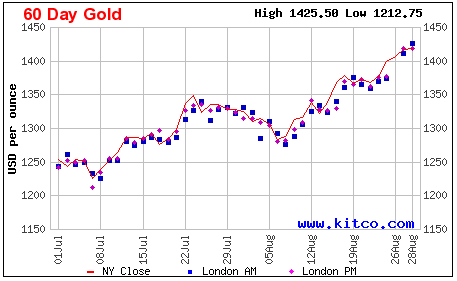 I'm not saying the worst is over yet for gold. But this kind of a move against what would otherwise be considered bearish headwinds is a very positive sign.
Then there's the fundamental equation of supply and demand ... The world's top two consumers, India and China, are each on track to buy a record 1,000 tonnes this year, according to the World Gold Council. The two countries combine for nearly 60% of all global demand, which should help push prices up.
At the same time, ongoing wage disputes from Mexico to South Africa are leading to strikes and subsequent mine shutdowns. Even gold behemoth Barrick Gold (NYSE:ABX) announced to shareholders in their Q2 2013 statement that they'd be writing down a record $8.7 billion in global assets to maintain profitability during this downturn.
This means that potentially 12 or 27 of Barrick's mines will be sold, closed, or scaled back. Such a large-scale reduction in global output can do nothing but help gold prices.
These latest events have given gold some of its shine back. I'm now gazing bullishly on the sector and have identified two options for you to profit from gold's second coming. First, buy the GLD.
SPDR Gold Shares (NYSEARCA:GLD) is the largest physically backed gold exchange traded fund. It's extremely liquid (trading an average of 10 million shares a day). And it's designed to track the price of gold intimately. Typically, it trades at about one-tenth the price of gold, minus a couple of percentage points (i.e. for the trusts expenses).
Buying the GLD gives you direct exposure to rising gold prices without having to physically purchase the metal (which I strongly recommend you do anyways as a diversification tool -- but that's a story for another time). Second, while I identify several junior gold plays here, one company I didn't talk about I think could make a big move in the coming months.
For those of you who are looking for bargains in today's depressed market, this company may be one of the best stocks to consider ...
Allied Nevada Gold Corp. (ANV)
Allied Nevada Gold is a gold and silver producer with a focus in mineral-rich Nevada. They currently have one operating mine and six exploration properties in their portfolio.
Their flagship Hycroft Mine is an open-pit gold and silver heap leach operation which produced nearly 137,000 ounces of gold and 794,000 ounces of silver in 2012. Its estimate resource base is pegged at over 50 million ounces of gold equivalent in Nevada alone.
But the past year has been a tough one for ANV. Since October, its shares have lost nearly 89% in value.
Gold prices have certainly been the biggest drag on the stock, but increased production costs, the delayed construction of a proposed mill, and missed production targets due to problems with its leach pad have only made matters worse.
Furthermore, liquidity issues are tight. If gold prices drop further, grades deteriorate, or an unexpected cash outlay event occurs then the company will need additional financing to weather the storm.
But despite these headwinds, I believe this could be an excellent rebound stock over the medium to long term. Why? Because at a market cap of $450 million, ANV is dirt-cheap.
Allied has $456 million in current assets alone. And most of its debt is long term and isn't even due until 2019. On top of that, the company has one of the lowest enterprise value per gold equivalent reserves and resources among its peers.
Although placing a value on their multi-million ounce gold and silver project is difficult at this time, it still generated a $4.2 million profit for the company in the second quarter alone. Yet even if you push all of that aside for a moment, Allied Nevada continues to work aggressively behind the scenes in positioning itself for a recovery in the gold market.
Permits are expected any day now to allow more solution flow to the leach pad that will properly release metals from the mined ore at Hycroft. As for the mill, the company has deferred construction until a new feasibility study is complete. Metallurgical testing is currently underway, and the feasibility study is expected to take place soon after.
Should gold prices finish the year strong, we can expect mill construction to go ahead as planned with operations commencing in 2015. Further expansion efforts at Hycroft, including the build-out of the Merrill Crowe processing plant will likely help ANV exceed the goal of 80 million tons of material mined by the end of 2014. They are already on track to move 76.3 million tons for 2013.
On the production side, output will obviously jump exponentially with a mill in place. But even if ANV remains a heap leach-only operation, the company still expects production to average an impressive 225,000 ounces of gold and 2.7 million ounces of silver per year through 2020.
This certainly isn't your typical wait-and-see gold producer. Although gold and silver prices remain weak, they've continued to generate cash and even a little profit.
The company has acknowledged the challenges they have ahead of them, and remain steadfast in achieving the milestones they've set out. Investors, who understand the risks and realize the payoffs that come with them, should see ANV as a potential diamond in the rough.
Disclosure: I have no positions in any stocks mentioned, and no plans to initiate any positions within the next 72 hours. I wrote this article myself, and it expresses my own opinions. I am not receiving compensation for it (other than from Seeking Alpha). I have no business relationship with any company whose stock is mentioned in this article.