The review of the following company is for a microcap stock that I personally own shares of: Energy Fuels (EFRFF.PK). I personally believe that this company offers a great opportunity for investors interested in the uranium sector and who are also interested in investing in micro-caps.
Nevertheless, please be aware that investing in microcaps involves considerable risk. You could lose some or all of your investment. Therefore, you should only invest in such companies after doing your own due diligence and if you are prepared to live with losing all the money you have invested. I am not a registered investment advisor and I am definitely biased toward this company. Having said that, I certainly have not gone "all in" with my investment in Energy Fuels, and if you decide to invest in this company I would highly suggest you only invest an amount of money that will still allow you to sleep well at night.
Furthermore, although there are a number of analysts who believe the uranium sector is due for a rebound in terms of price, the fact is that no one can say for certain when this may occur. It is possible that uranium prices could fall more than they already have. There is also the possibility of more unforeseen disasters in the nuclear energy sector, such as what happened in Japan in 2011. Another such event would very likely have a very significant negative impact on uranium prices and the industry as a whole. Now that we have that out of the way, I would like to invite you to read on.
Energy Fuels
I first became aware of Energy Fuels immediately after the Fukushima nuclear disaster in 2011. A list of uranium companies and how their stock prices had been affected (read: slammed) because of the post-Fukushima sell-off was published in one of the investment newsletters I subscribed to at the time. Energy Fuels caught my eye because of how badly it had been sold off from the $1.50s to around the $0.40 level. What a devastating fall!
However, once I began researching the company I realized that once the price of uranium recovers, this stock has the potential to skyrocket in price. In this article I'll explain why that is a very good possibility, as well as provide some insight into what we may expect with the uranium market as well.
What Energy Fuels Does
Energy Fuels is the leading conventional uranium producer in the U.S. and also produces a significant amount of vanadium. The company owns and controls the White Mesa Mill near Blanding, Utah. The White Mesa Mill is the only fully licensed and operating conventional uranium processing facility in the United States, and only one of three in North America.
The mill's capacity is 2,000 tons per day and can process up to 8 million pounds of uranium per year. The White Mesa Mill can also process vanadium that comes from some of Energy Fuel's Colorado Plateau mines. The company operates several producing uranium and uranium/vanadium mines on the Colorado Plateau and Arizona Strip. These mines supply ore to the White Mesa Mill.
Uranium and Vanadium
Uranium is the fuel used for clean, carbon-free electricity. Vanadium is used in steel alloys and advanced battery technologies.
Producing Mines
Arizona 1
Located in northern Arizona, approximately 35 miles south of the town of Fredonia.
High-grade, "breccia pipe" deposit.
In active production since late 2009 and producing up to 300 tons of ore per day.
Ore is processed at Energy Fuels White Mesa Mill.
Through 2013, Arizona 1 has produced 1.2 million pounds of uranium.
Mining to continue through the end of 2013, at which time resources will likely have been depleted.
Pinenut
Located in northern Arizona, approximately 35 miles south of the town of Fredonia.
Began production in July 2013.
As of September 2012, Pinenut had approximately 1,037,000 pounds of uranium contained in 95,000 tons of inferred resource.
Mines in Development and/or On Standby
Canyon
Fully permitted uranium mine approximately six miles southeast of Tusayan, Ariz.
Approximately 1,629,000 pounds of uranium contained in 82,800 tons of inferred resource.
Shaft sinking is currently under way and production is expected in 2015.
Daneros
A uranium mine that produced ore as recently as October 2012, at which time it was placed on standby status.
Located approximately 40 miles west of Blanding, Utah, in the White Canyon Mining District.
Energy Fuels acquired Daneros from Dennison Mines Corp. in 2012.
From 2010 through 2012, Daneros had produced approximately 690,200 pounds of uranium.
Daneros is ready to begin production again as soon as uranium prices improve.
La Sal Complex
Uranium mine that produced ore as recently as October 2012. It is also currently on standby status.
Located near La Sal, Utah in the La Sal Mining District.
This project consists of three mature mines: La Sal, Beaver, and Pandora, which are connected by extensive underground workings.
From 2007 to 2012, the La Sal Complex produced approximately 700,000 pounds of uranium and 3.75 million pounds of vanadium.
Henry Mountains Complex
Located about 40 miles south of Hanksville, Utah, the Henry Mountains Complex is a contiguous group of uranium properties and containing approximately 17 miles of underground workings as well as numerous surface facilities. Energy Fuels acquired the complex from Dennison Mines. This complex contains and indicated uranium resource of approximately 12.8 million pounds and an inferred uranium resource of approximately 8.08 million pounds. The complex is currently on care and maintenance.
Whirlwind
Energy Fuels acquired the Whirlwind Mine in 2006, and the company completed permitting of the mine in 2009 and operated it briefly at that time. The mine has been fully refurbished and is ready for production once prices improve. Measured and indicated resources are 1.1 million pounds of uranium and 3.3 million pounds of vanadium. Inferred resources are 2.0 million pounds of uranium and 6.5 million pounds of vanadium.
Sunday Complex
This complex consists of four mature mines with extensive underground workings. The project was placed on standby in 2009.
Development Projects
Sheep Mountain
Large uranium mine in Fremont County, Wyo., acquired by Energy Fuels in February 2012 through the acquisition of Titan Uranium.
Energy Fuels plans to redevelop this project.
Contains approximately 30.3 million pounds of measured and indicated uranium resource.
Energy Queen
This mine, located in San Juan county, Utah, between the small community of La Sal and La Sal Junction, was acquired by Energy Fuels in 2006.
The property is in excellent condition with all infrastructure in place and is fully permitted and ready for production.
Contains measured and indicated resource of approximately 1.4 million pounds of uranium and 6.0 million pounds of vanadium and referred resource of approximately 366,000 pounds uranium and 1.8 million pounds vanadium.
Sage Plain
Located approximately 15 miles northeast of Monticello, Utah, in the Uravan Mineral Belt.
Permitting has begun and Energy Fuels expects to receive all permits by 2014.
Measured and indicated resource of approximately 2.0 million pounds of uranium and 12.2 million pounds of vanadium.
Inferred resource of 91,000 pounds uranium and 927,000 pounds vanadium.
The Pinon Ridge Mill
Located in Western Montrose County, Colo., this proposed mill will process uranium and vanadium ore from mines in the immediate area.
Would be the first conventional uranium mill built in the U.S. in over 30 years.
Energy Fuels is presently waiting for the Radioactive Materials License to be approved by the Colorado Department of Public Health and Environment (CDPHE). Energy Fuels will then proceed with construction and operation of the mill.
Energy Fuels Latest News
On Aug. 13, 2013, the company announced that shareholders of Energy Fuels overwhelmingly approved Energy Fuel's acquisition of Strathmore Minerals Corp. (NYSE:STM). (See Energy Fuel's press release here.)
On Aug. 20, 2013, Strathmore Minerals Corp. announced that shareholders of Strathmore overwhelmingly approved the acquisition of Strathmore by Energy Fuels. (See Strathmore press release here.)
On July 25, 2013, Korea Electric Power Corporation (KEPCO) announced that it had signed two support agreements supporting the acquisition of Strathmore by Energy Fuels. KEPCO is the largest shareholder of both companies. It owns 8.5% of the common shares of Energy Fuels and 11.7% of the common shares of Strathmore. KEPCO is the largest electric utility in South Korea. (See press release here.) It is responsible for 93% of all of South Korea's electricity generation. Additionally, KEPCO operates and develops nuclear power projects in South Korea and worldwide.
Assuming the acquisition is completed, which seems most likely, KEPCO will hold approximately 9.1% of the common shares of Energy Fuels. Energy Fuels will then appoint a director, nominated by KEPCO, to join the company's board of directors. Energy Fuel's President and CEO Stephen P. Antony said: "We are very pleased that KEPCO supports Energy Fuel's acquisition of Strathmore. KEPCO is recognized as a world leader in nuclear power development. We look forward to expanding our relationship with this high-quality organization."
Benefits of the Acquisition
The two companies believe that post acquisition Energy Fuels will be the premier pure-play U.S. uranium company. Supporting this belief is the fact that Energy Fuels uranium production for fiscal year 2013 is estimated to be approximately 1.175 million pounds. Added to this is a significant number of development projects, including Strathmore's Roca Honda project located in New Mexico. The Roca Honda project is held in the Roca Honda Resources LLC Joint Venture, which is owned 60% by Strathmore and 40% by Sumitomo Corporation of Japan. The total resources for Roca Honda are as follows:
Classification Tons Grade eU308 Lbs. eU308
Measured 284,000 0.395 2,247,000
Indicated 1,793,000 0.405 14,536,000
Inferred 1,448,000 0.411 11,894,000
Antony stated:
It is rare to find an acquisition that offers the magnitude of synergies that we believe exist between Energy Fuels and Strathmore. I am very excited about the merits of this transaction and the opportunity it represents for the shareholders of both companies. It is consistent with our corporate strategy and significantly strengthens the company's long-term production profile throughout the Four Corners region of the southwest U.S. and in Wyoming.
The Case for Uranium
According to the World Nuclear Association (WNA), as of July 2013 there are 432 operating nuclear power plants worldwide. There are 68 under construction, 162 on order or planned, and 316 proposed. According to a report by the OECD Nuclear Energy Agency and the International Atomic Energy Agency (IAEA), world nuclear generating capacity is expected to increase between 44% and 99% by 2035, and reactor demand for uranium is expected to increase between 53% and 113% over current levels.
According to the WNA, current reactors require approximately 146 million pounds of uranium per year, whereas production from mining only meets 86% of this demand. The shortfall is made up by stockpiles and the megatons-to-megawatts treaty between Russia and the U.S. This treaty expires at the end of 2013, removing approximately 20 to 25 million pounds of secondary supply per year. Current mining cannot meet demand and stockpiles of uranium are dwindling.
Based on the above, as well as the fact that a number of large uranium mining projects have put on hold until prices firm up, the case for higher uranium prices in the near future is very strong. This puts Energy Fuels in a very good position.
Financials for Nine Months Ended June 30, 2013
Revenues
$47.97 million
Operating Expenses
Milling and mining expenses -- $44.29 million
Mineral property exploration, evaluation, and development expenses -- 14.45 million
Selling, general and administrative expenses -- 12.72 million
Care and maintenance expenses -- 3.67 million
Finance expenses -- 0.58 million
Bought Deal Private Placement
June 13, 2013, company announced completion of a $6.6 million bought deal private placement of units of the company pursuant to an underwriting agreement with Dundee Securities Ltd., Haywood Securities Inc., and Cantor Fitzgerald Canada Corp. A total of 47,380,791 units of the company were issued at a price of CDN$0.14 per unit for gross proceeds of CDN$6,633,310. Each consists of one common share of the company and one-half of one common share purchase warrant. Each whole warrant entitles the holder thereof to acquire one common share of the company at a price of $0.19 at any time until June 15, 2015.
Outlook for FY 2013
Company expects to produce approximately 1.150 million pounds of uranium, with 1.03 million pounds being produced to June 30, 2013.
Company expects to continue mining at the Arizona 1 and Pinenut mines (Pinenut began commercial production in July 2013).
Beaver, Pandora, and Daneros mines will remain on care and maintenance.
Sales
Approximately 997,000 pounds of uranium, of which 957,000 pounds will be sold into long-term contracts and the remainder sold on spot market.
Vanadium sales estimated to be 1,537,000 pounds in the form of ferrovanadium.
Liquidity and Capital Resources
Cash and cash equivalents of $7.86 million at June 30, 2013.
Working capital of $33.79 million at June 30, 2013.
Uranium concentrate inventory of 502,000 pounds at June 30, 2013, valued at $19.9 million as of June 30 spot market prices.
You can find more on Energy Fuel's nine months ending June 30, 2013, financials here, and management's discussion and analysis here.
Click to enlarge image.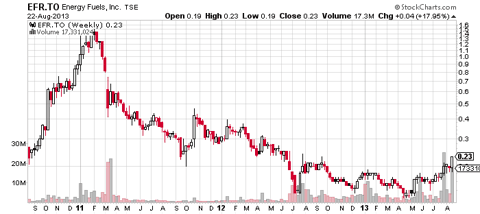 Share Structure as of June 30, 2013
Issued and outstanding -- 679.7 million
Warrants outstanding -- 45.8 million
Options outstanding -- 12.9 million
Fully diluted -- 738.4 million
Market cap as of Aug. 22, 2013 -- $169.8 million
Shareholders of the company have overwhelmingly approved a consolidation of Energy Fuel's shares. This will be implemented at the discretion of the board of directors of the company, but not before completion of the arrangement with Strathmore Minerals Corp.
Conclusion
In my opinion and the opinion of a number of other analysts, Energy Fuels has a great management team whom seem to be doing all of the right things to put the company in a prime position as a high-potential investment in the nuclear energy sector. I would encourage you to take a closer look at Energy Fuels if you have not already done so. Having said that, please be aware of the risks involved with both the micro-cap and uranium sectors, which I have discussed above.
Disclosure: I am long EFRFF.PK. I wrote this article myself, and it expresses my own opinions. I am not receiving compensation for it (other than from Seeking Alpha). I have no business relationship with any company whose stock is mentioned in this article.