While all eyes and ears are on the drumbeat of war in Syria, Libya is having a much bigger impact on oil prices. According to Reuters, Syria has not exported any oil since 2011 and is currently producing only around 50,000 bbls/day.
What is having a much bigger and real impact is Libya's reduced exports as a result of oil worker strikes and civil unrest. According to Libya Prime Minister Ali Zeidan, oil production is down to 250,000 bbs/day. Strikes by the Petroleum Facilities Guards since the end of July have forced closures of export terminals at Ras Lanuf, Brega, Zuweitina, Sidra and Tobruk.
Libya was producing 1.65 boe/d prior to the civil unrest which started in February of 2011. Its close proximity to European markets, its high quality light-sweet crude (high API gravity, low sulfur content) and its low cost of production (as low as $1/barrel at some fields) make Libya a highly attractive place to do business. These positives are counter-balanced by violent attacks by Islamic fundamentalist groups and oil workers as well as governmental security uncertainty.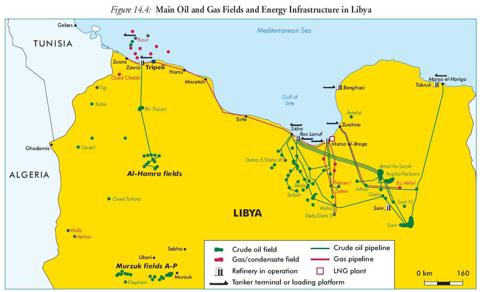 On Wednesday, armed groups in western Libya shut down pipelines of the Sharara, El-Fil (Elephant) and Hamada oil fields. The El-Fil field had only re-started production a week ago after having been closed for weeks by an industrial dispute.
As a result, Libya's exports are down 1.4 million boe/day from pre-conflict levels. This is what is pushing up worldwide oil prices - not Syria.
According to the US Energy Information Agency ("EIA"), OPEC member Libya has the largest oil reserves in Africa with 47.1 billion barrels of proven reserves (source: Oil and Gas Journal as of January 2012). That said, much of Libya still remains unexplored as a result of past sanctions, disagreements with international oil companies ("IOCs"), civil unrest and political discord.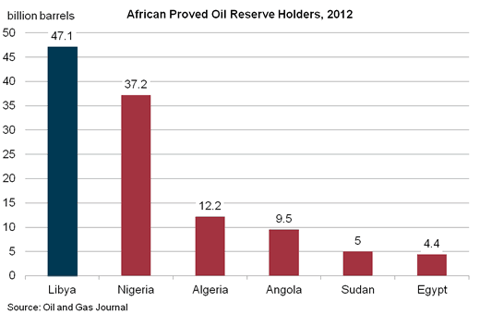 The Waha Oil Company ("Oasis")
The Waha consortium consists of the state-owned National Oil Company ("NOC") and American firms ConocoPhillips (NYSE:COP), Marathon (MRO) and Hess (NYSE:HES). Waha's total production capacity is more than 350,000 boe/d. According to the Waha Oil Company, the four main fields in order of production size are Waha, Gialo, Dahra and Samah. Waha-operated fields, which are all located in the Sirte basin, were among the last to restart, in late 2011 and early 2012. Production had been hindered by a labor strike and infrastructural damage, particularly to its export outlet at the Es Sider terminal. Nonetheless, production has since risen rapidly to around 300 thousand boe/d.
Repsol operates in Libya through a consortium (Akakus Oil Operations) that includes 50% ownership by NOC and smaller stakes by other international oil companies. The company's significant production capacity of approximately 350,000 boe/d includes El Sharara, which restarted in October 2011. Repsol fields are located in the Murzuq basin in Libya's southwest, an area over which federal authorities have little control. Indicators of the region's security situation include reports that militias are securing oil fields, and the brief kidnapping of an Akakus official. Despite considerable challenges, production from Akakus fields is thought to have totaled 300 thousand boe/d as of May 2012.
Eni's (NYSE:E) works in Libya with arrangements between the NOC and Mellitah Oil & Gas, which is occasionally referred to as "Agip." Its largest field, Elephant (El Fil), is in the Murzuq basin and restarted in November 2011, despite some looting and damage to support facilities. The Sirte Basin fields operated by Eni were among the first to restart after hostilities abated in September 2011. Eni also operates the Bouri field in the offshore Pelagian basin. The Eni-operated NC-118 block in the Ghadames Basin is one of the few new projects currently proceeding, but has a projected peak production capacity of only 10,000 boe/d. Eni's oil production capacity is just over 300,000 boe/d, of which nearly 50,000 boe/d is condensate and the remainder is crude. In 2009, the Libyan government invested in Eni and a former executive of the company's joint venture, Abdul-Rahman Ben Yezza, was named interim oil minister in November 2011.
Harouge is a joint venture between Suncor (NYSE:SU) and the NOC. Harouge operates various fields in the Sirte basin of which Amal is the most significant. Current production is thought to be slightly below full capacity of approximately 100 thousand bbl/d. In its Q4 2012 earnings release, SU reported Libyan production of 44,400 boe/d, its highest level since the merger with Petro-Canada in 2009.
Summary And Conclusion
Libya badly needs revenue from its oil and gas reserves to help rebuild the country. It also badly needs the investment and technology of international oil companies ("IOCs"). Real progress in restarting and growing oil production will depend on the country's ability to solve its security and institutional challenges. If the country and oil infrastructure can be secured, a cohesive government formed, and if rational contracts can be made with IOCs, the sky is the limit for future Libyan oil production. Risky? Of course. Worth it? For some of the companies mentioned in this article - you bet. One thing seems certain - security problems in Libya will have a direct effect on worldwide oil price volatility until its security problems are solved. That is not likely to happen any time soon.
Disclosure: I am long COP, SU. I wrote this article myself, and it expresses my own opinions. I am not receiving compensation for it (other than from Seeking Alpha). I have no business relationship with any company whose stock is mentioned in this article.
Additional disclosure: I am an engineer, not a CFA. The information and data presented in this article was obtained from company documents and/or sources believed to be reliable, but has not been independently verified. Therefore, the author cannot guarantee its accuracy. Please do your own research and contact a qualified investment advisor. I am not responsible for investment decisions you make. Thanks for reading and good luck!