US equity markets closed modestly in the red Tuesday. But, continuing the theme seen in Q2, Johnson & Johnson (NYSE:JNJ) reported better-than-expected earnings on slightly worse-than-expected revenues, leading the healthcare sector lower on the day. Consumer cyclicals took some heart from the latest weekly chain store sales report from the ICSC, which showed sales up modestly for a third consecutive week. This was despite the fact that the latest IBD/TIPP economic optimism index showed that consumer sentiment had fallen to its lowest level since July.
Consumer (and of course tech) stocks have taken further heart today from Intel's (NASDAQ:INTC) Q3 earnings report, which was released after the close last night. Equity futures have rallied strongly as the company reported better than expected earnings and revenues, together with a forecast for Q4 which also handily beat market expectations. Note the high end of the company's guidance for the next quarter would have margins better than that of the tech bubble. In sympathy with Intel's mega impressive numbers, Euro tech names STMicroelectronics NV (NYSE:STM) (Europe's biggest chipmaker) advanced 3.8% and Infineon (IFX) (the second-largest chip maker) mirrored that rise.
These "analysts" estimates are becoming a serious embarrassment to anyone with an abacus as the big news of the day are the "stellar" results from J.P. Morgan (NYSE:JPM) which blew away street estimates with Q3 profits up almost sevenfold on soaring revenues. Earnings climbed to $3.59 billion (or 82 cents a share versus expectations of just 51 cents) from $527 million in the same period a year earlier. They have certainly upped the ante and set the bar at a fair height for their peers to clear later this week. The stock has opened at a 52-week high. Dow component CSX (NYSE:CSX) also beat consensus as did Abbot Labs (NYSE:ABT) (whose profits were up 37%), though it gave no 2010 guidance saying that it was "premature."
Stocks were given a further shot in the arm by retails sales numbers at the US open Wednesday, which were still stronger than expected by "economists" surveyed.
The Run On The Dollar Continues Apace
Another day but no respite for the dollar, which has fallen to new 14-month lows on the Dollar Index and new record lows versus gold.
The dollar is now down around 20-40% from its 2002 peak, depending on the measure. The financial crisis produced a safe-haven bid for the dollar, interrupting the trend decline. That decline resumed as soon as markets normalised. The Dollar Index peaked on the 4th of March when risk aversion was king. The rolling 52-week correlation between the dollar and the S&P 500 is now more negative than at any time since at least 1976. For now, the dollar weakness is a symptom of bullish markets.
Three separate headwinds have taken their toll on the greenback:
The first structural negative is the dollar's slowly fading hegemony as a reserve currency. The dollar's trend decline has accompanied a declining share of FX reserves.
The second potential negative for the dollar is that it is now a funding currency, much like the yen in the last cycle. It has the prerequisites: rates are low and expected to stay low for some time (to be fair, that is not unique to the US); it runs an external deficit, which textbook theory suggests that the dollar should weaken; and currency volatility is moderating (hence reducing the impact of marking-to-market the FX position). Funding flows can become self-perpetuating. Shorting a currency makes it fall, which enhances returns on the carry, which can encourage more participants and so on.
The third, more sinister, risk is that dollar weakness is a sign of capital market concerns about US sovereign quality.
Being a dollar bear is now fashionable. The consensus can be right. But what are the factors to watch for that may halt/reverse this trend? I think there are four.
Faster than expected Fed hikes.
Any resurfacing in risk-aversion.
Faltering in the global economy.
Improvement in the US fiscal position.
Bernanke's Right Hand Man Goes All Dovish
The good cop is back in town. Don Kohn, who is Bernanke's right hand man at the Fed, has put several of his more hawkish colleagues in their place. The Vice Chairman addressed several of the issues raised by some other Fed members, who had hinted that the Fed may need to raise rates sharply when the time comes and perhaps sooner rather than later. Kohn, however, made it clear that "low levels of interest rates for an extended period" is still his main message.
But Kohn is not a believer in a V-shape recovery. He sees significant headwinds that will cause a muted recovery and downside risk for inflation. He said, "inflation expectations are more likely to fall than rise," emphasising the excess slack in the economy. He said unemployment could well reach 10% by early 2010, which is not a big call, and that it was notable that capacity utilisation had fallen below levels seen in previous recessions. Kohn dismissed concerns that it is difficult to measure the output gap and that potential growth may have slowed. He said there is a "grain of truth" to them and that they deserve further research, but it is pretty clear to him that the slack in the economy is very large and likely to be removed only slowly.
Kohn said it was important for the improvement in financial conditions to continue, implying that he likes the fact that asset prices are rising and credit spreads are narrowing, thereby encouraging more risk-taking. He said it was necessary so that banks can be profitable and raise more capital, repair their balance sheets and lend more. Such words should be music to the ears of investors. Rather than fearing bubbles as some central bankers might, Kohn sees supporting assets as essential to restoring health to the financial system and providing a basis for sustained recovery after the fiscal stimulus runs out.
Kohn paid lip-service to his more hawkish colleagues, saying that "we … need to be ready to adjust our plans if events don't turn out as predicted in either direction," adding that "we have the tools to exit our unusual policies when the time comes (and) … must act well before demand pressures or inflation expectations threaten price stability." This all feels like a slap down of the recent run of more hawkish rhetoric, reading like, "sure we can raise rates and quickly if we have to, but we are very unlikely to have for a long time, and downside risks to inflation are still more significant." Such sentiments suggest that the dollar downtrend will remain intact.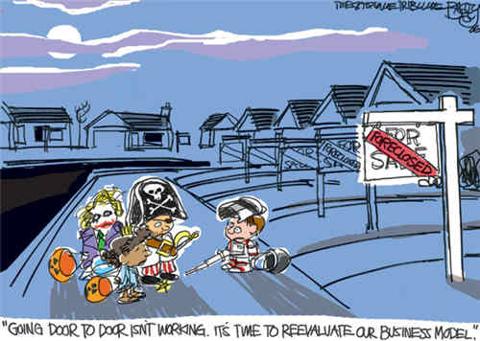 Click to enlarge
The State Of Europe's Economy
Germany's economic institutes have sharply revised their 2010 forecast upwards from close to zero to 1.3% annual growth, which for Germany is almost a V-shaped recovery. As FT Deutscheland points out, this is not the most optimistic assessment of all. Allianz forecast is 2.7%. The reason for the new optimism is, however, mostly statistical, as the economy is growing strongly in the second half of this year.
Hard European data has been rather thin on the ground but better than expected UK labour market data and softer than expected Euro area industrial production has weighed on EUR/GBP.
Equity News
Air France-KLM (AKH) is expecting "heavy operating losses" in the current trading year (to March 2010), compared with previous guidance that it expected to post a loss. It may seek to delay plane deliveries, but not cancel them and plan a further bond sale.
ASML (NASDAQ:ASML) reported a strong rebound in Q3 results from the very weak first half with sales doubling from Q2. The Group posted an operating profit of €39 million (6.9% margin) versus the €124 million loss of the prior quarter. It expects its order book to sustain it through the first half of 2010.
Bearish news for Spain's banks. Moody's Investors Service said that Spanish financial institutions aren't setting aside enough capital to cover bad loans. Moody's says that the banks have set aside less than half of the €108bn in loan losses it estimates they will suffer during the course of the downturn.
On the LME Wednesday morning, copper led a rally in metals prices as Chinese exports declined at the slowest pace in nine months in September. Naturally basic resource and miners stocks traded up on the move. Rio Tinto (RTP) added 5.3%. The world's third-largest mining company said iron-ore output rose on demand from steelmakers in China. Eramet, operator of the world's biggest ferronickel plant, rallied 6.8% and Xstrata (OTC:XSRAF), the world's fourth-largest copper supplier, jumped 5.5%.
BASF (OTCQX:BASFY) advanced 6.8% after saying Q3 earnings and sales topped analyst estimates as cost cuts took hold and demand from China led to a "slow" and "fragile" industry recovery.
AMR (AMR), the parent of American Airlines, climbed 4.4% after it was raised to "overweight" at Barclays, which said the company "has dramatically improved its individual liquidity position within the industry."
However there were some losers in the beverage sector. Diageo (NYSE:DEO) slid 2.7%. The world's biggest liquor maker reported a first-quarter sales drop that exceeded analysts' estimates, saying consumption from the US to Western Europe continues to suffer. So-called organic net sales, which strip out the impact of acquisitions and currency movements, fell 6% in the three months through September. And Pernod Ricard (OTCPK:PDRDF) shed 3.4%.as the world's second-largest distiller was downgraded to "underperform" from "neutral" at Exane BNP Paribas, which said "we believe there is a risk of further weakness in volumes and declining spirits prices." Completing a rather gloomy day for the sector, Punch Tavern's slumped 12% after posting a widened full-year loss and taking impairment charges to reflect declining pub values.
And Finally… End the Fed

Disclosures: None