The Overview
One of the stocks that I've been trading all year long is Micron Technology Inc. (NASDAQ:MU), a semiconductor memory manufacturer pure-play - one of the only ones available on an American exchange, and one of the few in the world. Other memory manufacturers include Samsung (OTC:SSNLF), SK Hynix (OTC:HXSCF), SanDisk (SNDK) and Toshiba (OTCPK:TOSBF). The largest of these other companies are not pure-plays, which makes them less interesting for traders/investors looking to amplify gains.
Samsung is by far the largest memory manufacturer in the world - but they consume a large percentage of their production internally to produce phones, tablets, and various other finished products. They are also known for monitors/TVs, etc. These finished products make up the majority of their business, so favourable memory pricing barely moves the needle for this stock.
Likewise, Toshiba is quite diverse. Perhaps best known for their high quality Toshiba laptops, Toshiba has also diversified to producing hard drives, NAND flash, and various other products. Also definitely not a pure-play.
That leaves SanDisk and SK Hynix. Hynix does not lend itself to easy trading for Americans thanks to it not being listed on an American exchange. For that reason, I avoid it. SanDisk is listed, but it is a more limited pure-play than Micron. SanDisk produces only NAND flash and retail products requiring NAND flash - they have no presence in DRAM technologies. This is important to note, because while NAND prices have been quite healthy lately, it does make them more vulnerable to over-supply. Micron, Hynix, and Samsung can shift capacity between DRAM and NAND flash as necessary to take advantage of (or even drive) higher pricing.
Micron also has growth - it is producing both DRAM and NAND products at a newly expanded scale, thanks to a recent acquisition of another company. (Elpida - a bankrupt Japanese memory manufacturer) Micron's CEO emphasizes that this acquisition is important, because it adds no additional supply to the market, while Micron's share has increased some 40%, surpassing Hynix and approaching Samsung's share. Adding no addition supply means that Micron's growth does not destabilize memory pricing, as over-supply has in the past.
I feel Micron offers compelling value that I has yet to be unlocked. Its exposure to both NAND and DRAM now allows it to shift capacity as necessary to capture/drive the best (highest) pricing.
For a more thorough overview of Micron, see Russ Ficher's great article on it from earlier this year.
I will not get deeply into what Micron is or does from this point onward, but instead wish to focus on why today may be a good day to start or expand a position. I am bullish on MU at these levels (High $12's to low $13's) for several reasons, some technical and some subjective.
My Reasoning
1) Micron earnings estimates have been ticking upward recently. A ZACKS email that just entered my Inbox (Aug 28 2013) indicates that Sterne, Agee & Leach, Inc. just raised 2014 EPS estimates from $1.18 to $3.02, a significant jump. It does not appear to have been widely covered in the news yet, and does not appear to have affected the share price all that much. Most analysts are holding off until the next earnings release, when Micron will explain how accretive the Elpida acquisition has been so far and will be going forward. That said, a few have taken what they have known and attempted to put out reasonable estimates, including fellow SA author Russ Fischer.
I feel that further EPS upgrades from other analysts could lead to the share price appreciating quite dramatically, as a forward PE of 4.3x (or less) is very low. We will however have to wait until the next earnings release (likely Late September) before the needle moves in a significant way.
2) The market does not appear to have taken into account Micron doubling its size with the Elpida acquisition for next to no cost. The Elpida-Rexchip acquisition was structured in such a way that that the denominated amounts were in Japanese Yen (as such, the Yen's slide has made the deal cheaper and cheaper), and would primarily be paid out of Elpida's profits. Another way to look at this acquisition is Micron was able to double its book value by shifting under a billion dollars to Elpida - and now that it fully owns Elpida, that billion dollars that it paid will flow back to it over time in the form of inventory to sell. In short, it cost Micron nothing. Since fabs can cost over $5b USD to construct, and since Micron acquired several for no cost, this is significant.
I believe YTD gains in Micron's stock have primarily been prompted by the massive ASP increases for DRAM and NAND on the spot market, since the lows of November 2012. DRAM pricing has increased more favourably than NAND pricing, thus Micron's share price has increased more than SanDisk's. Both NAND and DRAM now sport a healthy profit margin.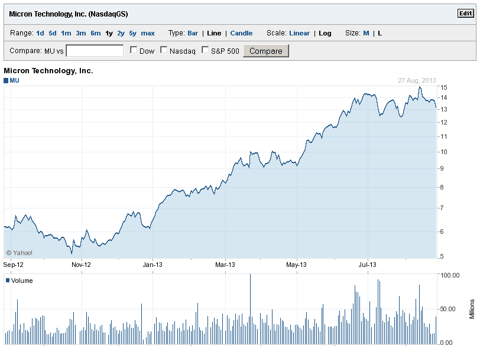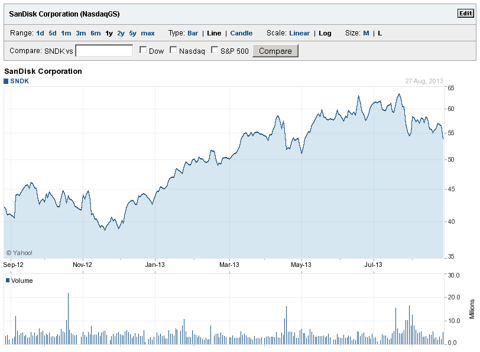 3) Micron recently indicated on a Conference call that contract pricing (which accounts for at least 80% of their shipped products) is holding steady above spot pricing. OEMs and Manufacturers wish to secure supply before the holiday season, and seem to be willing to pay a price premium to guarantee it - something that has not happened in recent years.
CEO Mark Durcan:
So, there is a little softening in the DRAM market but we think that's pretty contained just excess capacity from some of the Tier 2 players in the business are looking in this to generate some cash and get through a technology process, the liquidation process of their inventory. We don't see that and, by the way, our exposure in the spot market, which I'm referring to is pretty light. Our OEM contract pricing has remained pretty strong and stable. We haven't seen any pressure on that.
4) Micron appears to be in a trough at the moment, according to its Bollinger Bands. It usually bounces off such lows within a few days. That said, the next major catalyst is likely its next earnings release in late September, so it is possible that it could drift downward in the meantime.
I do not think so, but you never know what macro events will do - QE Tapering jitters and Syria talk certainly did the job of pushing it down to $13! Fiscal Cliff worries and actual QE tapering may push the entire market downward within the next month. As such, be very careful with short-term options. It may also take longer than expected for analysts to update their models and adjust Micron's EPS estimates, as most financial analysts and investors do not understand tech. All that said, I still think this is a good entry point.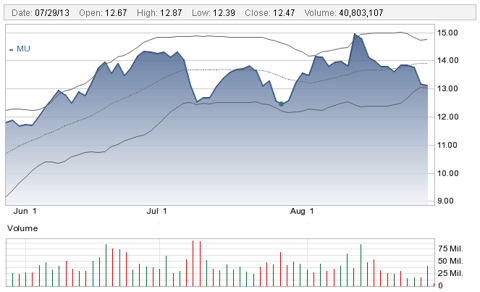 5) Micron is well positioned in the NAND market over the long term. Towards the end of 2013 and into 2014 it will begin transitioning from 20nm to 16nm HKMG NAND flash, significantly reducing its cost per bit, which should increase its NAND margins significantly beyond all of its competitors. The 16nm process is the result of a joint venture with Intel Corporation (NASDAQ:INTC), a semiconductor company that currently boasts the most advanced semiconductor manufacturing processes in the world.
More importantly, according to a slide in a conference call, this is a very low capex transition from 20nm - most moves to smaller process nodes (such as those to be made by competitors) will cost far more. Although I hesitate to throw out a percentage, the bar graph in the slide that I saw suggested that the 16nm transition might cost under 20% of what the 20nm transition cost - extremely cost effective.
The one big threat Micron's NAND dominance is Samsung's already-demoed 3D NAND, but the general consensus among semiconductor experts seems to be that 3D NAND rollout will be slow and expensive, capturing a meagre percentage of the market into 2014. Micron has a competing 3D NAND technology that it plans to roll out in late 2014 and into 2015 as necessary. Few experts see 3D NAND displacing traditional NAND before at least 2016.
Conclusion
I feel that MU 2015 call options offer compelling value and have the best chance of capturing this potentially explosive story, and as such have loaded up on call options while Micron's price is at roughly $13.05. If the price dips further I may liquidate other positions to increase my Micron exposure.
An investor starting a position today might consider buying half the desired position, then holding out for QE/Fiscal-Cliff/Syria induced macro weakness. But there is a chance that $13 is the new low going forward due to the reasons outlined above.
I actively trade my positions, and currently hold MU, AMD, INTC, and MRVL call options. I may at any point unload my calls and temporarily buy puts on what I feel are overbought conditions. (Such as the recent rise to $15 for MU)
Disclosure: I am long MU, AMD, INTC, MRVL. I wrote this article myself, and it expresses my own opinions. I am not receiving compensation for it (other than from Seeking Alpha). I have no business relationship with any company whose stock is mentioned in this article.