There has been much talk about how Ford's (NYSE:F) fortunes in Europe are gradually turning around. As reported by The Wall Street Journal, Ford's head of European operations, Stephen Odell, new vehicle demand in Western Europe has stabilized. Moreover, according to the German auto association, new vehicle registrations increased almost 5% in the European Union in July.
Throw in Ford's restructuring in Europe, where it is cutting production capacity and at the same time it is expanding in regions such as Russia, Odell's view that Ford's European business will hit bottom this year may turn into reality. Ford's European sales grew almost 9% in July to 90,000 units, which was twice the industry's growth rate.
All this data paints a good picture about Ford's European business, but investors need to pay special attention to what the Blue Oval is doing in India, a market where the automobile market is expected to triple by 2020.
Making a mark
According to JD Power, even though the auto market in the second-most populous country in the world is in a stagnant state as of now, the growth potential is huge. It is estimated that the market will grow to 9.3 million units by 2020, driven by the growth in disposable income in India.
To benefit from this growth, Ford has been making some interesting moves which have been paying off. Three years back, the Detroit-based automaker launched the Ford Figo hatchback in India. This car helped the company make its mark on the booming small car market in the country, which accounts for 70% of the overall car market, according to JD Power.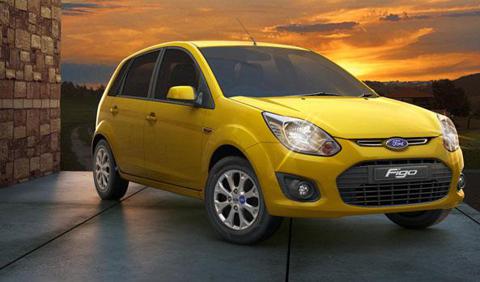 Source: Ford India
The Figo has sold more than 300,000 units in the country so far, a number which might not sound great considering that it has been present in India for three years. But this is undoubtedly impressive when you consider that Maruti Suzuki, a subsidiary of Suzuki Motor of Japan, has dominated this segment and commands close to 40% of the small car market.
The car has helped establish Ford's credentials in the small car market and the company can use it as a platform for further growth. Ford will be opening an engine and vehicle assembly plant in India next year, an investment of around $1 billion.
This will be the company's second plant in the country, and this is a much needed investment since the company is now finding it difficult to satisfy demand for its recently launched EcoSport compact SUV. This compact SUV, which seats five and looks better than its nearest competitor, Renault's Duster, has been a runaway hit in the country.
Hitting gold
The waiting period for delivery of the EcoSport is as high as nine months right now, which is something usually associated with India's top carmaker Maruti Suzuki. The demand has been so high that certain Ford dealerships have stopped taking bookings for the car. As such, a new engine and assembly plant will come in handy if Ford is to keep its newly-found momentum intact.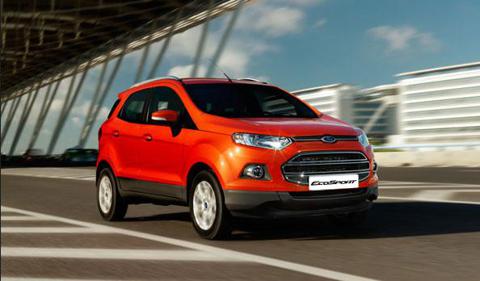 Source: Ford India
The EcoSport is now the highest-selling sports utility vehicle in the country, clocking 4,715 units sold in just two months and receiving over 30,000 bookings in 17 days since launching in late June. This performance is stellar, especially considering that car sales in India dropped 7.4% in July. The EcoSport has overwhelmed its competitor, the Renault Duster, as Duster sales plunged a whopping 32% after the EcoSport launched.
What led to this terrific decline in Duster sales? Well, the Ford EcoSport's great looks in comparison, better interior design, and a killer price tag. A starting price of $8,600 (at current exchange rates) is very aggressive when stacked up against the Duster's $12,300 opening price tag, a huge gap of 30%. As such, the EcoSport makes more sense than a duster since it offers more value for money, better looks, and more technology.
So, this is a great start for Ford in the compact SUV market in the country, which is expected to grow from 6,140 vehicles sold last year to over 126,000 units in 2015, according to IHS Automotive. In addition, the EcoSport has been making waves in China as well. Ford's sales in China jumped 71% year-over-year in July, and the Ford EcoSport has contributed to this success as it has sold 25,467 wholesale units already since its late March launch.
Speeding ahead
So, there's no doubt that the EcoSport has been on a tear and has helped Ford grow its sales massively in key markets such as India and China. However, competitors such as General Motors (NYSE:GM) and Nissan (OTCPK:NSANY) are also looking to grab a pie of the compact SUV market.
General Motors is expected to bring the Chevrolet Trax to India sometime next year. The Trax is certainly a good looking vehicle and is in the EcoSport mould, but pricing might be an issue. Industry watchers in India expect the Trax to be priced similarly to the Duster, which might not help it much.
The EcoSport is less than four meters in length and this helps it enjoy excise duty benefits from the government, while the Trax at 4.2 meters won't be enjoying that benefit if it lands as is in India. Then there's Nissan, which recently launched the Terrano. Basically, the Terrano is a rebadged version of the Duster, manufactured under the Renault-Nissan alliance.
The Terrano has a tad better-looking interiors and exteriors than the Duster, but the Terrano will also be priced above the Duster due to certain terms in the Renault-Nissan Alliance. This makes the EcoSport the more value-for-money bet even after taking competitors into account. However, it might be Toyota Motor (NYSE:TM) that might pose a threat with its expected launch of the Toyota Rush compact SUV later this year.
Toyota has positioned itself as a practical option for car buyers in India with models such as the Liva, the Etios, and the Innova, and its jump into this segment would be a concern since the number of options on offer will go up and Ford will need to keep innovating to stay ahead.
Final words
With all said, Ford has seemingly found the right formula to tap the emerging markets and its EcoSport has done really well to prop up sales. Going forward, the company can yield even better results as Europe rebounds and construction activity and consumer confidence in the U.S. provides it with further tailwinds.
Disclosure: I have no positions in any stocks mentioned, and no plans to initiate any positions within the next 72 hours. I wrote this article myself, and it expresses my own opinions. I am not receiving compensation for it (other than from Seeking Alpha). I have no business relationship with any company whose stock is mentioned in this article.