Corporate taxes are notoriously high in the U.S. Yet, some companies manage to pay less than others. Many multinationals have famously kept their international sales earnings overseas, avoiding U.S. taxation. And then, there is Hittite Microwave (NASDAQ:HITT), the RF/microwave designer, which pays 3X to 12X higher tax rates than many of its competitors, hobbling its bottom line. In addition, Hittite trades at a higher valuation to its peers despite having lackluster growth, the sudden resignation of its CEO, a disturbing inventory build, and sluggish growth forecasts. It is my contention Hittite is overvalued by 30%.
Business
Hittite is a fabless engineering firm designing products for RF, microwave, and fiber optic communications applications. Per its 10K:
Our products are used in a wide range of wired and wireless communications applications, such as cellular base stations, microwave and millimeterwave radio systems, broadband wireless access systems and direct broadcast satellite systems. They are also used in detection, measurement and imaging applications including military communication, targeting, guidance and electronic countermeasure systems, commercial, scientific and military spacecraft, automotive collision avoidance systems, medical imaging systems and industrial test equipment. We also offer products designed for use in fiber optic communications systems and in high speed data/voice/video/networking applications.
Strike 1: A Taxing Disadvantage
When it comes to taxes, Hittite pays nearly the full freight, averaging 34% over the last 10 years. For instance, last quarter Hittite made $18 million dollars in net income after its $10 million tax bill. All in all, Hittite forked over 36% of its pretax income to Uncle Sam.
Meanwhile, Hittite competitor Avago (NASDAQ:AVGO) earned $142 million for this quarter after paying $2 million in taxes. The tax rate works out to 1.4% for the quarter. That's not a one-time event. Avago has been paying a 2-3% tax rate since it went public in 2010.
Let that sink in. Avago keeps 98% of its pre-tax dollars; Hittite keeps only 65%. Certainly, Avago has managed the low tax rate by becoming a Singaporean company. However, just about every one of Hittite's U.S. competitors pays substantially lower rates. In fact, Hittite's tax rates surpass its U.S. peers by a whopping 1200 to 2300 basis points.
Hittite has been paying an eye-popping 36% tax rate - enormous considering that its peers manage much lower tax rates, ranging 3% to 23%. The rate is extraordinary because 56% international of sales are international, making management appear clueless. While management is planning to shift its international sales offshore, investor relations indicates the accounting move will likely take well over a year.
In the meantime, Hittite lives in a very taxing world - one in which its competitors have been nimbly escaping. Strike one against Hittite for shooting itself in the bottom line.
New Management: Untested
Hittite dropped a bomb on investors last March. In a surprise "Succession" conference call, then-CEO Stephen Daly announced his retirement at the age of 47, leaving not only the corner office but the Chairmanship as well. The decision according to Daly was his alone and came from a desire to "take on completely different and new challenges" and two weeks later, he was gone. Daly had a 17-year career at Hittite, bringing the company public as CEO.
To say the least, I'm flabbergasted and am left with troubling questions:
- Was Daly terminated and if so, why?
- Was he simply bored? After all, Hittite's growth flat-lined at 0.11% in 2012 after stunning growth from 2003 to 2007.
- What direction will new CEO Rick Hess take? In Hittite's conference call, Hess predicted "flat" growth for Q3. In fact, he used the word "flat" four times in the call to forecast next quarter - "flat" revenue, expense, and market. More specifically, defense will remain "relatively constant" with "uncertainty", wireless infrastructure has too much "uncertainty" to make Hess "confident", and all in all, the timing of growth is "uncertain." In other words, Hittite cannot predict growth in its market.
The Missing Fab Makes For A Very Inefficient Operation
In 2011, Triquint gave notice that it will no longer be Hittite's foundry for gallium arsenide. Hittite is not replacing Triquint. Instead, Hittite is buying up gallium arsenide from Triquint in order to service its customer's future needs. As a result, inventory has sky-rocketed and Hittite's cash efficiency has cratered. Take a look:
The effect has slowed down cash conversion and prolonged days in inventory. Hittite's inventory stockpiling has severely worsened its inefficiency.
Inventory turnover has slowed to a snail pace, dropping from 4 to 0.9.
For the last 3 quarters, Hittite has been promising to work its inventory level down. However, just the opposite has occurred: Inventory keeps piling up.
Valuation
To recap, Hittite suffers from high taxes, lackluster revenue growth, an untested management, and inventory stockpiling. With those drawbacks, you'd think Hittite would trade at a discount to its peers. In fact, Hittite sells at a premium. Hittite carries the highest trailing and forward PE in its group. EV/EBITDA is near the top of its peers. Hittite is at an expensive 5.9X EV/Sales, more than twice that of faster-growing M/A-COM Technology (NASDAQ:MTSI).

Hittite's high valuation is even more puzzling once consensus Q3 revenue estimates are noted. While Hittite forecasts flat sales next quarter, Skyworks Solution (NASDAQ:SWKS), Avago, and M/A-Com Technology are all projected to increase sales by double digits. Yet, Hittite is valued more highly than these 3 companies by PE, EV/EBITDA, and EV/Sales.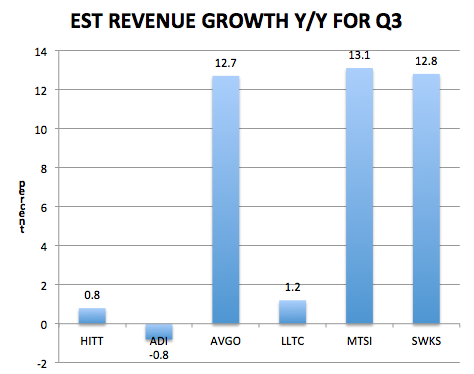 (Sourced from Yahoo.com)
Bottom Line
Hittite does not deserve such a rich valuation. The company's lackluster growth, untested management, high taxes, and inefficient inventory management suggests a much-needed share price correction. Hittite should trade down 30% to a more reasonable 4.4X trailing PE and 18X EV/Revenue, or about $40 a share.
Disclosure: I am long SWKS. I wrote this article myself, and it expresses my own opinions. I am not receiving compensation for it (other than from Seeking Alpha). I have no business relationship with any company whose stock is mentioned in this article. The opinions in this document are for informational and educational purposes only and should not be construed as a recommendation to buy or sell the stocks mentioned. Past performance of the companies discussed may not continue and the companies may not achieve the earnings growth as predicted. The information in this document is believed to be accurate, but under no circumstances should a person act upon the information contained within. We do not recommend that anyone act upon any investment information without first consulting an investment advisor as to the suitability of such investments for his specific situation.