Rebalancing is a key to lower risk and higher returns because it forces the discipline and takes the emotionalism out of "buy low and sell high." The illustration below shows how a simple portfolio that has a target allocation of 50% bonds and 50% stocks gets rebalanced as the allocations move away from their targets.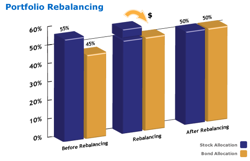 Our ETF portfolios run by our company, MarketRiders, have weighted average fees of .17%. The service does what a wealth manager's expensive rebalancing software does – except our customers save on the onerous fees. This posting explains how in the last 12 months, rebalancing added 2% - 3% returns to a variety of portfolios with varying bond / equity allocations.
Finance geeks love to debate the pros and cons of rebalancing and in particular, how often one should rebalance – monthly, yearly, quarterly – based upon a fixed time interval. Or they discuss whether it even makes sense to rebalance, using studies that were performed over a time interval.
But most of these debates are borderline ridiculous because as the word would imply -- rebalancing should be done when a portfolio is out of balance. Rebalancing should have nothing to do with a calendar event, and everything to do with when a certain target allocation moves beyond a certain threshold. We call this "event-based" rebalancing, not "time-based."
For example, today, many should "trim" not sell, some of their equity ETFs, which have gained so much over the last 6 months, and add to their bond ETFs. Trim the winners. Add to the losers. And do it now because they are out of balance, not because of today's date.
Whenever you add or withdraw funds from a portfolio, you should buy ETFs in a way that brings a portfolio back to its target allocations, i.e. use the opportunity of this event to rebalance.
A rebalancing event can be triggered in various ways, with various levels of sensitivity. For example, do you rebalance when an asset class, an ETF, or the entire portfolio is out of balance? We have sophisticated internal software tools used to "tune" our algorithm as to how sensitive it is to events. For this posting, I've used this software to demonstrate the power of rebalancing.
Here's an interesting illustration of how rebalancing works. Our "Balanced Focus – 50% Bond" portfolio is a globally diversified portfolio with 6 core asset classes: bonds, emerging market stocks, foreign developed stocks, inflation proof US bonds, real estate and US Stocks and includes the following 15 ETFs: BIL, BIV, BLV, BSV, LQD, VWO, EWC, VGK, VPL, TIP, RSR, RWX, IJH, IJR, and SPY. Below what a $100,000 portfolio looks like.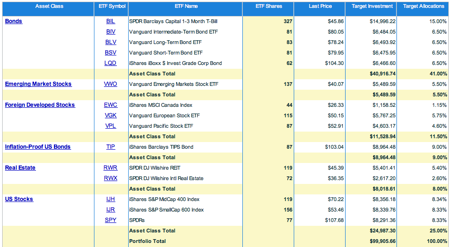 We just finished perhaps the most volatile year in the US stock market since the Great Depression. For the 12 months ending 9/30/09, this portfolio, without rebalancing gained 2.01% and with rebalancing, gained 4.04%. Returns doubled from rebalancing, without any greater risk.
In the graph below, the yellow diamonds show the 4 times rebalancing alerts were triggered: in 2008, October 9th and November 14th and in 2009, on February 17th and May 4th. The blue line is the portfolio that was rebalanced and the red line is the portfolio that is "unbalanced."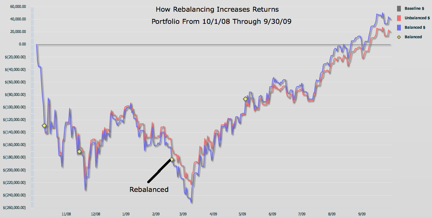 Its also interesting to compare the ending asset allocations on the rebalanced versus the unbalanced portfolios. As you can see from the chart below, when the portfolio was not rebalanced, Bonds (including inflation-proof US bonds aka TIPs) grew to 53% of the portfolio, from a target allocation of 50%.



By rebalancing, the investor was advised to buy more equities as they were declining, and while painful (especially in March 2009), the investor was ultimately rewarded. This ending portfolio shows a Bond allocation of 45% -- getting close to a rebalancing event.
Here are the results when we ran the same simulations on a few of our other ETF portfolios: