LDK Solar (NYSE:LDK) continues to limp along even as the management continues to default on bond and debt payments. It is a big surprise that the company still manages to run, even though it has defaulted on debt and posts humongous losses almost every quarter. While the earlier losses could have been excused as the whole industry was suffering from a huge overcapacity, this quarter's negative 80% plus operating margin is inexcusable. The reason is that the other solar companies such as Trina Solar (NYSE:TSL), Jinko Solar (NYSE:JKS), Renesola (NYSE:SOL) and Yingli Solar (NYSE:YGE) have shown a solid improvement in margins and shipments. LDK Solar managed to sell just ~35 MW of modules/cells even as companies such as Trina Solar and Jinko Solar shipped ~500 MW of modules in this quarter, boosted by huge demand from Japan and China. The company's polysilicon plant remains shut due to high costs and there is no timeframe by which the company will make the required upgrades. The company's debt mountain of ~$2.8 billion keeps growing with every quarter, even as revenues have plummeted to just $115 million. The company's equity value remains zero as it impossible for the company to get out of its debt and operational issues. I would advise ADR investors to take a short position in the stock with a target value of 0.
LDK Defaults Again
LDK is running on fumes and keeps defaulting on debt. The company first defaulted on a puny ~$24 million of debt in March and is all set to default again. The company's cash position remains in an extremely troubled state with just $85 million of free cash. The company is surviving by rolling over its short term debt of $2.7 billion which it has no way of servicing. The only reason LDK is still surviving is the benevolence of the Chinese state owned banks who are not pulling out the capital from LDK (not that there is a lot to pull out).
Unidentified Analyst

Hi. Thanks for taking my question. One thing I want to ask, I have a few questions. First, the company has the coupon due tomorrow I believe for the bonds? Is the company in a position to make due on this payment?

Jack Lai - Secretary of the Board, EVP and CFO

At the present time, we are still trying to run up offshore cash, and at this moment, we do not have sufficient money yet, so we have not met the commitment to pay tomorrow. So technically, there will be a delay in this payment.

Source - Seeking Alpha
LDK is losing Marketshare while its Margins remain one of the worst in the Industry
LDK Solar has gone down from being one of the biggest solar companies in the world to one of the smallest. The company has one of the largest polysilicon capacities in the world which lies idle, despite the $2.5 billion investment the company has made in the plant so far. The company's revenues have seen a massive fall despite the industry seeing an upturn in recent times. The company shipped a pathetic ~35 MW of modules/cells which is even lower than China Sunenergy (NASDAQ:CSUN). Though wafer sales improved to ~300 MW but the company's wafer capacity of 1 GW/ quarter remains massively unutilized. Other Tier 1 companies are running at full capacity. The company's margins remain hugely negative due to its inefficient cost structure and large underutilization. The company's module ASP of 54c/watt remains ~10% lower than the other Chinese companies which indicates the company's woefully weak position.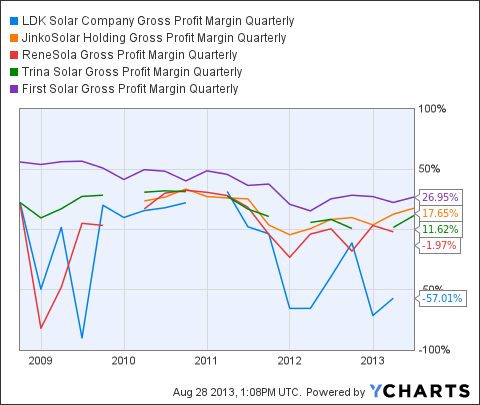 LDK Gross Profit Margin Quarterly data by YCharts
Is there any possibility that Investors can make any Money
I don't see any conceivable way out for equity investors to make any money from LDK Solar. The best possibility for LDK is that the debt holders forgive all the debt that they have given to LDK Solar. Even in that case, they would take all the equity in exchange from the company leaving existing shareholders with zero value. The company's operations have deteriorated massively and I am not sure if internal controls exist within the company. Suppliers and small banks have sued LDK Solar in the past for payment defaults. Suntech Power (NYSE:STP) recently saw three directors resign from the Board citing that they could not see a way out of their current problems. STP like LDK Solar is running in a zombie state having defaulted on a $541 million debt payment earlier this year. The company has been taken to a bankruptcy court and is surviving due to the local government's support. Suntech Power like LDK has seen its brand value and market share erode as customers and partners avoid the bankrupt company. The only way out for Suntech is to sell its assets to other stronger companies such as Yingli and return some money to the creditors. Shareholders in LDK Solar have no chance of making any money on the stock. They would do well to preserve their existing capital.
Why has the stock gone up if it has Zero Value?
LDK is a speculative stock and there is no way for the current stock price to justify its zero value. It is a greater fool's game in my view and should soon see its price go to the zero mark. The stock has gone up along with the general run up in solar stocks this year, though it has heavily underperformed the other solar stocks. The better performing companies such as Sunpower (NASDAQ:SPWR) and Canadian Solar (NASDAQ:CSIQ) have shown a ~300% return in the last year, as compared to the ~9% return given by LDK Solar. The solar rally has come on the back of extremely low valuations for the entire sector.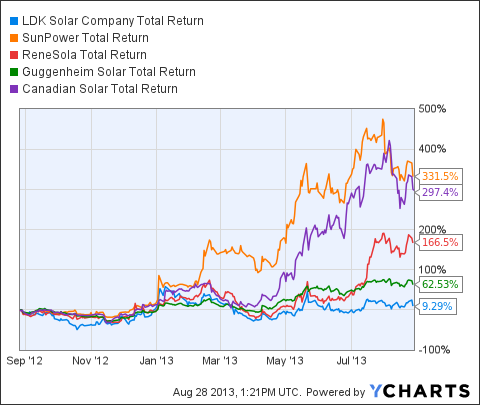 LDK Total Return Price data by YCharts
Where can you invest your money in Solar?
Solar stocks have give spectacular returns in the last one year, as weaker companies such as LDK and Suntech have imploded reducing supply and demand has increased due to decreasing solar panel prices. LDK Solar and Suntech should be strictly avoided by investors given that they can go to zero anytime. The best way to play the solar story is by investing in stocks with a low cost structure, economies of scale and a global geographic reach. You can invest in stocks such as Renesola , Yingli Green Energy and Jinko Solar . However, investors should remember that solar energy stock is one of the most volatile and unpredictable group of stocks.
Summary
LDK Solar is bankrupt but continues to run due to the peculiarities of the Chinese system. The company has no money to pay back the huge $2.8 debt as it continues to generate massive losses each quarter. Its position is deteriorating with each passing day, as its massive polysilicon plant remains shut and it has to sell its modules at more than 10% discount to Tier 1 Chinese solar panel prices. The stock price of $1.5 cannot be justified by any valuation measures and investors in the stock would be advised to sell the stock as early as possible. I can only assign a stock value of zero as a negative price target would not make sense.
Disclosure: I have no positions in any stocks mentioned, and no plans to initiate any positions within the next 72 hours. I wrote this article myself, and it expresses my own opinions. I am not receiving compensation for it (other than from Seeking Alpha). I have no business relationship with any company whose stock is mentioned in this article.