Back in March I recommended buying the U.K. builders following Chancellor George Osborne's budget. The budget contained a number of schemes designed to boost the U.K. construction industry and housing market.
The first element, the "Help to Buy Scheme", which allows buyers to buy any new build property with just a 5% deposit, came in April and as I predicted had an immediate impact on the market. The scheme has helped the builders sell more homes and has pushed up house prices helping both margins and sales.
Barratt Developments (OTC:BTDPF) is up roughly 30% since I first got behind it. Persimmon (OTC:PSMMF) is up 20% and has returned a further 8% in dividends to shareholders during the period. Despite the big run up in share prices I believe the U.K. builders are still set to do well in the near future
Going Forward
"Help to Buy" should continue to drive the builders going forward. There are some new risks which have emerged since I wrote my original article and I wanted to discuss them.
The Risk of Higher Interest Rates
Despite Mark Carney's forward guidance interest rate pledge, worries over interest rate rises have been playing havoc in the markets and none more so than with the builders who have become increasingly volatile.
There is a fear that rising rates could kill mortgage lending and the housing recovery as a result. On the 15th, August Persimmon fell over 10% in one session simply because of a rise in gilt yields. The stock recovered almost all of its losses the next day but these stocks will continue to be extremely volatile. This investment is only for experienced investors.
I think worries over interest rate rises in the U.K. have been overdone.
Carney and the rest of the MPC are heavily invested in sticking to this policy if they want to retain credibility. Carney reinforced my belief that he will stick to his word with his first major speech on Wednesday.
Politics should not be underestimated. The last thing the government wants is a rise in interest rates prior to the next election and the subsequent higher monthly cost that will put on voters (70% of household loans are linked to the base rate) not to mention the impact on the housing market or cost to businesses.
Inflation is not being driven by wages and is unlikely to rise to dangerous levels. Despite worries over Syria I don't think we will see energy or commodity prices drive inflation to worrying levels. Again I think these fears have been overstated.
Higher interest rates are a risk and it will be important to keep an eye on inflation but I think it would take something quite dramatic for Carney to go back on his forward guidance promise.
We have starting to see that talk of tapering is having a negative effect on housing in the U.S. Higher market interest rates have made it more expensive to take out a mortgage.
I don't expect to see the same impact in the U.K. The Funding for Lending Scheme (which will continue at least until January 2015), the ongoing "Help to Buy" scheme and its second part, the upcoming government mortgage guarantee scheme, should more than offset any rise in market interest rates and will ensure the cost of borrowing stays cheap.
The Risk of the Government Watering Down the Mortgage Guarantee Scheme
The second part of the government "Help to Buy" scheme is due to come in January. The government will offer £12bn of mortgage guarantees covering mortgages worth £120 billion. This part of the scheme has been heavily criticised by economists, commentators, the IMF and even government minister Vince Cable who believe it will create another unsustainable housing boom. In my opinion they are correct it cannot be convincingly argued that the scheme will improve supply and it will artificially inflate demand.
A number of economists such as Howard Archer are calling on the government to drop the scheme if the housing market continues to recover. Societe Generale analyst Albert Edwards could hardly have been more scathing, calling the scheme "moronic".
Senior ING economist James Knightley thinks a U-turn is likely although Conservative MP and treasury select committee member Mark Garnier says he cannot see the government back tracking.
At the moment Osborne stands 100% behind the policy and with good reason. He is heavily invested in it, and not just because he does not want to be seen to be doing a U-turn.
Osborne knows that if the Conservatives are going to have any chance of winning the next election the economy must be growing. The easiest way for Osborne to achieve this is to ensure the housing market is doing well. Osborne isn't concerned with the longer term impact on the British economy his only concern is the next election.
Pushing house prices up has a much wider economic and political impact. All home owners regardless of whether they are selling or buying feel wealthier (the wealth effect) and that causes them to spend more boosting the economy. This creates a positive consumer driven cycle until the situation becomes unsustainable. The wealth effect has a political impact as well, people who feel wealthier and better off are much more likely to vote for the party in power.
| | | |
| --- | --- | --- |
| Election | Change in House Prices Since Previous Election | Incumbent Win/Loss |
| 1983 | | |
| 1987 | 48.04% | WIN |
| 1992 | 40.82% | WIN |
| 1997 | 5.54% | LOSS |
| 2001 | 34.95% | WIN |
| 2005 | 76.99% | WIN |
| 2010 | 2.82% | LOSS |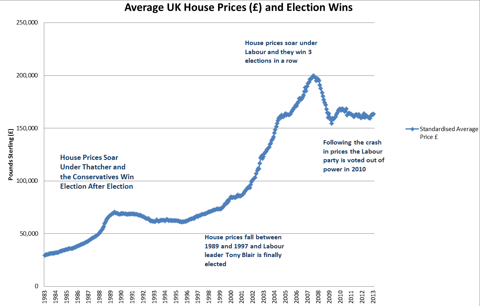 I'm backing Osborne to stick to his guns. It's a major risk that the scheme might be watered down or changed in some way to placate the critics. (The exact details are still far from clear although that does give Osborne some flexibility.)
But a lot of this risk has already been priced into the stocks and they aren't getting the full credit for the impact this scheme should have if it does go ahead or other support the government might offer as we go forward to the next election.
It's almost impossible to say exactly what will happen with the scheme and that is not what my investment thesis is based upon. The point is regardless of what happens with this scheme the government will still need the housing market to do well and they will do whatever they can to support it. The builders are the government's strongest allies and vice versa. As an investor that's a great place to be.
Barratt is Still the Best Builder to Buy
Barratt's is my preferred buy although all the home builders should continue to do well. Its large land bank, which it built up during the down turn, should allow it to substantially improve its gross margins in the future. I don't think Barratt gets full credit for its land bank. Not only has the value of its land gone up but changes to the planning laws have made a that land more valuable and easier to develop.
House prices are now higher and rising. Like all builders Barratt is benefiting from the double effect of better sales and better margins.
In terms of sales Barratt is bigger than rivals Berkeley (OTCPK:BKGFY), Persimmon, Taylor Wimpey (OTCPK:TWODF) but it is valued at a similar or lower level because its margins and return on capital is lower. But because Barratt has such low gross margins it has the most to gain from margin expansion. The combination of increased sales and margin expansion have the potential to massively increase Barratt's earnings going forward. Barratt has by far the most to gain from house price increases although of course it is also the most risky and has the most to lose should house prices fall.
Rough Comparison (numbers in millions of pounds)

Company

2012 Sales

Operating Margin

Net Margin

Market Cap Today

Barratt

2323

8.23%

3.36%

3029

Berkeley

1041

18.73%

15.19%

2802

Persimmon

1721

12.57%

9.73%

3348

Taylor Wimpey

2019

11.28%

7.39%

3243
Barratt should also reward shareholders in the near future with the reintroduction of dividend payments which may bring another type of investor to the stock. Barratt is expected to announce a re-introduction of the dividend when it reports its full year results on September 11th.
Fundamentals - People are Calling it a Bubble
When newspapers start calling a bubble, you can be pretty sure there isn't a bubble.
Living costs are taking up a greater portion of people's income and house prices may appear expensive but there are good reasons for that. Average U.K. house prices are still well below their 2007 peak and prices have only risen 3% so far this year. However price changes have varied greatly across different regions. Prices in London and the South East have now surpassed their 2007 peaks.
Supply Remains Severely Constrained
We are just coming off a period where building rates have been at their lowest levels for almost 100 years. At the same time the U.K. is experiencing a population boom (More babies were born last year than any time since 1972) and hundreds of thousands continue to migrate to the country every year. Planning restrictions are some of the toughest in the world even as these have been eased somewhat it is still difficult to build new homes.
A severe shortage of social housing is pushing up private rents as anyone who saw the recent television programme 'How to get a Council House' on channel 4 will know. The lack of supply and higher cost of renting is encouraging people to buy. Overcrowding is a severe problem particularly in the South East and people are desperate for more space. The long term outlook for house prices looks healthy given the supply shortages and population growth. Pension funds and Insurers are looking to re-enter the private rented market as returns continue to offer better income prospects than most other assets. The high cost of renting is another factor helping to drive the market.
Demand is Being Artificially Inflated But it is Not Excessively Out of Line Yet
The Nationwide has a U.K. House Price to Income ratio of just over 5 (peak 6.4). Lloyds has 4.62 (peak 5.82) up from 4.49 at the start of the year.
Demand is being artificially inflated by government policies. As I said in my earlier article given these new government policies go further than anything we have seen before I would expect the house price to income ratio to go well beyond the previous peak before correcting in the future.
The combination of limited supply and continuing efforts to boost demand have the potential to push house prices up much higher in the future.
Conclusion
The U.K. builders and house prices should continue to do very well leading up to next general election. The builders should benefit from having interests so closely aligned to that of U.K. Chancellor George Osborne and the rest of the government. History tells us that if a government wants to get re-elected it needs higher house prices. The risk to reward is not quite as good as it was a few months ago but this story is still just getting started.
We have seen the impact a 3% increase in house prices can have on the builders' margins and stock prices. With constrained supply and demand which continues to grow and get inflated there is only one way for prices to go in the short term. Investors should be aware that this is a risky investment and there will be a time to jump ship but I don't believe that time has arrived yet.
Again to those in the U.S. Although these are companies with billion dollar market caps they are very thinly traded in the U.S. You will find better volumes, smaller spreads and better prices on the London stock exchange.
Disclosure: I am long OTC:BTDPF, OTC:PSMMF. I wrote this article myself, and it expresses my own opinions. I am not receiving compensation for it (other than from Seeking Alpha). I have no business relationship with any company whose stock is mentioned in this article. I am long the London Stock Exchange versions of Barratt LON: BDEV and Persimmon LON:PSN