Mortgage REITs, considered by many investors to be an aggressive yet reasonable option for high yield, have been an absolute disaster over the past three months. The iShares mREIT index tracker, REM, is now down about 25% from its May highs, with some sector constituents, including industry stalwart American Capital Agency (NASDAQ:AGNC) and newcomer Western Asset (NYSE:WMC) down better than 30% from May highs.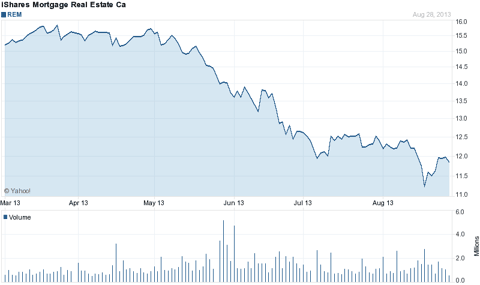 Why The Plummet?
With their assets highly sensitive to interest rate gyration, mREIT book values have taken a nosedive due to increasing long rates, fears surrounding the Fed taper, and the perception of tightening on the short end. Couple that with the fact that investors were trading them at a substantial premium to book back in the spring and are now content trading them at a severe discount, and you have a brief summation of the near-term market price tumult.
AGNC Book/Price History
| | | | | |
| --- | --- | --- | --- | --- |
| Date | Book | Market | Variance | Dividend |
| 09/30/12 | 32.51 | 34.60 | 6.4% Premium | 1.25 |
| 12/31/12 | 31.66 | 28.90 | 9.5% Discount | 1.25 |
| 03/31/13 | 28.94 | 32.78 | 13.3% Premium | 1.25 |
| 06/30/13 | 25.52 | 23.01 | 9.8% Discount | 1.05 |
| 08/30/13 | ??????? | 22.50 | ???????????? | -------- |
| 09/30/13 | ??????? | ??????? | ???????????? | ????????? |
mREITs: The Ultimate Speculative Guessing Game
While one could certainly argue that the near-term punishment handed out to the group provides for an enticing entry opportunity, I would certainly think twice before bottom fishing on a stock like AGNC. Do you see all the question marks in the above chart? Do you think you have any sensible idea what we should fill in there? Do you know what the dividend will be next year, how about even next quarter?

I could certainly take an educated guess here and fill in some numbers for you, but this is precisely why mREITs are really nothing more than a crap shoot in today's market. While there is always a leap of faith involved when one makes an income investment, the somewhat mysterious quarter to quarter operations of mREITs calls for something acutely more speculative than intuitively investment oriented in my opinion.
All mREITs are obviously not the same - leverage rates differ, portfolio management styles differ, some have diversified operations while others are more concentrated - however trying to tie down what's happening internally at any mREIT at any given point in time is next to impossible. Prepayment rates, hedging techniques, increasing or decreasing leverage ratios, specific types of mortgage purchases - it's really a convoluted mess. I can think of no other type of investment that seems to have so many moving parts and is so difficult to analyze and predict.
Should You Invest?
Earlier in the year, I had negligible exposure to the group through American Capital Mortgage (NASDAQ:MTGE) and WMC and got stopped out of both well before the stocks cratered to current levels. My thesis was that rates would remain stable and there would be limited portfolio gyration. Well, obviously I was wrong, and even though the stocks are much lower than when I sold, I'm not chomping at the bit to buy in at a discount.
Given the tightening bias that has enveloped the market, I would expect mREITs to continue to trade at a discount to book value. If Fed taper talk turns more dovish, long rates may stabilize and book value hemorrhaging might cease. But I think the odds are heavily stacked toward an unhealthy and volatile environment going forward, as investors focus on eventual short rate increases and sector constituents craft forward portfolio strategy. Are rate movements the only influence on mREIT performance - no - but they seem to be the most significant.
Conservative income investors should really stay on the sidelines here in my opinion, or keep allocation minimal. While I've always urged caution on levered mREITs, given what we've seen over the past three months, the risks appear much higher than even I first thought.
For those willing to dive in here, to minimize risk and volatility, seek out companies trading at a discount to book, which obviously won't be difficult in the current market. In addition, lower levered entities and those with more flexible investment charters might provide some cushion. If I had to hold my nose and recommend something right now, it might be Annaly (NYSE:NLY), MTGE, or perhaps MFA Financial (NYSE:MFA). I don't care for entities like AGNC that invest only in agency RMBS.
High-Yield Alternatives
For those totally opposed to playing the mREIT guessing game, I would recommend taking a look at a couple of alternative high income investment ideas. These might include:
Business Development companies - I currently own and recommend Prospect Capital (NASDAQ:PSEC) and Solar Capital (NASDAQ:SLRC)
While these options won't necessarily protect you in a rising rate environment either, they are much more translucent from an ongoing net asset value to book comparison and will be much less volatile. Yes they yield less, on average around 10%, but I think you will sleep better at night and have more understanding of forward yield.
Conclusion
Some investors may relish the idea of playing the guessing game that mREITs seem to present. However, after a harrowing three months, and potentially more rate volatility on the horizon, investors should think long and hard whether the attractive yields are worth risking insomnia over. I, for one, am not prepared to play along right now. If you are prepared, don't be surprised if, just like in the old "Let's Make a Deal," you get "Zonked."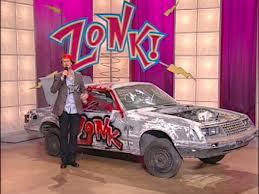 Disclaimer: The above should not be considered or construed as individualized or specific investment advice. Do your own research and consult a professional, if necessary, before making investment decisions.
Disclosure: I am long AWF, ESD, ETV, HYI, PSEC, SLRC. I wrote this article myself, and it expresses my own opinions. I am not receiving compensation for it (other than from Seeking Alpha). I have no business relationship with any company whose stock is mentioned in this article.