Inflation is a topic on many investors' minds as massive government spending plans go into action. While hard economic data has yet to cause investors much concern about the imminent threat of inflation, heightened awareness has triggered an influx in the demand for ETFs that track Treasury Inflation-Protected Securities (TIPS).
According to data from the National Stock Exchange, the two largest net asset ETF gainers during September were SPDR Gold (NYSEARCA:GLD) and iShares Barclays TIPS Bond Fund (NYSEARCA:TIP). While there is more than one reason why investors are adding the physically backed GLD to their portfolios (and the comparable iShares fund, IAU), both GLD and TIP can be inflation-fear fighters. The fact that investors poured $847 million into TIP seems to be a strong indication that inflation protection is being built into portfolios.
TIPS ETFs' popularity is soaring, and new funds are hitting the market. It is more important than ever for U.S. ETF investors to understand these securities and the current ETF offerings that provide exposure.
What are TIPS?
TIPS are bonds whose principal is linked to the consumer price index (CPI). When the CPI increases, the principal in the TIPS bonds is subsequently adjusted upward. When TIPS coupons are paid, after the principal is adjusted upward with the CPI, it is paid based on the higher principal. The upward adjustment and increased yield help to protect the purchasing power of the invested funds versus the returns of regular Treasuries.
The adjustment cuts both ways, however, and in periods of deflation the TIPS principal is adjusted downward. Owners of TIPS funds will have their distributions suspended. So, while owning a fund like TIP may protect against an upswing in inflation, it can't be counted on for regular income in a deflationary period.
TIPS investors must also be sensitive to changes in "real yields." As real yields fluctuate, TIPS with different maturities will react in different ways. Because of this variation, it is important for TIPS ETF holders to understand the maturity of the TIPS that underlie their ETFs.
Understanding your place in the TIPS curve
Like other bonds, TIPS are issued with different maturities. The longer the underlying TIPS maturity, the more volatile the fund. While longer-term TIPS investments like PIMCO 15+ Year TIPS (NYSEARCA:LTPZ) may be more beneficial for investors with longer-term horizons, LTPZ owners are apt to experience more volatility than they would with an ETF that tracks shorter-maturity TIPS.
Another driving factor when selecting a TIPS ETF should be the expectations of changes in real yields over time. Real yields rise when factors such as economic growth or short-term interest rate hikes affect the curve. Investors who expect real yields to rise in the short term should lean toward TIPS ETFs with shorter maturities and shorter durations, while investors who expect real rates to fall over time should consider TIPS ETFs with longer underlying maturities and longer durations.
TIPS ETFs
iShares Barclays TIPS Bond Fund (TIP): Rather than buying just long-term or short-term TIPS securities, TIP uses a laddered structure to create an underlying index that contains securities with maturities ranging from one to 20 years. The average maturity of the underlying TIPS securities is 9.09 years. Overall, the average duration is somewhere between 2.5 and 3.5. Since this duration can change, investors should monitor the effective duration from time to time to make sure that the fund is still meeting their objectives.
TIP has first-mover status in the TIPS ETF universe, so this fund is the largest and most liquid. TIP debuted on December 4, 2003, and it has an expense ratio of 0.20% and an average daily trading volume of more than 1.1 million shares.
SPDR Barclays Capital TIPS (NYSEARCA:IPE): State Street launched IPE in May 2007 to compete with TIP. While it offers a slightly lower management fee of 0.18%, it has failed to attract the investor interest of rival TIP. The average daily trading volume of IPE is 47,000 shares.
While the average maturity of IPE's underlying TIPS, 9.25 years, is similar to TIP's, the average duration is a longer 8.06.
PIMCO TIPS Products: The trio of TIPS products from PIMCO was rolled out in August and September 2009, and it has yet to gain steam. PIMCO Broad TIPS (NYSEARCA:TIPZ) is the closest to TIP and IPE, while PIMCO 1-5 Year TIPS (NYSEARCA:STPZ) and PIMCO 15+ Year TIPS (LTPZ) offer more targeted maturity dates.
So far, STPZ is the only member of the PIMCO TIPS bunch to attract reasonable trading volume. As economic conditions change, however, and these funds build a track record, the other offerings could see increased volume.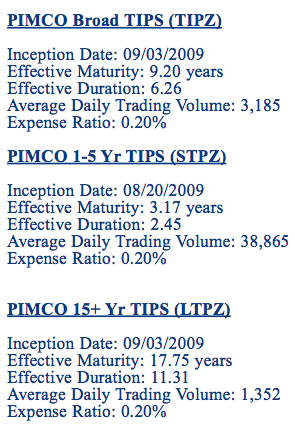 Your portfolio and the prospect of inflation
TIPS work best in a "stagflationary" environment. Stagflation is marked by low economic growth and high or rising inflation. During these periods, TIPS funds have the potential to outperform nominal Treasuries and equities. Active investors should consider adding TIPS funds when they think inflation will be higher over the next few years. The new TIPS funds from PIMCO allow investors to further specify this time frame.
TIPS ETFs are also beneficial as part of a buy and hold strategy. While it is true that a period of rising inflation may offer more justification for adding TIPS to your portfolio, it is a good overall complementary holding to the fixed income portion of your investments and can be beneficial over the long haul to diversify your bond holdings.
Disclosure: We currently hold TIP in two of our income-oriented portfolios.