Dr. David P. Kelly, CFA
Managing Director, Chief Global Strategist, J.P. Morgan Funds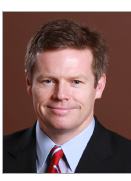 The following is excerpted from Dr. Kelly's latest global commentary. Read the full paper.
INTRODUCTION
More balanced global growth in 2013 presents more opportunities than risks for investors. China appears to be stabilizing, albeit onto a slowing growth path. Meanwhile, although short-term problems in many emerging markets (EM) have resulted in losses recently in both EM fixed income and equity markets, secular growth prospects and now cheaper valuations still make both EM bonds and EM stocks look moderately attractive for longer-term investors. Japan, while still facing daunting fiscal challenges, is clearly showing much stronger momentum. Europe is now in recovery mode, and low valuations and a promise of continued easy money present opportunities in both equities and credit. Finally, momentum in the U.S. economy appears to be improving and, while this should lead to reduced Federal Reserve (Fed) bond buying and higher interest rates, it should also support a continuation of an already impressive stock market rally.
A gradually strengthening global economy should also support a variety of alternative investments. However, the most important anomalies in the investment environment today are the extremely easy monetary policies of developed country central banks and the extreme caution of many individual and institutional investors. These anomalies continue to tilt the odds against those who are still overweight cash and in favor of those invested in balanced portfolios of long-term assets.
United States: Ready for pick up
For the United States, the first half of 2013 was a study in contrasting economic fortunes with average after-tax incomes falling but wealth rising strongly. The second half should be a little more balanced as conditions are now in place for a pick up in economic growth. For investors, while stronger economic growth should support earnings and the stock market, it also leaves the Federal Reserve on track to begin to dismantle its huge bond-buying program, a process that should continue to push interest rates higher.
Stronger economic growth should come, in part, because of the lagged effects of greater wealth. In just the last two years, because of rebounding home and stock prices, the net worth of American households has risen by roughly $14 trillion, or the equivalent of 80% of current GDP. This huge surge in wealth has repaired many balance sheets and should continue to boost spending on big-ticket items such as new homes and new vehicles. In addition, while the big tax increases enacted at the start of the year have been painful, there is no second round of tax increases coming, and this should allow consumer spending to gradually strengthen. Overall, real GDP growth could pick up from less than 1.5% annualized in the first half of the year to 2-3% in the second half and roughly 3% in 2014.
Surging wealth should bolster U.S. economic growth in 2013H2 and 2014
EXHIBIT 1: HOUSEHOLD NET WORTH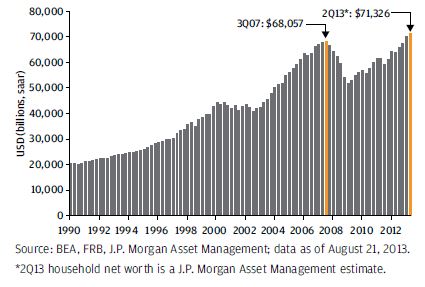 Faster economic growth may not lead to faster job growth since job growth in 2013 so far, averaging a net gain of 192,000 jobs per month, is already well above the pace suggested by real GDP growth. However, and very importantly, for largely demographic reasons the labor force continues to grow very slowly. Because of this, even a continuation of the recent pace of job and labor force growth could cut the unemployment rate to roughly 7.0% by the end of this year and 6.5% by the second half of next year. This is a little faster than expected by the Federal Reserve. Meanwhile, inflation could best be described as stable, as moderate increases in wages and rents domestically are being offset by depressed commodity prices and a strong dollar.
Slow labor force growth and moderate job gains could cut the unemployment rate faster than the Fed expects
EXHIBIT 2: UNEMPLOYMENT RATE - % OF THE LABOR FORCE*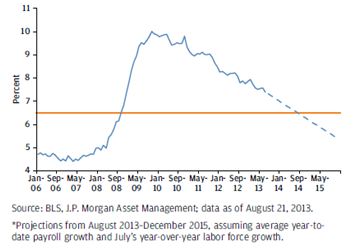 VIEWPOINT
Tightening U.S. labor markets will force the Fed to phase out QE on schedule, leading to higher rates and underperformance of the most rate-sensitive sectors of the U.S. fixed income and equity sectors.
The overall trends of growth, employment and inflation in the United States, together with a modest improvement in Europe, should produce continued slow gains in corporate earnings, and this, combined with a confidence-driven rise in multiples, should support a gradually rising stock market (although, as is always the case, with plenty of bouts of volatility along the way). With regard to interest rates, while this is a very dovish Federal Reserve and will likely remain so after Mr. Bernanke's replacement takes over in January 2014, this kind of economic environment should leave the Fed on track to eliminate quantitative easing (QE) over the next year.
While markets should have priced in this probability, it is hard to argue based on the numbers, that they have fully done so. Over the last 50 years, 10-year Treasury yields have, on average, been 2.6% higher than the year-over-year core Consumer Price Index (CPI) inflation. Today, with the core CPI up 1.7% year-over-year, that gap is roughly 1%. In a normalizing economy, with a more normal Federal Reserve policy stance and more normal investor behavior, it is hard to argue that long-term interest rates won't rise from these levels.
While a rising stock market always feels good, by definition, it increasingly limits future gains and increases the risk of loss in a correction. Nevertheless, as the economic expansion enters its fifth year, it appears to be growing stronger. Moreover, some of the tail risks that have haunted markets in recent years, such as shaky bank balance sheets, domestic fiscal worries and the crisis in Europe, have dissipated. Because of this, while higher stock prices dictate the need for more caution, investors may still want to consider a mild overweight to U.S. equities in the context of an otherwise balanced portfolio.
Finally, investors need to consider the impact of rising interest rates not just in broad asset allocations but also within assets. Within fixed income markets this still suggests being under-weight long-duration, high-quality assets such as TIPs and nominal Treasury bonds and overweight sectors such as high-yield, floating rate notes and convertible bonds. Within equity markets, higher beta sectors such as information technology and consumer cyclicals should fare better in a rising rate environment compared to REITs, utility and telecom stocks, all of which have been used as bond substitutes over the past few years.
Conclusion: Opportunities in distorted markets
Most of all, however, global investors should recognize how global central banks have distorted the investment environment by pushing both short-term and long-term interest rates to very unattractive levels. A popular view, particularly since the financial crisis, is that global financial markets are somehow "fixed" against the average individual, making it hard for them to succeed in long-term balanced investing. Ironically, in 2013, central banks appear to have fixed the game from the other side, making it exceedingly hard for anyone hoarding cash to beat a balanced portfolio. Even as long-term interest rates rise, this should remain the case over the next few years, underlining the importance of taking advantage of investment opportunities in a world of more balance.
Disclosure: I have no positions in any stocks mentioned, and no plans to initiate any positions within the next 72 hours.
Business relationship disclosure: This article was written by David Kelly, Chief Global Strategist, J.P. Morgan Funds, and submitted on his behalf via the J.P. Morgan Funds' Seeking Alpha profile.