Despite the turmoil the mortgage lending industry has been through over the past two years . . .
Hold on a minute. "Turmoil" doesn't really describe what the industry has endured, does it? Four of the ten largest depositories from 2006 have either failed or been sold in government-assisted transactions. Another two are on federal life support. Two of Wall Street's six big investment banks have collapsed, with a third sold in an emergency deal. The private subprime lending business has ceased to exist. The GSEs have been nationalized. The FDIC is on the verge of going broke. And don't even ask the total amount investors have lost via MBS writedowns; my mind can't hold a number that big.
Given all this, "turmoil" doesn't seem quite up to the task of characterizing what's gone on.
Where was I? Oh, sorry. Despite the turmoil the mortgage-lending industry has been through over the past two years, one subsector of the business hasn't merely avoided the pain everyone else has gone through, it's managed to benefit from it. That subsector is mortgage servicing.
That's right, servicing. No matter how well or poorly a mortgage is underwritten, or how haphazardly it's securitized, somebody still has to open the envelopes, deposit the checks, post the interest, and the rest. Back during the boom, it was all mainly an afterthought to the investment banks that barreled into the business to get in on the securitization boom. No longer. With delinquencies soaring, many lenders' servicing units are bleeding. The lenders want out. Specialized mortgage servicers, by contrast, have the efficiency and scale to profitably service those delinquent loans. So they find themselves in an enviable spot: they are the only buyers in a market teeming with impatient, agitated sellers.
All of which is a way-too-long introduction to a company that makes up one of our largest positions: Ocwen Financial Corp (NYSE:OCN). Bloomberg says that Ocwen is a "diversified financial services holding company," but that's a little grandiose. Ocwen today is a pure-play mortgage servicer—the only publicly traded one, in fact, that I'm aware of. We like it for three reasons. First, as noted, servicing can be a great business right now for a focused operator that knows what it's doing. Second, Ocwen is the industry's most efficient operator. Finally, the company has access to a substantial amount of low-cost capital that it can use to acquire the vast amounts of mortgage servicing rights that banks and investment banks are suddenly so eager to sell.
Put all that together, and Ocwen is in a position to do a series of deals in coming quarters that could materially boost its earnings.
But I should start at the beginning. Of $800 billion (principal) of MSRs out there industrywide, we believe roughly $75 billion are currently on the market. Potential sellers include players such as Morgan Stanley's Saxon unit, GMAC, Citigroup, and a number of other institutions that probably wish they'd never heard of subprime mortgage lending.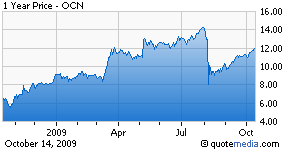 For Ocwen, this is a major opportunity to increase its earnings power. The company's servicing platform is currently underleveraged. (Ocwen's MSR book comes to $39 billion, the sixth-largest in the business), so if it can do some deals, the incremental revenue figures to be highly profitable. (The company says that 70% of its costs are fixed.)
Nor is it particularly unlikely Ocwen will be able to pull off an acquisition (or a series of them) that large. As noted, upwards of $75 billion of MSRs are being offered for sale, including what we believe are several mid- to large-sized portfolios. There simply aren't that many potential buyers that have the servicing capacity to absorb even a sizable fraction of that. And many of the ones that do are sellers rather than buyers.
Ocwen tells me it's well along in negotiations on a number of fronts. The main stumbling to getting deal done block seems to be the slow-motion bureaucracy at the seller. (These are large banking institutions, don't forget.) But Ocwen believes that sooner or later it expects to get a number of deals done. Given the upheaval the industry's in right now, it's hard to disagree.
As to financing any transaction, the company shouldn't have much difficulty. At the end of June, Ocwen had $653 million in unused borrowing capacity for funding advances to trusts (the major liquidity need for delinquent mortgages), up from $258 million at the start of the year. As for cash to purchase MSRs, the company had $213 million at the end of June, which is now up to nearly $500 million following a $275 million secondary offering in August.
The company has some other unique, near-term opportunities, as well. Take, for instance, the GSEs. Ocwen already has special servicing agreements with Freddie Mac (FRE), and figures to gain more as other servicers exit the business. Along that line, the company recently won an additional $4.4 billion in subservicing business from Freddie. Certainly, the opportunity is substantial. Of Fannie's and Freddie's $2.2 trillion loan portfolio, just over 3% is delinquent and so subject to special servicing. That works out to a $70 billion opportunity. Special servicing opportunities are especially attractive for Ocwen since they're not capital-intensive.
Finally, Ocwen even figures to actually benefit from the massive credit problems that have given the rest of the industry fits. Reason: the government's Home Affordable Modification Program. HAMP pays servicers $1,000 per loan per modification, with additional payments in the out years if the borrower doesn't re-default. Multiply that by the 40,000 or so loans Ocwen is likely to modify annually over the next few years and, even assuming a high redefault rate (50%, say), you get a material amount of incremental revenue within just two years. Plus, the modifications themselves will increase the length of time the MSRs stay on Ocwen's books. Overall, I estimate that HAMP could add at least 25 cents per share to Ocwen's earnings after a year, and then add modestly more thereafter.
In the meantime, as noted, Ocwen is one of the best-run, most efficient servicers in the business. Seventy percent of the company's employees are located in India, so labor costs are low. But Ocwen's efficiency advantages stem from more than just low labor costs. Technology plays a part, too. The company uses artificial intelligence to develop collection scripts designed to optimally overcome borrower fear and objections. The models seem to work: delinquent loans serviced by Ocwen cure more often than do loans serviced by other major servicers. Overall, the company's cure rate is roughly twice the industry average. Yet its overall cost-to-service is just 35 basis points, compared to 60 basis points for the typical servicer. On non-performing loans, in particular, Ocwen can make money where many of its competitors can't. The company's cost-per-nonperformer is just $365 annually, versus an industry average of $860.
Overall, I expect the positive environment for Ocwen to persist for several more years, as the mortgage mess slowly works itself out. Then, once things get back to normal, I expect the company, bolstered by its scale and efficiency, to be better positioned than ever. The subprime crackup has upended a lot of companies in the mortgage industry. This is one company that's flourishing.