ATT:SA EDITORS If possible, please include this article in your SUNDAY, SEPT. 1 "dividends & Income - Dividend Ideas" e-mail alert. Many thanks!
Back on the trail of high dividend stocks, this week we'll cover a tech stock which not only pays a 4%-plus dividend, but also pays around 8% on 2 different preferred shares. In addition, similar to last week's article, there are attractive long-term put option yields on this stock.
No doubt you've heard all about the ongoing "cloud revolution" where your digital world can be stored and accessed 24/7. No more big external drives, and slow download times - now online companies promise to make digital storage virtually carefree, etc.
But where do these companies store all of this data? At huge data centers, the kind of operations that are run by tech REIT DuPont Fabros Technology (NYSE:DFT), "a leading owner, developer, operator and manager of wholesale data centers. The company's data centers are highly specialized, secure network-neutral facilities used primarily by national and international Internet and enterprise companies to house, power and cool the computer servers that support many of their most critical business processes. Well known industry leaders, including Microsoft, Yahoo and Facebook entrust DFT to provide continuous power and cooling to their computer servers and network equipment that support their critical business processes." (Source: DFT website)
Like many REITs, DFT has had a tough time since the Fed's May "Taper Talk," falling from $26.97, down to $21.31. However, it has shown more strength in the past week, bouncing off of its oversold bottom: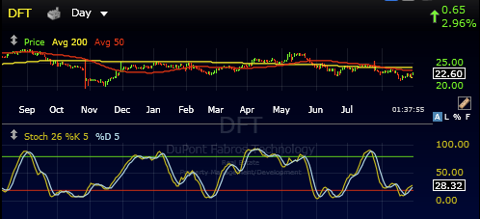 Earnings: DFT had a good second quarter earnings report and was subsequently upgraded to Market Outperform by an analyst from Robert Baird.

Although DFT has a high P/E, over 42, its estimated 80% 2013 growth and 50% 2014 growth make it look undervalued on a PEG basis. The company just announced the signing of 2 new long-term leases, and has subsequently raised the lower end of its 2013 Funds From Operations - FFO estimate, from $1.82 - $1.92/share, to $1.88-$1.92/share.

Dividends: DFT raised its quarterly dividend 25% in July, to $.25, from $.20. The company also has had strong dividend growth since 2008, raising its dividend from $.08 in 2009 to $.25 in 2013. It covered its first 2 quarterly 2013 dividends by a factor of 1.93, and its low end FFO estimate of $1.88 covers its projected 2013 $.95 in total dividends by a factor of 1.98.

Preferred Dividends: DFT also offers 2 series of high yielding preferred shares, (DFT-PA) and (DFT-PB), both of which are cumulative, and were selling below their $25 par value as of 8/29/13. The Call dates are also far enough out in the future to make it worthwhile to hold them for dividend income:

Using Options with the Common Shares for a Higher Yield: We've listed an April 2014 trade, from our Cash Secured Puts Table, which offers a 15%-plus annualized yield, and a breakeven price of $20.30, which is 5% above DFT's 52-week low. (We've listed the projected dividends of $.75 for this period, for comparison to the Put Bid Premium of $2.20, even though put sellers don't receive dividends):

Covered Calls: This April 2014 trade, from our Covered Calls Table, pays $.80/share, slightly more than DFT's $.75/share in projected dividends, which would potentially double your dividend over this period, if the shares aren't assigned. The combination of the Call and Dividend money gives you a potential breakeven of $21.05 on this trade.

The table below details the 3 basic scenarios for this call trade. The $25.00 Call strike price offers the potential for an additional $2.40 in profit, which would more than replace the $.75 in dividends, if your shares are assigned prior to the 3 ex-dividend dates:

More Valuations: Thanks to its robust estimated 2014 EPS growth, DFT's forward P/E is dramatically lower than its current P/E.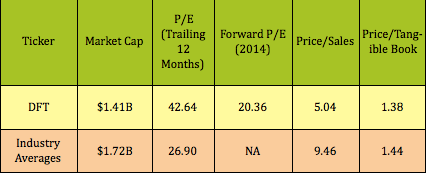 Financials: DFT's Efficiency ratios aren't particularly stellar at present, but, given current projections, they should improve over the next 18 months.

Disclosure: Author was long DFT preferred shares at the time of this writing.
Disclaimer: This article was written for informational purposes only. Author not responsible for any actions taken by third parties as a result of reading this article.
Disclosure: I am long DFT. I wrote this article myself, and it expresses my own opinions. I am not receiving compensation for it (other than from Seeking Alpha). I have no business relationship with any company whose stock is mentioned in this article.
Additional disclosure: Clarification: I'm long DFT-PA preferred shares.