Timberline Resources (NYSEMKT:TLR) announced yesterday that successful surface drilling at its Butte Highlands Gold Project has increased gold mineralization from 500,000 ounces to over 750,000 ounces, using a cut off grade of 0.25 opt. This increase does not include the results of a 5 hole drilling program which was recently completed by the company of which results will be made public in the next couple of weeks.
I remain bullish on TLR even since my write up in mid July when the stock was at $0.40. There are not many mining companies that exist that own their own drilling company and have a gold mine fully funded to production by the largest independent underground mining contractor in the country, Small Mines Development (SMD). Wall Street is starting to wake up to this rare low risk/high reward situation.
Timberline operates two drilling subsidiaries, Timberline Drilling which operates in the US and whose clients include Newmont Mining (NYSE:NEM), and other major producers. Timberline also operates Worldwide Exploration, its Mexican drilling subsidiary.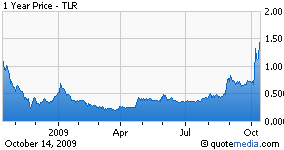 Both subsidiaries experienced rapid growth in 2006-2008, but deteriorating economic conditions in late 2008 led to streamlining (trimming the fat) of the drilling operations. The amazing thing is even with half the drills compared to the peak in 2008, Timberline's drilling subsidiaries are generating more cash flow then at the peak. I see the drilling operations not as an EPS generator but as a cash flow component that pays the overhead for the future profit center, Timberline Exploration/Production division.

The other half of Timberline operates a small staff of production focused geologists trying to find and acquire late stage projects similar to the company's Butte Highlands Gold Project. Timberline Resources has a 50% carried to production ownership interest in its Butte Highlands Joint Venture Gold Project located approximately 15 miles south of Butte, Montana. The interesting component is Timberlines JV partner is the largest independent mining contractor in the US, Small Mines Development (SMD).
Timberline and SMD are now authorized to construct exploration drifts, perform both surface and underground drilling, and extract a bulk sample. The acreage that may be disturbed under the permit totals approximately 50 acres, including 20 acres for surface facilities. The plan involves construction of exploration drifts approximately 14 feet wide by 16 feet high and 6,700 feet in length. The drill program to further define and expand the resource anticipates 120 drill holes from 10-15 drill stations located throughout the drifts. The drill holes will average 500 feet in length for a total of approximately 60,000 feet of core drilling. The plan also anticipates collecting a 10,000 ton bulk sample. The underground development, exploration drilling and bulk sampling is anticipated to take approximately one year.
The Butte Highlands Gold Project is scheduled to be in production late 2010/early 2011. At $1,000 gold, Timberline's 50% interest in annualized net income is anticipated to be $17,150,000, or $0.45/Share EPS.

The relationship between TLR and SMD is very rare in the mining space and is one that is starting to get a lot of attention. SMD owner, Ron Guill, is also a director of Timberline, and he is also Timberline's largest shareholder. I believe Timberline and SMD are already starting to be approached by other companies with late stage projects that might not have the money or know-how to get them into production. This puts Timberline in a position to cherry pick future projects that will add accretive revenues and cash flow in the future.

Disclosure: Long TLR