Among the large-cap E&P stocks out there, ConocoPhillips (NYSE:COP) should be considered one of the top picks. Several factors make the stock a great pick for the second half of 2013. The first is that ConocoPhillips is nearing the end of its strategic shift and should start seeing production growth from its continuing operations by late 2013. In addition, oil prices, both WTI and Brent, have surged recently and have now been well above $100 per BBL for most of Q3 2013. This should have a positive impact on ConocoPhillips' quarterly revenues as it is highly sensitive to oil prices. ConocoPhillips is also a well known stock among income investors due to its compelling yield and attractive valuation. ConocoPhillips currently offers a $0.69 per share quarterly dividend and yields around 4.20%.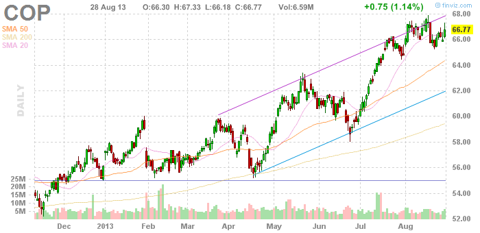 Click to enlarge
Crude oil prices have stayed above $100 per BBL for most of Q3 2013
As a result of the recent unrest in the Middle East, oil price has spiked higher. Some analysts even estimate that Brent crude could go as high as $150 per BBL amid the crisis. However, even before the Syrian crisis heated up, WTI prices had already reached $100 per BBL amid falling inventories. Indeed, the wide gap that once existed between WTI and Brent prices throughout 2012 virtually disappeared within a few short weeks in July and August.
According to its August 2013 shareholder presentation (page 32), ConocoPhillips estimates that it would see its annual net income impacted by about $75M to $85M for every $1 per BBL net change in Brent and Alaska North Slope crude prices, and a $30M to $40M net change for every $1 per BBL net change in WTI prices.
ConocoPhillips' original guidance estimates Brent prices to be around $100 per BBL and WTI prices to be around $90 per BBL. The impact of this increase in crude oil prices on ConocoPhillips' Q3 2013 results cannot be understated as we are already about 2 months into the quarter. I suspect that ConocoPhillips will be posting much stronger earnings as a result of this spike in oil prices.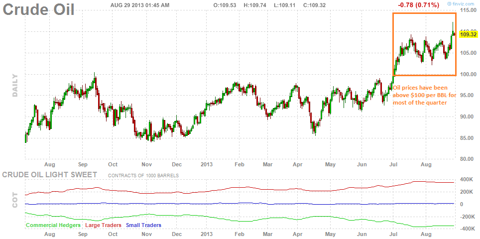 Click to enlarge
Development projects are performing well
As I have mentioned in previous articles, ConocoPhillips has been selling its risky overseas assets and reinvesting this capital into the less risky areas, especially here in the US. ConocoPhillips anticipates its production to grow by around 600M BOE/D by 2017, with about 60% coming from the lower 48. Key areas for growth include the Eagle Ford, Permian, and the Bakken. Combined, these three areas saw production grow nearly 50% from year-ago levels to about 203M BOE/D. By far the greatest area of success for ConocoPhillips has been in the Eagle Ford, which saw its Y/Y production grow nearly 100% last quarter to 121M BOE/D. Also worth mentioning are ConocoPhillips' Canadian oil sands assets, which are anticipated to post production CAGR of about 16% through 2017.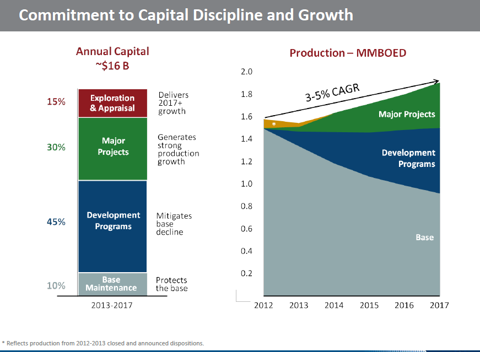 Click to enlarge
Libyan production concerns
While the above-mentioned factors are positives, ConocoPhillips is facing one negative. Oil production in Libya has come to a standstill as a result of large protests. Libyan production has collapsed 70% to about 200K BBL/D from 640K BBL/D earlier in the month. This is unfortunate as Libya is easily capable of producing nearly 1.6M BBL/D. I highly suggest this article from fellow SA contributor Michael Fitzsimmons for a great write-up about the Libya issue and its impact on global oil prices.
ConocoPhillips' interest in the Waha concession is about 16%. While the production issues in Libya are a setback, they are relatively minor for a company of ConocoPhillips' size and diversity.
ConocoPhillips' dividend yield remains compelling
While production growth and high oil prices are ConocoPhillips' strongest catalysts, let us not forget about its dividend. ConocoPhillips quite simply has one of the best yields among large-cap E&P stocks. Indeed, even integrated oil stocks such as Exxon Mobil (NYSE:XOM) and Chevron (CVX) have lower yields than ConocoPhillips. Do note that the chart below seems to have an error from around May 15 to July 15. ConocoPhillips' yield has remained about 4% throughout 2013.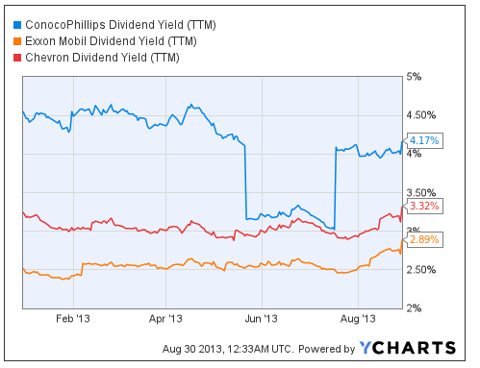 Click to enlarge
ConocoPhillips' valuation is inline with its peers
While not perfect, the P/E ratio is the most widely used metric to determine valuation. One might assume that ConocoPhillips' valuation is slightly elevated due to its outsized yield. However, this is simply not the case. When backing out cash, ConocoPhillips' TTM P/E ratio is around 10.60X, lower than Exxon Mobil's 11.00X but higher than the extremely cheap Chevron at 8.90X. Assuming even an anemic EPS growth rate of about 5% per year, ConocoPhillips' PEG ratio would be around 2.00X.
Click to enlarge
As some have noted, ConocoPhillips does carry some debt on its balance sheet. Another method of comparing ConocoPhillips' value to its peers is by using its enterprise value, or EV, and dividing by EBITDA. This metric is commonly known as the enterprise multiple. As shown below, ConocoPhillips' enterprise multiple is very similar to Exxon Mobil's while slightly higher than Chevron's. Do note that ConocoPhillips is now a pure-play E&P with the spin-off of its refining arm Phillips 66 (NYSE:PSX), which may be a reason why it commands a higher multiple than the integrated plays.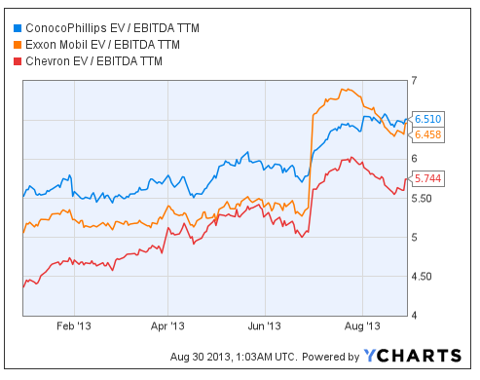 Conclusion
After lagging the markets for much of 2013, ConocoPhillips' stock has now shown a couple strong months of performance. Since late April, ConocoPhillips is up about 15% compared to the S&P 500, which has gained only 4% and the Dow Jones, which is up 1%.
Operationally, ConocoPhillips has been performing well, with its North American assets meeting or exceeding production targets. Q3 2013 should mark the last quarter of Y/Y production declines, with Q4 2013 expected to benefit extensively from ConocoPhillips' increased capital spending.
Considering the recent increase in oil prices, its solid 4.20% yield, and expected production growth, ConocoPhillips seems to be set up for a strong second half of the year. Even with the current run-up in its stock price, ConocoPhillips is still not an expensive stock.
Disclaimer: The opinions in this article are for informational purposes only and should not be construed as a recommendation to buy or sell the stocks mentioned. Please do your own due diligence before making any investment decision.
Disclosure: I am long COP, PSX. I wrote this article myself, and it expresses my own opinions. I am not receiving compensation for it (other than from Seeking Alpha). I have no business relationship with any company whose stock is mentioned in this article.