On August 29, news articles were released based on IDC data stating that PC sales are expected to be down 10% sequentially compared to last year.
In a previous article on Seeking Alpha, I had shown that these numbers need to be looked at carefully and not taken at face value based on the bombastic article headlines you will read that are meant to grab page views.
In this article, I will revisit a little bit of that analysis, as well as providing competing analysis from Jon Peddie Research. This article will more closely focus on Advanced Micro Devices (NYSE:AMD) than Intel (NASDAQ:INTC), but the following paragraph is good to note for anyone invested in companies affected by the health of the PC industry.
Examining The 10% Sequential Decline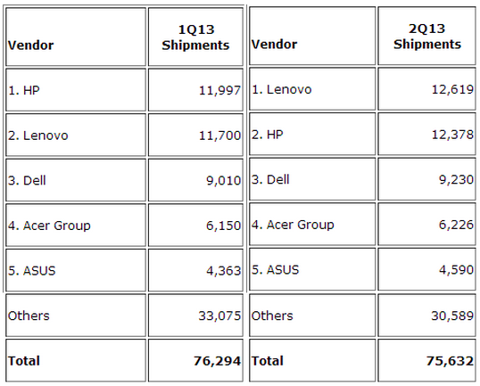 The above table, taken from PC World, represents the sales numbers for the first 2 quarters of 2013 based on data from IDC (I recommend reading the PC World article as the author does a good job detailing how to look at IDC numbers).
Based on IDC numbers from 2012, PC vendors shipped a combined total of 352M PCs. So a 10% expected decline from the prior year means roughly 316M PCs should ship this year. Based on the data in the table above, roughly 150M PCs shipped from vendors in the first 2 quarters, so 165M combined will ship over the next two quarters if IDC's forecast holds true, meaning PC sales are forecasted to pick up slightly.
Per an article on Barron's, Mr. Hans Mosesman of Raymond James states that Intel has approximately 85% of the PC market. Given this percentage remains static and assuming the remaining 165M forecasted PCs to be shipped this year are split evenly between Q3 and Q4, AMD stands to actually increase shipments by 1M units sequentially.
Provided the IDC forecast is accurate, the PC market should see a slight uptick in the back half of the year, which is in line with Mr. Rory Read's comments during the earnings call.
AMD's Target Audience and JPR Research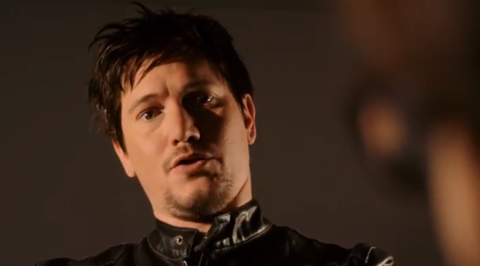 AMD's recent commercials illustrate they are specifically targeting the gaming market. Their recent launch of 'The Fixer' series of commercials is clearly intended for gamers.
This is important because it means they are targeting a segment of the PC market which is actually growing, according to Jon Peddie Research. IDC numbers seem to only include PC shipments from vendors, and I believe do not account for purchases made by the DIY/enthusiast community.
Semiaccurate released an article stating the importance of motherboard manufacturers announcing several motherboards based on the A88X chipset, which will be the new chipset for AMD's upcoming Kaveri APU.
Charlie's article only mentioned Gigabyte, which left me wondering if any other manufacturers would join the foray. Today, an article on WCCF Tech was released stating that ASRock has also begun to roll out motherboards based on the A88X chipset.
In September, AMD is set to announce their upcoming Hawaii GPUs (in Hawaii).
Coming back to the research report from JPR, AMD is specifically targeting DIY consumers. This is my complete speculation, but based on the feel I get from most of the forums I read, it seems there is a lot of anticipation among AMD loyalists for the Kaveri APU. An article on Anandtech states that Richland based APUs will work in the motherboards designed for Kaveri (but not vice versa), meaning enthusiasts that want to jump the gun can upgrade their existing motherboards prior to Kaveri's launch while they wait. Note that chipsets are easier to manufacture, but also generate a small amount of revenue compared to AMD's CPU, APU, and GPU sales.
Specifically regarding GPUs, the news release from JPR states that the enthusiast crowd will often upgrade computers immediately prior to the launch of anticipated gaming titles. In October, EA will be releasing Battlefield 4. Based on AMD's new Never Settle Forever program, gamers are free to select gaming titles, or redeem coupons later as new games are added. It is my speculation based on an article from Heise.de (which was recently incorrect regarding the Xbox One APU) along with AMD and DICE's collaboration on Battlefield 4 that it is entirely possible that BF4 will be added to the Never Settle list.
One caveat with the program is that as you move up in the price of the GPU, you move between 'bronze,' 'silver,' and 'gold' levels within the Never Settle program. If Battlefield 4 is tied only to the 'gold' level, this could spur sales of AMD's more expensive GPUs, if Battlefield 4 is added to this list.
Conclusion
Although PC sales are predicted to decline 10% sequentially between 2012 and 2013, this actually means PC sales should see a slight uptick in the back half of the year. As far as I know, IDC data only tracks vendor shipments -- not retail shipments from companies such as Newegg or Amazon.
This last fact is specifically important to AMD, as AMD derives much of its revenue from the DIY community via CPUs, APUs, and GPUs sold to enthusiasts.
JPR released a report stating AMD had gained slight market share against Nvidia in the add-in-board GPU market. This is very significant, as AMD gained market share despite the fact Nvidia has updated their GPU line to their 700 series while AMD was competing with a line that originally debuted in late 2011, and they will be releasing their new GPUs in the back half of 2013.
There has been confusion as to exactly when Kaveri will launch, but general consensus is that it will be available in Q1 2014.
In summary, PC sales should pick up in the back half of the year. AMD will be refreshing their GPU line in the back half of the year, and will release a new APU aimed at the enthusiast gaming market during the first quarter of next year. Based on JPR's research, the enthusiast market is disconnected from the numbers that IDC tracks. Consoles will launch in November of this year.
AMD has products in place throughout the next few quarters that should help to diminish the effect of declining PC sales.
Disclosure: I am long AMD, INTC. I wrote this article myself, and it expresses my own opinions. I am not receiving compensation for it (other than from Seeking Alpha). I have no business relationship with any company whose stock is mentioned in this article.
Additional disclosure: I actively trade my INTC and AMD positions. I may add or liquidate shares at any time.