In recent months, many of the gold miners (NYSEARCA:GDX) have become quite conservative in terms of the cash that is being spent on various types of high-risk projects. Simply put, many of these projects which include, but are not limited to, exploration and expansion carry a higher level of risk than most other types of projects because there is greater chance that the overall return-on-investment may not be as high as initially projected or in the worst case scenario, gold is nowhere to be found. Since many of these miners are unable to afford the risks associated with investing in assets that may not generate sufficient cash flows and profits, I've chosen to highlight a number of catalysts behind my decision to remain long on shares of Goldcorp (NYSE:GG).
Company Profile
Headquartered in Vancouver, British Columbia, Goldcorp, Inc. engages in the acquisition, development, exploration, and operation of precious metal properties in Canada, the United States, Mexico, and Central and South America. It primarily explores for gold ores, as well as for silver, copper, lead, and zinc ores. The company's principal mining properties include the Red Lake, Porcupine, and Musselwhite gold mines in Canada; the Peñasquito gold/silver/lead/zinc mine, and the Los Filos and El Sauzal gold mines in Mexico; the Marlin gold/silver mine in Guatemala; the Alumbrera gold/copper mine in Argentina; and the Marigold and Wharf gold mines in the United States.
Catalyst #1 - Performance and Trend Status
On Wednesday, shares of Goldcorp -- which currently possess a market cap of $24.30 billion, a forward P/E ratio of 22.33, and a forward yield of 2.01% ($0.60) -- settled at $29.92. As of June 30, 2013, and from a cash and debt perspective, Goldcorp had a total of $1.43 billion in cash and a total of $2.46 billion in debt on its books. Based on Thursday's closing price of $29.92, shares of Goldcorp are trading 3.41% above their 20-day simple moving average, 10.60% above their 50-day simple moving average, and 4.99% below their 200-day simple moving average.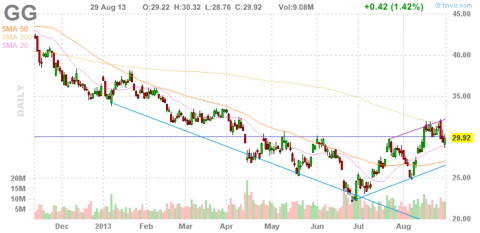 These numbers indicate a short and mid-term uptrend and a moderate long-term uptrend for the stock, which generally translates into a selling mode for most traders. Although shares of Goldcorp are in the midst of a long-term downtrend, I'd actually look to accumulate at current levels since gold (NYSEARCA:GLD) has demonstrated a strong rally over the last several weeks and is once again trading just below the $1410/oz. level.
Catalyst #2 - Cost-Cutting Programs
Goldcorp, which is Canada's second-largest gold miner behind Barrick Gold (NYSE:ABX), has recently implemented a number of company-wide spending reductions in an effort to limit its exposure to the current gold environment and prepare itself for the possibility of any potential fallout if prices were to unexpectedly drop over the next 12-24 months.
In a recent article highlighting the cost-cutting efforts of a number of gold miners, Christopher De Sousa noted that, "Goldcorp has chosen to defer 2013 and 2014 capital expenditures at its Cerro Negro project in Argentina as well as Éléonore and Cochenour projects in Canada. These measures will reduce 2013 capital expenditures by approximately $200 million to $2.6 billion, according to the company. Goldcorp doesn't expect the delay to affect project schedules or initial gold production. In addition, it lowered exploration spending targets for 2013 to $200 million from $225 million and revised its general and administrative expenses to $164 million from $180 million".
If the company can continue to reduce spending targets and administrative expenses by an average of 6% over the next 2-5 years, I strongly believe Goldcorp will be in a strong enough financial position to weather the proverbial in terms of the price level at which gold may be trading.
Catalyst #3 - Obishikokaang Collaboration Agreement
On Friday, August 16, it was announced that Goldcorp, Inc. and the Lac Seul First Nation had signed a collaboration agreement which will establish the framework for a number of operations at the Red Lake Gold Mines and also define a number of the long-term benefits that would favor the First Nation and its people.
According to Goldcorp's press release "The Collaboration Agreement lays the foundation for future benefits for the Lac Seul First Nation, including training and employment opportunities, business and contracting opportunities, and a framework for consultation on regulatory permitting as well as Goldcorp's future financial contributions in support of community development". When it comes to these types of collaboration agreements, I personally think the macro economic benefits such as the creation of jobs and opportunity for contracting partnerships really sweeten a deal of this nature.
Conclusion
For those of you who may be considering a position in Goldcorp, I'd keep a watchful eye on a number of catalysts over the next 6-12 months as they could each contribute to the company's long-term growth. These catalysts include but are not limited to the company's continued efforts to initiate and maintain a number of significant cost-cutting initiatives through at least 2016 and the strengthening of local partnerships that create a wide range of opportunities that are not commonly found in densely populated major cities.
If Goldcorp can continue to cut costs while bringing in jobs, much needed education funding, and various investment opportunities to areas such as the Lac Seul First Nation (which have had limited access to such initiatives in the past), I see no reason why investors should continue to avoid establishing a long-term position in the company.
Disclosure: I have no positions in any stocks mentioned, but may initiate a long position in GG over the next 72 hours. I wrote this article myself, and it expresses my own opinions. I am not receiving compensation for it (other than from Seeking Alpha). I have no business relationship with any company whose stock is mentioned in this article.