Altria Group, Inc. (NYSE:MO) shareholders cheer the 9.1% increase in the quarterly dividend to $0.48 per share. The new annualized dividend stands at $1.92 per common share and the forward dividend yield at 5.71% based on a current share price of $33.60. Dividends have now been raised 47 times in the last 44 years. In addition the board of directors authorized an additional $700 million share buyback to supplement the $300 million repurchase plan already in existence. Altria aims to pay out about 80% of its adjusted diluted EPS. A summary of key dividend metrics can be found below (Source: Gurufocus):

Click to enlarge
While share buybacks, high payout ratios and dividends are attractive to income-oriented investors, it is also important to consider the price to be paid for such an income stream. Both market and free cash flow valuation approaches below show that investors do not get a bargain at Altria's current share price. Altria's peer comparison indicates its valuation is fairly average. Based on a free cash flow to equity approach the stock is overvalued.
Leading share price performance
Compared to competitor firms Philip Morris (NYSE:PM) and Lorillard (NYSE:LO) Altria shares have performed well over the last two years leading the peer group with a capital gain of just under 30%. Philip Morris came in second with around 20% and Lorillard with about 10%. While Altria has relatively outperformed Philip Morris and Lorillard in the past, valuations have now converged.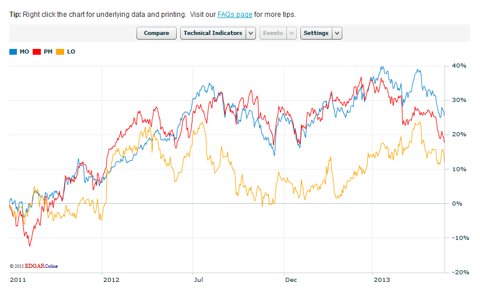 Click to enlarge
Peer group valuation
The peer group comparison below shows that shares are trading in a narrow range of around 12-13.65 times forward earnings. Only slight differences in valuation can be attested to. On a forward P/E basis Lorillard is the cheapest with a ratio of 11.97. Altria group trades at just a 1.6% premium to the peer group average and has the highest PEG ratio of 1.97 of all stocks reviewed. Altria also trades at a 28% premium to the peer group average PEG ratio. All stocks have a similar dividend yield ranging from 4-5%. With all stocks trading in the same range and at reasonable multiples, none of the companies appear to be extraordinarily cheap.

Click to enlarge
Free cash flow valuation
To focus more on the fundamentals of a company I look at free cash flow to equity. I estimate that Altria can earn about $2.05 in free cash flow per share in 2014. Applying FCF growth rates of 4.88% and 4.65% in 2015 and 2016 and a terminal value perpetual growth rate of 3% the intrinsic value for Altria stands at $30.20 per share (capital costs 10%). Considering a current share price of $33.60 Altria shares are overvalued by about 10%.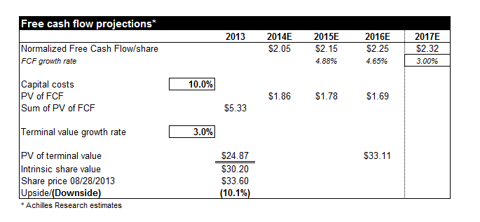 Click to enlarge
Challenges
Clearly tobacco companies must invent new ways to expand business and grow equity valuation. Positive growth in the tobacco segment is likely to come only from emerging markets where per capita cigarette consumption is higher than in Western countries and growing as well. Additionally, industrialized nations put emphasis on smoking-related health care costs, limit distribution to minors and implement otherwise restrictive tobacco advertising regulation. All these factors limit market size and do not justify premium multiples for tobacco firms.
The e-cigarette segment in particular can contribute to diversify the product mix and mitigate regulatory risk. I estimate this segment to be the primary growth driver over the next decade. Dividend distributions will ultimately depend on whether traditional tobacco companies can reinvent themselves and transition to products that offer consumers a better value proposition with alternative nicotine delivery products.
Bottom line
Free cash flow is likely to come in at around $1.90 a share this year giving shares a P/FCF multiple of 17.70 and making Altria anything else but cheap. I also estimate that Altria earns $2.25 per share in 2014 giving the stock a forward P/E ratio of nearly 15.
Though the past dividend record is attractive to income-oriented investors, it should be clear that Altria is really not trading in bargain territory at current share prices and is likely to be slightly overvalued. A pullback in share price, however, implies a better entry point to purchase Altria shares at a greater free cash flow yield.
Disclosure: I have no positions in any stocks mentioned, and no plans to initiate any positions within the next 72 hours. I wrote this article myself, and it expresses my own opinions. I am not receiving compensation for it (other than from Seeking Alpha). I have no business relationship with any company whose stock is mentioned in this article.