Intel (NASDAQ:INTC) is all set to introduce new Bay Trail powered tablets during IDF in which the No. 3, No.4 and No.5 ranked global tablet companies will showcase tablets using Intel's most advanced mobile processors. These tablets will be the first tablets in the world to run on 22nm mobile chips and customers can get their hands on these tablets by the end of September. My last article had raised doubts amongst some readers that it would take almost 3-4 months from the launch of the Bay Trail processors to the actual product reaching customer hands. However, the Digitimes article clearly mentions that the Asian PC OEMs will show off their tablets during Intel's Sept 10-12 event. This means that the OEMs have been working closely with Intel in the past few months to have their products ready and would be ready to ship the commercial products in another month. This is very good news for Inte,l since it means that the company will not miss the holiday season to showcase its advanced products. Bay Trail tablets have 2 things going for them. Number one, they are made on the world's most advanced semiconductor factories (22nm Trigate process as compared to the 28nm for all other processors including Qualcomm's (NASDAQ:QCOM) Snapdragon processors) and Number two, they will make use of a fresh new Silvermont architecture which is optimized to conserve power. I think that Intel's stock is very cheap and does not factor in the tremendous advantages that the company has over its competitors.
Bay Trail to launch right on time
One of the great things about Intel is that the company rarely misses on its execution roadmap unlike many of the other major semiconductor companies such as TSMC (NYSE:TSM). The company had always said that they would deliver Bay Trail tablets in time for the holiday season and the company is perfectly on schedule. The big 3 Asian PC OEMs Lenovo, Acer and Asustek will ship Bay Trail powered Windows tablets to customers by the end of October. Note, these three companies have doubled their tablet market share in the last one year. As the IDC chart below shows, their combined market share has increased to ~10% in Q213 from ~5% a year ago. These companies are shipping 4.5 million tablets per quarter now. Samsung (OTC:SSNLF) is already using the older Clovertrail+ chips in its Galaxy Tab 3 tablet line. The late October launch will ensure that the company has enough time to stock the shelves along with its partners. Timing is crucial in the semiconductor industry as Nvidia (NASDAQ:NVDA) will tell you. NVDA missed the mobile SoC bus as it could not ship Tegra 4 on time because the company concentrated on Tegra 4i. This allowed Qualcomm to steal a majority of Nvidia's business getting design wins from major mobile companies such as Google (NASDAQ:GOOG), Samsung etc. I think that NVDA is unlikely to ever compete in the high end mobile application processor space again. In the highly competitive semiconductor industry, a quarter delay is just too long as companies accelerate product launches at a dizzying pace.
Intel is ready to announce its next-generation Bay Trail-T platform at the Intel Developer Forum (IDF) taking place in San Francisco from September 10-12. Asustek Computer, Acer and Lenovo will also showcase their latest Bay Trail-T-based tablets, according to sources from the upstream supply chain.Bay Trail-T-based tablets are expected to start selling in retail channels worldwide in late-October, the sources said.

Source - DigiTimes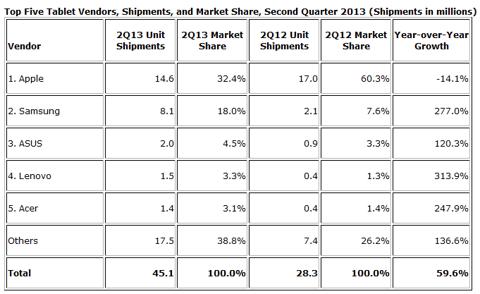 Source - IDC
Why is Bay Trail so different over Intel's previous Mobile Processors
Bay Trail will mark a radical jump in power and performance over Intel's previous generation of mobile processors that can be found in some mobile phones and tablets. Bay Trail will make use of a completely new Atom architecture which has been refreshed after 5 very long years. It will also be produced on Intel's most advanced process node - 22nm. This is two generations better than the Clovertrail+ chips which are made on 32nm. Bay Trail is supposed to deliver 3x more performance or 5 times lower power than Clovertrail+. This is a huge jump in performance and Clovertrail+ chips are nothing to sneeze at. The current smartphones (K900) and tablets (Samsung Tab 3) are pretty competitive with other ARM (NASDAQ:ARMH) processors in the market. Bay Trail will also feature 4 processor cores in comparison to the 2 cores in current mobile processors from Intel.
Bay Trail Risks
Some analysts have predicted that Bay Trail processors will only be able to match the current generation of ARM processors in the market. They don't think that Intel's process lead over everyone else will be enough for the company's mobile processors to beat QCOM, Nvidia, MediaTek and other ARMH based vendors. In the absence of a substantial lead, major tablet and smartphone vendors will be reluctant to switch over to Intel processors. I don't think that this is big risk given Bay Trail's vast improvement over the previous generation of processors. The critics are also forgetting the very strong relationships that Intel has with PC and tablet OEMs. The No.2 to No.5 global tablet vendors will be using Intel chips in the next two months. Apple (NASDAQ:AAPL) is the only holdout but that is because the company makes its own proprietary chips using ARM designs. If Intel's chips provide the power and performance advantages that the company is claiming, then Apple will also have to rethink its SoC strategy. It is not inconceivable that even Apple starts using Intel's chips. It already uses Intel's top end Haswell processors for its MacBook Air.
Stock Performance and Valuation
Intel's stock has declined in the last few months as PC sales have continued to decline and Haswell has not exactly set the market on fire. However, Intel's big game is in the mobile processor space for which the company has been preparing very hard over the last two to three years. As Bay Trail starts gaining traction, Intel's stock should see more believers. The stock is currently extremely cheap with a forward P/E of ~11x and a mouth watering divided yield of ~4%. The company trades at a discount to the industry average despite having better revenue and earnings growth over the last 3 years. I think that as Bay Trail starts to gain ground, bulls will gain an upper hand very soon.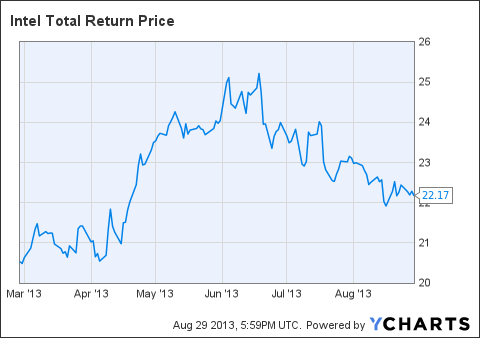 INTC Total Return Price data by YCharts
Summary
Intel has been underperforming the market as PC sales decline faster than expected. Despite its dominance in PCs and server processors, Intel has been hurt by the broad sector dynamics. However, Intel is moving aggressively into the mobile processor chip area. Given its $10 billion R&D spend and equally large capital spending, I think it is inconceivable for Intel not to carve out a large market share in the mobile processor space. Bay Trail will mark Intel's first real challenge to the leaders in the mobile processor space. Even if Intel does not succeed with Bay Trail, the company is accelerating the launch of 14nm Atom processors to hit the markets during 2014. It remains doubtful whether TSMC and other foundries will be able to even get to 20nm during this timeframe. This means that Intel will have a two process generation advantage over its competitors. Sheer manufacturing brute advantage will make Intel a leader in mobile processors. I think it's an opportune time to load up on Intel's stock as the semiconductor giant gets ready with its mobile product launch cycle.
Disclosure: I have no positions in any stocks mentioned, and no plans to initiate any positions within the next 72 hours. I wrote this article myself, and it expresses my own opinions. I am not receiving compensation for it (other than from Seeking Alpha). I have no business relationship with any company whose stock is mentioned in this article.