I have a terrible habit when it comes to writing of "burying the lead". What that means is that it takes me a long time to get to the point. I've been told that is a sure way to lose my reader.
Look, I'm doing it again right now.
So I'm going to get to the point immediately this time.
I think Pershing Gold (NASDAQ:PGLC) is a company that is worth a look for three reasons:
- The management team and Board of Directors
- The continuous insider buying
- The potential for significant expansion in resource estimates
My Approach To Investing In Resource Producers
Now back to my long winded introduction.
I invest mostly in resource producers.
What I have found through trial and error is that there are two ways (for me) to invest successfully in these companies.
1) Buy an established company at a cheap multiple of cash flow and reserves
2) Buy an early stage company that has an experienced management team who have previously built companies AND has "skin in the game"
Strategy number one is lower risk because you are buying more established companies. It also offers lower returns because these companies don't tend to have transformative events that can quickly double or triple the share prices.
Strategy number two which involves buying an early stage company is obviously the one that has the potential for bigger rewards but also carries more risk. These companies are tough to value and as an investor you have to rely much more on what management tells you than on cash flows and reserves that you can value yourself.
Quality of management therefore is of utmost importance when investing in an early stage resource producer.
That brings me to Pershing Gold.
Pershing Gold - Why The Stock Outperformance?
Pershing Gold has a top notch CEO and Board of Directors and the stock market knows it.
Check out the Market Vectors Junior Gold Miner (NYSEARCA:GDXJ) index over the last year.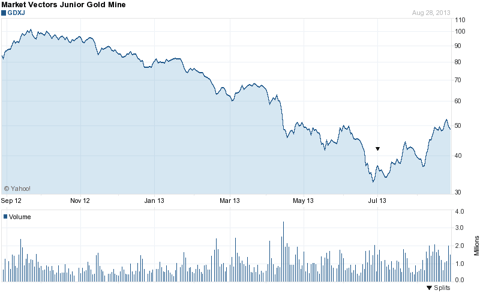 The entire index of junior miners has gone from 100 in September 2011 to 48 today. The stock prices of these companies have been pummeled.
Now check out the stock chart of Pershing Gold: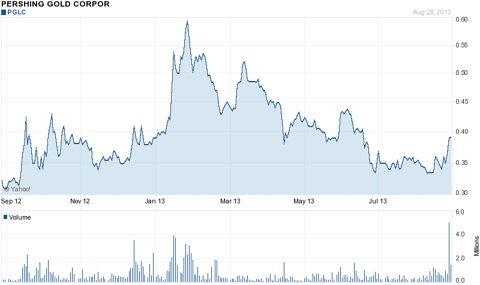 While the entire sector has been pummeled Pershing Gold is actually up over the same time period.
Why is the stock price of Pershing holding up so well?
I believe it is because there is real belief in this management team and Board of Directors. I also think that the presence of this particular management team and Board also tells the market something about the quality of Pershing's assets.
CEO Alfers - An Interesting Career Move
Stephen Alfers is Pershing's CEO. I have always found it intriguing that he has agreed to run this small company.
Below are the key excerpts from the bio on Mr. Alfers that Pershing (then known as Sagebrush Gold) provided when he was hired:
DENVER, Feb. 10, 2012 Sagebrush Gold, Ltd. announced today that Stephen D. Alfers has signed on to lead the company as Executive Chairman and CEO.

Prior to accepting this position with Sagebrush Gold, Mr. Alfers was with Franco-Nevada Corporation (NYSE:FNV) where he served as Chief of U.S. Operations until the end of 2011.

Before joining Franco-Nevada Corp, Mr. Alfers was President and CEO of NewWest Gold Corporation, where he developed a large portfolio of promising Nevada gold properties including Long Canyon, Sandman, and Northumberland. In 2007, Mr. Alfers orchestrated NewWest's sale to Fronteer Gold for CDN $186.9 million.

Following the sale of the Company, he served as a senior advisor to Fronteer during the exploration and development drilling of the Long Canyon discovery, a new Carlin-style project in northeastern Elko County, NV that currently has a resource of over 2 million ounces of gold. Newmont Mining Corporation subsequently acquired Fronteer in April 2011 for aggregate cash consideration of approximately CDN $2.3 billion (with a net cash acquisition cost of CDN $2.2 billion).
Three things stand out to me about Alfers.
1 - His Prior Job
Prior to coming to Pershing, Alfers was Chief of U.S. Operations for Franco-Nevada Corporation . Franco Nevada is a company with a $7 billion plus market capitalization. In my opinion you leave a senior job like that in a huge company to run a small pre-production gold company for one reason.
You leave (in my opinion) because you think you have an opportunity to get rich.
2 - He Has Built And Sold A Gold Producer Before
I've got no interest in investing in a pre-production explorer that is run by an unproven management team. I've been there and done that and it did not work out well for me.
Alfers is a known commodity, and he has proven that he can build a small company to the point where it is acquired by a bigger fish. That is surely the game plan at Pershing.
3 - A Career Spent In Nevada
I don't think anyone would believe that Alfers came to Pershing because of the company. He came because of the specific property that Pershing controls.
After spending a couple of decades operating in Nevada I bet he knows quite a bit about the property.
To me that means Alfers believes there is a lot of upside around the Relief Canyon mind that us investors sitting behind our computers can't possibly have insight about.
Continuous Insider Buying
I look at small resource producers every day. What continually frustrates me about most of these companies is how the Board of Directors is usually made up of people happy to show up and collect the Directors fees.
These guys will happily accept shares of the company they direct if they are given to them. But rarely do they get off their wallets and put their own money at risk alongside shareholders.
If Directors don't believe enough in their company to invest their cash in it why should I?
Pershing is different. This Board is made up of people who seem to really believe in the company and are involved in trying to build something. These folks have loads of their own cash invested and keep investing more.
That warms my heart. More importantly, it also makes me think that what they know about this company and its assets makes them believe that investing money in Pershing is a good idea.
The last time I checked, director Barry Honig owned almost 13% of Pershing. Last December Honig had used his own money to buy almost a million dollars worth of additional Pershing shares. Then this month he was at it again as the lead investor in an $11 million financing:
The Company expects to use the net proceeds of the private placement for advancement of the Company's Relief Canyon project and for general corporate purposes. "This financing is a significant milestone for Pershing Gold," said Stephen Alfers, Pershing Gold's Chairman and Chief Executive Officer. "This financing enables us to advance aggressively our work at the Relief Canyon Mine by expanding and upgrading our NI 43-101 compliant resource through our drilling programs now underway and planned for the remainder of 2013, and by completing the engineering, metallurgy, and hydrology work needed for a preliminary economic analysis planned in 2014."

"This financing was led by Barry Honig, Pershing Gold's founder and a leading shareholder, joined by members of our management team. In addition," Alfers continued, "I am pleased to note that this financing attracted significant new investors."
I'm impressed by the fact that Honig knows this company as well or better than anyone and he continues to invest a considerable amount of money buying more shares. There is only one reason to do that.
I'm also impressed that Pershing can keep raising cash from other external investors at or above the market price for the stock. In this market that is no easy feat and again shows the respect the investing community has for this management team.
Where The Upside To Pershing Investors Will Come From
As I mentioned earlier, these early stage non-producing resource companies are very hard to value. There is no cash flow or reserve value to base our analysis on. In this case I think the fact that Honig continues to buy shares at current prices is the best indication of the value proposition available today.
Where I think Pershing is going to really get the market's attention though is when we find out more about what is in the ground on Pershing's big land basis around the Relief Canyon mine.
Right now Pershing plans to bring the Relief Canyon mine on production in 2014. But I believe there is more to the Pershing story than what we currently know about Relief Canyon.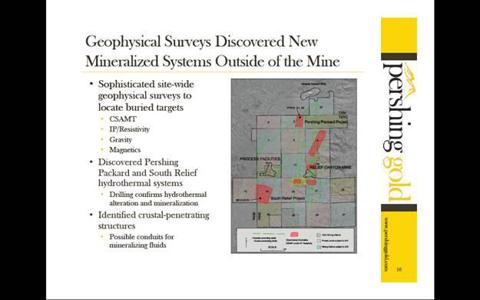 Relief Canyon is just one mine on a huge land position. I think the real story for Pershing over time is going to be what else is on this land in addition to what is identified at Relief Canyon.
I think that potential exploration upside is what attracted to a person of Alfers quality to Pershing and is why Honig keeps buying shares.
I would suggest that is why Pershing keeps drilling exploratory wells even in a very difficult environment:
AKEWOOD, Colo., July 24, 2013 (GLOBE NEWSWIRE) -- Pershing Gold Corporation(OTCBB:PGLC) is pleased to announce it started Phase I of the 2013 drilling program at the Relief Canyon Mine property in Pershing County, Nevada on July 22nd. The purpose of the Phase I drilling program is to explore and expand the gold and silver resource north of the North Pit and outside of the current National Instrument NI 43-101 compliant resource estimate boundary.

In describing Phase I of the 2013 drilling campaign, Stephen D. Alfers, Pershing Gold Executive Chairman, CEO, and President, said: "I am optimistic that this drilling effort will allow us to extend the gold mineralization beyond the Whittle-pit shell constraints of the current total in-pit gold resource estimate. Depending on the results of this program we may prepare an updated NI 43-101 compliant resource estimate. During the coming months we will also collect the metallurgical, slope-stability, engineering, and hydrologic data needed for a Preliminary Economic Assessment (PEA) which we expect to complete in the first half of 2014."
I believe management and the Board of Directors are very confident that drilling exploration wells is going to be value enhancing for shareholders. In the current turbulent market for resource companies where capital is precious you just don't drill these wells unless you pretty much know what you are getting.
Pershing has a huge property around the Relief Canyon mine. If successful, positive exploration results likely aren't going to increase the amount of gold this company has by 10%. Successful results are likely to be much more significant than that and potentially completely change Pershing's market valuation.
The Signs Are Good, But Remember This Is A Story Stock
There is a lot that I like about Pershing:
- The experienced CEO
- Insider buying
- What I think is big hidden value in the land around Relief Canyon
- The secure location in Nevada instead of a higher risk international site
Now here is what I don't like. This is a story stock and stories often don't pan out.
My article is filled with "I think" and "I believe". Those phrases aren't used in situations where I'm backing up my opinion with hard data.
That is the nature of investing in pre-production resource companies.
Pershing is still a company that is pre-production and is not a company with significant cash flows and a big balance sheet. That means there is less margin for error, and I am investing based on management's skill rather than the clear intrinsic value of existing cash flow and assets.
Therefore I am keeping my position in Pershing to a small percentage of my portfolio. My gut tells me this could be a big winner over time, but large portfolio positions need to be based on much more than gut instinct and a good story.
I believe Pershing Gold might be the least risky junior gold developer in the market today. But that doesn't mean it isn't risky.
Disclosure: I am long PGLC. I wrote this article myself, and it expresses my own opinions. I am not receiving compensation for it (other than from Seeking Alpha). I have no business relationship with any company whose stock is mentioned in this article.