"What I hear from businesses here and elsewhere is that a renewed recovery is taking hold amid a rising tide of optimism. The signs are that this recovery is broad based and set to continue. This is welcome and should be encouraged." - Mark Carney, Governor of the Bank of England, at the East Midlands Conference Center, August 28, 2013.
Before Mark Carney took over as governor of the Bank of England (BOE), the main question buzzing in financial media seemed to focus on figuring out just how dovish Carney would be. As I mentioned at the time, the certainty of this chatter surprised me given Carney had already established a record at the Bank of Canada for a willingness to increase interest rates even as most of his peers established ever more accommodative monetary policies. Yet, Carney's dovishness seemed cemented by the market when in early July the British pound (NYSEARCA:FXB) sold off in the wake of the Bank of England's warning that the rise in market interest rates was not warranted by economic reality. Despite that, I stuck to my bullishness on the pound mainly based on the strengthening economic conditions in the country.
Fast forward to August 28th for Carney's first public speech as Governor and suddenly Carney looks a lot less dovish. He is certainly not hawkish, so I will call him non-dovish. As this reality sinks in for the market, the British pound is not likely to retest recent lows… at least not as long as economic conditions continue to improve. I think an effective floor is now in place. Technically, the GBP/USD currency pair looks well-positioned sitting atop both the 50 and 200-day moving averages (DMAs), so I still like buying dips.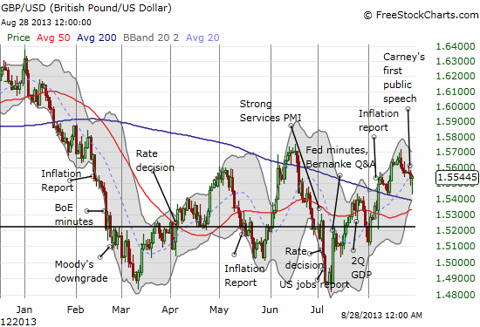 Click to enlarge
The British pound is still rallying off 2013 lows
Source: FreeStockCharts.com
First, the most surprising quote for me came with an "admission" that the current rise in long-term rates IS warranted (emphasis mine):
"There has been a generalised upward move in long-term yields in advanced economies, including the UK, over the past month. The main common driver is speculation that the US Federal Reserve will soon reduce the pace of its asset purchases. That has - not surprisingly - affected yields in other countries because safe, liquid sovereign bonds of the world's largest economies are close substitutes for each other.

In the UK, these movements have been reinforced by growing expectations of recovery. As we explained at the time of the forward guidance announcement, a rise in the yields on long term bonds is consistent with our commitment to price stability and supporting the recovery."
Carney is referring to the forward guidance provided in the last Inflation Report. I guess I missed that part of the report, but I appreciate the clarity now: it seems the Bank of England is quite comfortable with the level of long-term interest rates.
For additional clarity, Carney takes aim at the rise in shorter-term rates which he thinks ARE too high. He assumes that the market is pricing in a scenario of employment conditions much stronger than the Bank of England is expecting in the next few years:
"Market interest rates at terms of 2-5 years have also risen recently. The date at which the markets expect the first increase in Bank Rate has moved in from the end of 2015 to mid-2015. One possible explanation is that markets think that unemployment will come down to 7% more quickly than we do. Since the aim of our policy is to secure recovery as quickly as possible, that would be welcome. But policy is built not on hope, but on expectation. And we estimate there is only a 1 in 3 chance of unemployment coming down that quickly."
Ultimately, Carney insists that Bank Rate matters most because this rate is the peg on which many loan rates get determined.
"Movements in longer-term market interest rates are certainly relevant, but what matters most to you is what actually happens to Bank Rate, now and in the future. That is because the interest rates on 70% of loans to households and more than 50% of loans to businesses are linked to Bank Rate. And it is the Bank of England that controls that rate."
The "non-dovish" side of Carney really shines with two points: 1) he is perfectly comfortable hiking rates when needed, and 2) his assurance that the BoE is determined to bring inflation DOWN to target:
"I certainly have no hesitation in raising interest rates when required - when I was Governor of the Bank of Canada, we raised interest rates as the recovery there gathered pace. But that was the appropriate policy for Canada at that time. The challenges in the UK today are different, and policy must be tailored accordingly…

Rest assured, however, that we will bring inflation back to target - and at each point we will ensure that risks to price stability are contained."
Make no mistake, however, Carney has no interest in hiking rates ahead of a strong recovery: "The last thing savers want is for the UK to follow Japan by raising interest rates before recovery is secured, only to find that we are condemned to decades more of low interest rates and lost opportunities."
Overall, Carney spent most of his speech reiterating policy principles and guidance set forth in the last Inflation Report.
Carney granted an interview to a local paper that provided the icing on the cake. In the Nottingham Post, Carney firmly established that he is no Mervyn King. Specifically, he is not interested in devaluing the currency for competitive advantage (emphasis mine):
"Prime minister David Cameron encouraged firms to export to stimulate the economy but they have been slow in the uptake. No, it was not that the pound was at the wrong parity against other currencies, said Mr Carney. Export competitiveness came from the productivity of re-tooling businesses, finding new markets and investment.

'The solution is not to devalue your way to prosperity,' he added."
With this simple observation, Carney effectively squashed any notion that he would provide a catalyst for a lower currency. Absent new bearish catalysts, it seems to me the pound has a firm floor beneath it now.
Be careful out there!
Disclosure: I have no positions in any stocks mentioned, and no plans to initiate any positions within the next 72 hours. I wrote this article myself, and it expresses my own opinions. I am not receiving compensation for it (other than from Seeking Alpha). I have no business relationship with any company whose stock is mentioned in this article.
Additional disclosure: In forex, I am net long the British pound