Bnccorp, Inc. (OTCQX:BNCC) is a bank holding company offering business, and consumer banking services. The company operates community banks with 14 locations throughout Arizona, Minnesota, and North Dakota. Eight of the 14 locations are spread throughout the state of North Dakota. Growth in the state related to the boom in the Bakken, is one of the key differentiators in building the bull case for BNC National Bank.
Financial Snapshot
$27.13 / Share in Cash
$17.18 Revenue / Share
1.9x P/E
7.26 EPS
BNCC data by YCharts
Trading Volume
With smaller stocks, the tape tells the story. Average trading volume is 4,662 shares / session. The share price increased $1.50 in the last 6 sessions on heavier than usual volume, indicating quick accumulation.
Date - Volume
8/22 - 9,400
8/23 - 33,600
8/26 - 15,400
8/27 - 8,500
8/28 - 20,000
8/29 - 27,426
North Dakota vs. USA
Understanding the impact of the oil boom in North Dakota is important when considering an investment in a local community bank. The state of North Dakota has a $1.6 billion budget surplus, and the many metrics from May 2013 data below show that North Dakota is an anomaly compared to the rest of the country.
| | North Dakota | America |
| --- | --- | --- |
| Unemployment Rate | 3.2% | 7.6% |
| Personal Income Growth | 12.4% | 3.5% |
| GDP Growth | 13.4% | 2.5% |
| Oil Production | 328% | -5.4% |
| Oil & Gas Job Growth | 709% | 45% |
| Housing Growth | 2.3% | 0.3% |
| Income Growth | 43% | 8% |
| Per Capita Income | $52,000 | $42,000 |
| Cost of Electricity | $0.086 | $0.119 |
As, the "land grab" days are likely over and large oil and gas companies like EOG Resources (NYSE:EOG), Hess (NYSE:HES) and Halliburton (NYSE:HAL) have expended capital and resources, North Dakota moves into the second phase of boom related growth.
EOG data by YCharts
The U.S.G.S in April, published estimates of 7.4 billion recoverable barrels of oil in the Bakken. Using a 900,000 barrel / day metric, with 153 days past, we've taken 1.86% of that oil in 5 months. This leads to a production forecast exceeding 20 years of oil. Other recoverable estimates reach as high as 200+ billion barrels of oil in the region, so if the U.S.G.S revises estimates, you can add years to the duration of this boom.
The state of North Dakota was conservative in spending related to the boom (due to past quick boom / bust scenarios). Now they are looking at how to begin spending their budget surplus. State spending will enable the private sector and help fuel the second phase of growth which will include infrastructure, housing, and businesses to support the fastest population growth in the country.*
In 2012, Williams county grew 13.9% adding 1,525 new housing units. Williston is the largest city on the west side of the state and is in Williams county.
With increasing income growth, and a need for more infrastructure... a local bank may prove to be an excellent way to capture some gains related to the second phase of growth in the Bakken. Construction loans, deposits, and mortgage banking should pick up in the state over the next 1 - 2 years if this thesis holds true.
Banking Financials
The table below shows a conservative bank, maintaining risk capital amounts well in excess of what is required. For the three months ended June 30, 2013, the bank charged off 0.232% of their loan portfolio, or $23,000. The bank was also able to recover $48,000 from previously troubled loans.
(in thousands)
Actual
To Be Well
Capitalized
Excess
Total Risk Based Capital
Consolidated
$97,024
N/A
BNC National Bank
$90,840
$39,669
$51,171
Tier I Risk Based Capital
Consolidated
$90,496
N/A
BNC National Bank
$85,820
$23,801
$62,019
Tier I Leverage Capital
Consolidated
$90,496
N/A
BNC National Bank
$85,820
$40,110
$45,710
From Q1 to Q2 we can see a shift in the bank's loan portfolio with more capital out in construction, land and development, consumer, and SBA. This is consistent with the story related to the second phase of growth in the area. As of June 30th, 63% of loans originated in North Dakota, and 65% of total lending portfolio was used for projects within the state.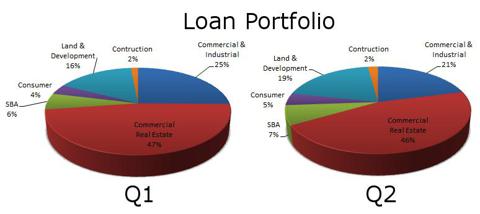 Total portfolio balance at the beginning of Q2 2013 decreased 6.4% from the same period last year and 2.2% compared to Q1. With excess risk capital available, the bank should look for opportunities to grow their lending portfolio.
Total deposits Q2 over Q1 remained relatively flat, decreasing from $681.7M to $679.1M. Going into Q3 and Q4, I will be looking for an increase in deposits. A note in the Q2 report says that the deposit balance was supported primarily by an increase in North Dakota.
Q2 vs. Q1 interest income and non-interest income were also down quarter over quarter, impacting earnings per share. As of June 30th, interest income for the year was only down 4.8% compared to the first six months of 2012, and non-interest income was up 19.61%. This offset was primarily due to an increase on the sales of loans and securities.
Mortgage banking revenues were down 28.2% for Q2 2013 compared to the same period last year and up marginally for the year. Given the micro climate in housing demand within North Dakota, and if the bank didn't sell as many loans in Q3, mortgage banking may start to recover which should help increase interest income in the coming quarters.
Remember, as new housing units go up across the state, demand for mortgages should increase. Even in a rising rate environment, North Dakota remains a micro-climate when it comes to home lending.
Leadership mentions a focus on wealth management revenues, which were up marginally for Q2 2013 compared to the same period last year but down for first half of 2013 compared to 2012. If the bank continues to mention a focus on growth here, I expect to see results soon, or this will become a going concern.
Comparables
4 bank holding companies of similar size are used for comparison purposes. Here's how Bnccorp, Inc. stacks up.**
| | BNCC | Average |
| --- | --- | --- |
| Share Price | $13.90 | $15.06 |
| Market Cap | 45,870,000 | 39,988,000 |
| Shares Outstanding | 3,300,000 | 2,726,000 |
| P/E Ratio | 1.91 | 9.87 |
| P/S Ratio | 0.82 | 5.56 |
| P/B Ratio | 0.92 | 0.9 |
| Revenue | $56,590,000 | $25,506,000 |
| Revenue / Share | $17.18 | $8.99 |
| Diluted EPS | $7.26 | $2.50 |
| Cash | $89,530,000 | $35,038,000 |
| Cash / Share | $27.13 | $12.09 |
| Debt | $38,530,000 | $30,656,00 |
While the bank does carry $8 million more in debt than the average, it is the largest bank in terms of both revenue and market cap in the comparison group.
Metrics like P/E, P/S, Revenue / Share, and Cash / Share indicate that BNC may be worth more than $13.90 / share.
The regional bank holding companies used in the comparison group are United Bancshares, Inc. (NASDAQ:UBOH), National Bancshares Corp. (OTCQX:NBOH), Sound Financial Bancorp, Inc. (NASDAQ:SFBC), and Consumers Bancorp, Inc. (OTCPK:CBKM).
The largest of the group in terms of market cap is BNC, and the smallest is Consumers Bancorp, Inc. at $32.26 million.
All of the companies within the comparison group pay a dividend ranging from 1.3% to 2.9%. Bnccorp, Inc. does not pay a dividend at this time.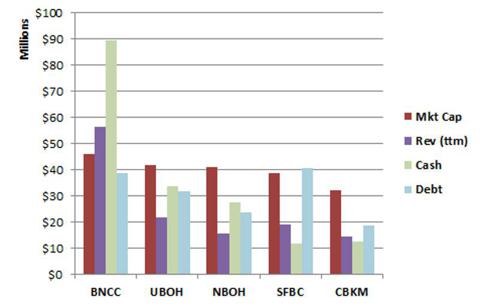 United Bancshares Inc.
United Bancshares, Inc. operates as a bank holding company for The Union Bank Company operating in northwest and central Ohio. It was founded in 1904 and operates 12 locations providing consumer and business banking services.
Sound Financial Bancorp, Inc.
Sound Financial Bancorp, Inc. operates as a bank holding company for Sound Community Bank. It operates 6 locations in the Puget Sound region of Washington. Sound Community Bank provides a full menu of banking services for the consumer and businesses.
| | BNCC | UBOH | SFBC |
| --- | --- | --- | --- |
| Shares Out | 3.3M | 3.45M | 2.59M |
| P/E | 1.91 | 8.88 | 11.45 |
| P/S | 0.82 | 1.94 | 2.02 |
| P/B | 0.92 | 0.67 | 0.85 |
| Profit Margin | 46.45% | 21.86% | 17.93% |
| Operating Margin | 32.36% | 27.35% | 35.02% |
| Revenue / Share | $17.18 | $6.27 | $7.42 |
| Cash / Share | $27.13 | $9.81 | $4.55 |
| Debt | $38.53M | $31.69M | $40.54M |
In terms of market cap, banking locations, and total debt of BNCC and UBOH are very similar. UBOH operates in only two regions of Ohio, while BNCC operates in multiple states. BNCC's financials are primarily driven by a single region, but I view a larger foot print as a benefit.
SFBC is much smaller in terms of banking locations and per share metrics, yet it carries more debt than BNCC and trades at much higher price to earnings and sales ratios. SFBC is paying a dividend and recently announced share buybacks.
Banking giants like Wells Fargo (NYSE:WFC), U.S. Bancorp (NYSE:USB), respectively trade at 11.2 and 12.2 P/E, 1.46 and 1.91 P/B, and 2.41 and 3.09 P/S. Comparing BNCC to giant banks is only good for perspective, but shouldn't be used to set share price targets.
Regional Midwest Banks have an average P/E of 13.30 and P/B of 2.02.
At this point in the article, it's fairly easy to see BNCC has plenty of upside potential. However, there are many risks involved that deserve to be mentioned. Bnccorp, Inc. will demand extra attention to both trading activity and the company's results if it is going to earn a place in your portfolio.
Stock Trading - Risks
BNCC is a thinly traded stock, and the market for shares can be illiquid. Thinly traded stocks have a history of being subject to manipulation and can experience volatility out of seemingly nowhere.
If a large shareholder were to sell his or her position it could have a negative impact on share price. If you held shares this could result in significant losses, alternatively, it could be an excellent buying opportunity.
Management - Risks
As I mentioned above, if the bank has discussed a plan to grow wealth management services, I expect to see income from this segment. Wealth management services aren't very important to me as a major contributor to the top line, but it does serve as a nice litmus test on management's ability to deliver.
Insiders hold a notably low amount of common stock. This is one of the biggest negatives, as I like to see small companies place their bets right alongside shareholders. BNCC management is mostly compensated through preferred stock, not common shares.
Management previously withdrew a private placement, which was quite puzzling as it seemed priced far too low. This situation makes you think twice about some management decision making, as it sent the share price for a roller coaster ride. See management's description of this situation here.
BNCC also got wrapped up in a mortgage fraud scheme in the state of Arizona in 2010. Financial statement fraud by the related business cost the company up to $28 million in 2010. It appears the bank couldn't have done much to help this, but perhaps could have conducted better due diligence, before entering into business with the fraudulent entity.
Long time president and CEO Gregory Cleveland, recently passed. He was replaced by the CFO, Timothy Franz, who has been with the bank for 7 years. A key management change may pose a risk to the company going forward, but at the same time, new leadership may benefit shareholders.
Summary
Bnccorp, Inc. looks poised to provide a return for investors, as comparable bank holding companies trade at higher relative prices. Recent trading volume suggests an accumulation of shares and potential for an increase in share price within a short amount of time.
On the long term, investors should look for the bank to use more cash to generate income, grow deposits, and participate in additional lending activities in the region related to oil boom growth. Management could also present itself as a more shareholder friendly company, and any activity in this direction should be viewed as a positive.
Furthermore, many of these small community banks look to be a great investment opportunity. If BNCC doesn't seem right for you, check some of the comparable tickers mentioned in this article.
*July 2011 - July 2012 - Census.gov.
**Data compiled on market close 8/29/2013.
**Metrics are ttm, where applicable.
Disclosure: I am long OTCQX:BNCC. I wrote this article myself, and it expresses my own opinions. I am not receiving compensation for it (other than from Seeking Alpha). I have no business relationship with any company whose stock is mentioned in this article.