So Many Opinions:
Recently, contrasting viewpoints on BlackBerry's (NASDAQ:BBRY) future have permeated the universe, battling to uncover whether there is a future for BlackBerry in the pockets of consumers, or in a cemetery. Many of these articles have either been extremely positive or negative, although they share a common thread: speculation. Sometimes investors get caught up with the traders and lose out on what is really important with regard to a company. Let's take a look at the company's past month of 6-K filings with the SEC to obtain some clarity on the company's affairs.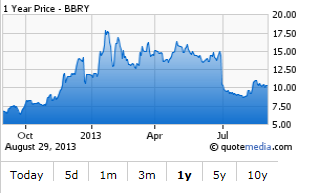 The company announced the release of the newest BlackBerry 10 smartphone available in Canada on August 13,2013. The BlackBerry Q5, featuring a full QWERTY keyboard, a 3.1" touchscreen and availability in either black or pure red. The Q5 was meant to be powerful and cost efficient for the consumer.
Reality: BlackBerry has introduced a new product that seems to be doing well in emerging market such as the middle east, while having problems in the North America. Although a strong footprint abroad should not be discounted, just look how hard Apple is trying to secure a deal in China.
Matthew Reed, the principal analyst at Informa Telecoms & Media in Dubai pointed to "much of the Middle East", as well as South Africa, Nigeria and Indonesia as examples of the emerging markets in which BlackBerry has been strong in recent years.
Although thoughts on how well a company's products are doing in a particular region are hard to confirm since BlackBerry does not release regional sales data. Moreover, Blackberry's global smartphone marketshare has gone from 50% marketshare to 3% in the last four years and they reported an $84 million dollar lost last quarter. Much to the gain of companies such as Apple (NASDAQ:AAPL), Android manufacturers running Google's (NASDAQ:GOOG) operating systems and Samsung (OTC:SSNLF).
BlackBerry and Free The Children sent 50 Canadian students on a Me to We life-changing volunteer trip to Kenya and India. Although this has nothing to do with an investing standpoint, it does demonstrate the company giving back to the world. Sort of increasing its moral price per share.
Waterloo, ON - BlackBerry® today announced that MAKO Surgical Corporation (NASDAQ:MAKO) has chosen BlackBerry® Enterprise Service 10 as their single enterprise mobility management (EMM) solution because it provides the highest level of control required to handle all the mobile data requirements and security issues unique to the medical device manufacturing environment.
The MAKO Surgical Corporation deploying BlackBerry Enterprises services to manage their mobile investments demonstrates a solid form of confidence that MAKO has in BlackBerry's services. MAKO chose BlackBerry for the decade of experience the company has in enterprise services to provide enterprise mobility management, mobile application management and secure mobile connectivity. This demonstrates how not everyone is jumping from BlackBerry and through their experience they are still serving private businesses.
BlackBerry reported that they were awarded an "Authority to Operate" on U.S. Department Of Defense Networks. This provided the company with the right to use the Z10, Q10 and enterprise service 10 on the Department of Defense's networks. Moreover, infrastructure is being developed to support 10,000 BlackBerry 10 smartphones by this fall and 30,000 by the end of 2013 on these networks. Lastly, this validates the Department of Defense's trust and commitment to BlackBerry's security model; something that should not be discounted by any means.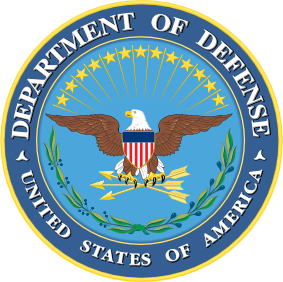 Being the first mobile device manager to obtain an authority to operate is not only amazing, it provides something very simple and profitable to the company; a government contract. With the revenue from sales of BlackBerry's phones to their security model being validated by the department of defense, I do not see anything remotely wrong with anything here and I see it as very positive in nature. I see this as a profitable contract for the company and validation of their security model, plain and simple.
BlackBerry reported they created a special committee to explore strategic alternatives to enhance the value and increase the scale of BlackBerry 10 deployment. Now I for one see BlackBerry holding a for sale sign, although along with a few other signs as well. Some other initiatives could include a merger or a partnership with another company or a sale of part of the business and not the entire company. BlackBerry is a public company and as such they have to evaluate all possibilities for their investors, which does not automatically mean a fire sale of the company the first time a potential buyer picks up the phone.
Moreover, Prem Watsa Chairman and CEO of Fairfax Financial left the company due to any potential conflicts that could occur. This is just a news event that has to be reported. Also it is a good idea since it is better to report this now, than have a potential conflict of interest hamper any news later on.
With the announcement of the Special Committee, Prem Watsa, Chairman and CEO of Fairfax Financial informed the Company that he felt it was appropriate to resign due to potential conflicts that may arise during the process
Lastly, this may be a tricky area as well. Such as selling the company's patents and continuing to operate their business may be impossible without licensing from whoever they sell their patents to. As such, the company's main option to sell, if it does decide to do so, would likely be a complete sale of the entire company.
The company releases the BlackBerry 9720 smartphone featuring BlackBerry 7 OS available in many colors.
This Is Where It Gets Tricky: Sitting home in America, we have to understand the target market for this device. The company states:
Beginning in the coming weeks, the new BlackBerry 9720 smartphone will be available in select markets from retailers and carriers in Asia, EMEA and Latin America
The company has not included America here -- why? Features can be argued across many devices, although many consumers favor the iPhone or the Galaxy for its FaceTime and hand gesture features for example, respectively. Although this Blackberry is being marketed for Asia, EMEA and Latin America, all areas that have a harder time affording an iPhone 5 or a Galaxy S4.
Moreover, Apple is specifically developing the iPhone 5C, a lower end model to compete with other devices in China. This proves the point that lower cost devices are needed in foreign areas which may benefit BlackBerry.
BlackBerry and Univision Communications Inc., announced that Univision purchased 2,000 BlackBerry Q10's from the company. It may be difficult to discern whether or not this is important. Mainly because if every time an Android device manufacturer reported a 6-K after selling 2,000 phones than the SEC may get overloaded. Although it does demonstrate brand loyalty by Univision and a desire for the company's products, on a rather small scale.
Financials:
Currently sporting a market cap of $5.3 billion, BlackBerry is in a much better financial state than many think. The company has revenue of $11.34 billion with quarterly revenue growth of 9.40% year over year. In addition the company has a book value per share of $18.24, providing a price to book ratio of 0.56x. The price to sales ratio of the company is a low 0.47x.
On a darker note, the company has a return on assets and return on equity of -2.50% and -2.13% respectively, trailing twelve months. Profitability is in the same boat, with the company's profit margin and operating margin at -1.87% and -4.61% respectively, also trailing twelve months.
This data points to a company that is currently in good financial shape, although running a business that is becoming unprofitable. The financial shape of the company is mostly in limbo, putting greater significance on the outlook for the company, any structural news in the future, and any future financial data coming out of the company such as new product sales.
Estimates on value of BlackBerry's patent portfolio if sold off vary with a conservative estimate at $2.5 billion dollars. This works out to be $4.85 per share. Add this $4.85 per share to the $5.48 per share the company has in cash and you get $10.33, which is around the share price now. So if BlackBerry was to be bought out the company's cash and patents makeup the current market capitalization now, any additions to a buyout price would be from the business itself. This adds to the argument of stock being in limbo as this provides a floor for the stock price. This being around the value of the patents plus cash as the business itself is argued to be slowing down, although certainly not worthless.
Conclusion
I have specifically decided to exclude any news sources (such as recent sales, other than an article or two) and focus directly on company reported data to provide some insight as to the facts on where the company stands. Although it is good to have well rounded insight, there is no shortage of opinion articles on BlackBerry floating around. I am not long BlackBerry although I do like the fruit version though. This article may seem to be defending the company, although the company does face significant challenges staying afloat and maintaining a competitive nature in the marketplace. This article was solely meant to delve into the SEC filings of the company to provide information to remember as the company shrugs on, as some investors do not have the time to tackle the specifics beyond headlines. Moreover, the company is in limbo with a solid financial condition and a slowing business coupled with a floor on the stock price granted by the value of the company's cash and patents adding up to the current share price.
Disclosure: I have no positions in any stocks mentioned, and no plans to initiate any positions within the next 72 hours. I wrote this article myself, and it expresses my own opinions. I am not receiving compensation for it (other than from Seeking Alpha). I have no business relationship with any company whose stock is mentioned in this article. Informational, always do your own research and contact a financial professional before executing any trades. This article was meant to provide insight as to what the company has demonstrated in their 6-K's in light of the various articles about the company.