Salesforce.com (NYSE:CRM) reported another quarter of stellar growth yesterday. The stock took off in after-market trade notching an 8% gain, painful for shorts like me.
Sales for the quarter were up 31% over the prior year at $937 million. Despite the growth, the company reported an operating loss of $57 million for the quarter, wider than the $14 million operating loss in the same period last year. Operating ratios were behind the loss, with the combination of cost of revenues and operating expenses widening to 104% of sales.
It is useful to look at year to date results on an incremental basis. Revenues of $1,850 million were up from $1,427 million in 2012, an increase of $423 million. In parallel, operating expenses rose to $1,507 billion from $1,149 billion, a rise of $358 million. Cost of revenues also rose to $427 million from $314 million, up $113 million. Taken together, the incremental operating expenses and cost of revenue amounted to $471 million, outstripping the rise in revenue of $423 million by $48 million. As a result the operating losses widened to $84 million from $36 million.
You can spin the numbers anyway you want to, but the fact is this company continues to lose money despite its rapid growth. The company gave guidance for the balance of the year as follows:
"Full Year FY14 Guidance: Revenue for the company's full fiscal year 2014 is projected to be in the range of $4.000 billion to $4.025 billion, an increase of 31% to 32% year-over-year. GAAP net loss per share is expected to be in the range of ($0.44) to ($0.42)."
Salesforce.com now has a balance sheet encumbered by debt, a result of the ExactTarget acquisition for cash of $2.5 billion. To be specific, debt now includes a term loan of $300 million; convertible 0.75% senior notes of $534 million and convertible 0.25% senior notes of $1,035 million or a total of close to $1.9 billion. Current liabilities of $3.1 billion exceed current assets of $1.7 billion.
In a September 19, 2012 presentation, salesforce.com projected that it takes six to nine quarters for new hires to contribute to profits.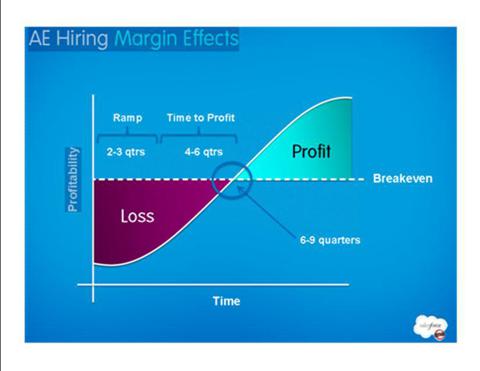 Click to enlarge
(Click to enlarge)
The company has definitely been investing in more people.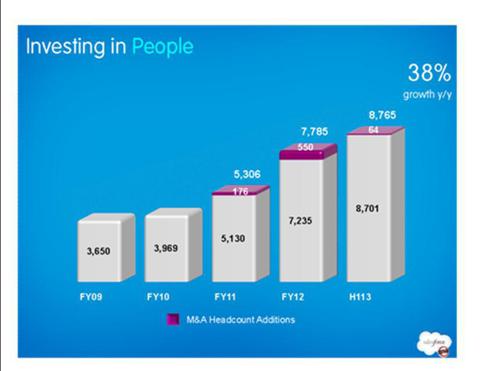 Click to enlarge
(Click to enlarge)
But the profit contribution is not yet apparent, with losses forecast for the balance of this fiscal year at least. Investors in salesforce.com have bought into the company's plan and the stock has done very well for them, reaching over $47 in the pre-market trade today after a 20% plus gain year to date.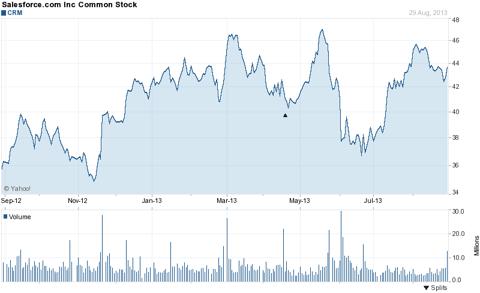 Click to enlarge
(Click to enlarge)
Surprisingly, insiders seem to have been oblivious to the company's success, dumping stock hand over fist, buying only 200 shares while selling 885,088 shares in the past 6 months.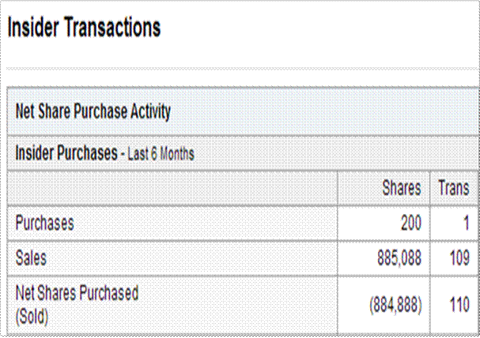 Click to enlarge
(Click to enlarge)
You have to wonder what they were thinking. What is pretty obvious is that management and directors are taking every advantage of the option program to make sure they benefit in real time from the company's current "success", exercising options and selling shares throughout August of this year.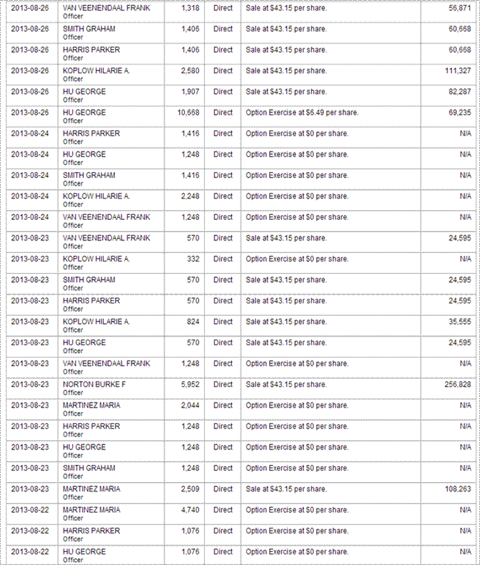 Click to enlarge
(Click to enlarge)
The fiscal quarter ended July 31, 2013. Throughout the last week in August insiders were selling. The company released its results August 29th after the close of trading. Is it possible that the insiders selling had some knowledge of the results before entering into their sell transactions? Is it possible they were less impressed with the company's results than the street? It is a good question.
Certainly Frank Van Veenendaal, Hilarie Koplow, George Hu, Parker Harris and Graham Smith had some idea. Van Veenendaal is Executive Vice Chairman; Koplow is President of Global Sales; Hu is Chief Operating Officer; Harris is Co-Founder; and, Smith is CFO. Too bad they missed out on the 8% rise after the results were published the next day. Possibly, they were less sanguine about the market's reaction to the results and did not want to be present if the stock tanked. I am sure there is some legal loophole that protects them from an allegation of insider trading but it is hard to avoid the thought that they might have waited a day or two until the rest of the investors had some insight into the results before dumping their stock. In addition to their leaving well over $1 million on the table by selling on the eve of the results they ran the risk of leaving a bad taste in some investors mouths by trading with knowledge not yet made public.
For my money, this company's operating performance is unimpressive. Sales growth that is less than expense growth rarely produces long term benefits. Insiders who exercise their stock options and can't wait to unload their stock do not inspire confidence. And, the balance sheet trend is ominous with a working capital deficit of over $1 billion.
I have been short the stock for some time, hedged by writing puts. The gains on the put positions have mitigated my losses on the short position, effectively increasing the price at which I am short. I will continue this trade because, at least in my opinion, the time will come to pay the piper.
Disclosure: I am short CRM. I wrote this article myself, and it expresses my own opinions. I am not receiving compensation for it (other than from Seeking Alpha). I have no business relationship with any company whose stock is mentioned in this article.