In this article, I will feature one senior care company that has seen intensive insider buying during the last 30 days. Intensive insider buying can be defined by the following three criteria:
The stock is purchased by three or more insiders within one month.

The stock is sold by no insiders in the month of intensive purchasing.

At least two purchasers increase their holdings by more than 10%.
Leisureworld Senior Care (OTC:LWSCF) is one of Canada's largest operators of seniors' housing and the third largest licensed long-term care provider in Ontario. Leisureworld owns and operates 27 long-term care homes across Ontario with 4,498 beds. The company also owns and operates five retirement residences and one independent living residence, representing 739 suites, in Ontario and British Columbia. Leisureworld subsidiaries include: Preferred Health Care Services, an accredited provider of professional nursing and personal support services; and Ontario Long Term Care, a provider of purchasing services, and dietary, social work, and other regulated health professional services.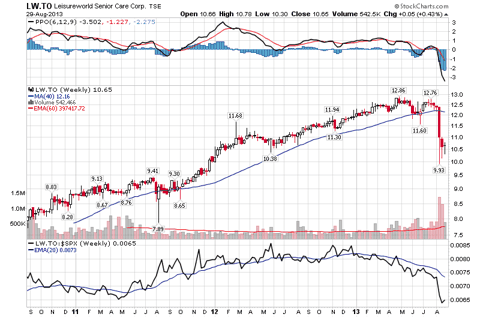 Insider buying during the last 30 days
Dino Chiesa purchased 3,500 shares on August 20, and currently holds 18,500 shares or less than 0.1% of the company. Dino Chiesa is Chairman of the Board. Dino Chiesa increased his holdings by 23.3% in August.
Jack MacDonald purchased 4,000 shares on August 26, and currently holds 9,000 shares or less than 0.1% of the company. Jack MacDonald serves as a director of the company. Jack MacDonald increased his holdings by 80% in August.
John McLaughlin purchased 10,000 shares on August 20, and currently holds 20,000 shares or less than 0.1% of the company. John McLaughlin serves as a director of the company. John McLaughlin increased his holdings by 100% in August.
Insider buying by calendar month
Here is a table of Leisureworld's insider-trading activity by calendar month.
| | | |
| --- | --- | --- |
| Month | Insider buying / shares | Insider selling / shares |
| August 2013 | 17,500 | 0 |
| July 2013 | 0 | 0 |
| June 2013 | 1,400 | 0 |
| May 2013 | 0 | 0 |
| April 2013 | 0 | 0 |
There have been 18,900 shares purchased and there have been zero shares sold by the insiders since April 2013.
Financials
Leisureworld reported the second-quarter financial results on August 14, with the following highlights:
| | |
| --- | --- |
| Revenue | $83.2 million |
| Funds from operations | $6.9 million |
| Net loss | $1.0 million |
| Cash | $34.6 million |
| Debt | $460.7 million |
Outlook
Leisureworld continues to benefit from strong industry fundamentals including favourable demographics and high occupancy in its long-term care portfolio. Management continues to focus on improving occupancy in the retirement portfolio and improving the net operating income performance of all business segments. It is expected that the improvements in the management of the retirement home portfolio will be realized over a period commencing in late 2013 and throughout 2014.
Competition
Numerous other seniors housing facilities compete with Leisureworld in seeking residents. While the existence of competing owners and competition for Leisureworld residents could have an adverse effect on Leisureworld's ability to find residents for its seniors housing properties and on the rents charged, and could adversely affect Leisureworld's revenues and its ability to meet its debt obligations and Leisureworld's ability to pay dividends on its common shares. Any impact from competition in relation to the long-term care homes is expected to be mitigated by the wait list numbers for long-term care and the barriers to entry into the long-term care industry.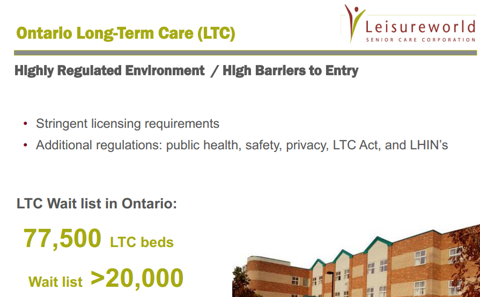 Conclusion
There have been three different insiders buying Leisureworld and there have not been any insiders selling Leisureworld during the last 30 days. All three of these insiders increased their holdings by more than 10%.
There are four analyst buy ratings, five neutral ratings and zero sell ratings with an average target price of $12.79. Leisureworld has a book value of $6.45 per share and the stock has a dividend yield of 8.5%. I have a cautiously bullish bias for the stock currently based on the intensive insider buying.
Disclosure: I have no positions in any stocks mentioned, and no plans to initiate any positions within the next 72 hours. I wrote this article myself, and it expresses my own opinions. I am not receiving compensation for it (other than from Seeking Alpha). I have no business relationship with any company whose stock is mentioned in this article.