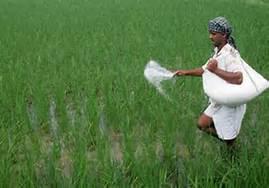 It has been one month since the BPC cartel breakup announcement on July 29-30 rocked the world's potash suppliers. There have been many articles, varied takes and analysis done on specific stocks and the entire industry, from the macro implications and ramifications on down. Recently, news broke on an Indian government program being enacted to subsidize grains for farmers and the poor. That will likely have an affect on potash, but the news could be favorable or unfavorable. Investors won't know until the subsidy plan is implemented and has some ripples on the limping Indian economy. Other news on India's demands on the Uralkali company regarding lower potash prices also came to light on August 16th.
I have been following the various media, as well as reading all of the SA and related takes on the updates on this still uncertain tale as it unwinds and plays out. We are not near the finish line. In fact we are still inside the dark tunnel, figuratively. At least there is no discernible sound of a locomotive emerging from the pitch black (as of yet).
My initial article on this development came out the day of the sell-off, and needless to say, it received a lot of readers and comments. "Potash And The Fertilizer And Agriculture Companies: Don't Panic Is Rule # 1," came out on July 30, 2013. My position was long, and it remains that way, barring any potentially devastating news that could damage the company-specific fundamentals or the entire industry. Frankly, I don't see the latter happening even in a "Black Swan" worst case scenario. The world's demand to be fed and the need for the essential fertilizers are a must have in a growing, hungry world.
My initial commentary was criticized by some as a "rant," a "rambling stream of consciousness," and several other descriptions, and that was exactly how I intended it to be…..on the surface. I attempted to satirize and emphasize the panic and fear that resulted in the 20-25% correction that ensued, and some thought me crazy to step into the smoky fray, doubling down on Potash Corp. (NYSE:POT). I would have bought several other companies just as brazenly that day, and the following week, if I had the cash available. Doubling my position was my share though. A good start.
Most notable among my critics was a contributor on Seeking Alpha who happens to be an analyst at a European-based hedge fund. It was amusingly humorous to me to read his subsequent article published about a week afterward. He had done a little bit of due diligence after taking a short position on some of the U.S. and North American producers, and the supporting facts disproved his macro view, as he discovered later. He fired before he aimed, something that we Americans could have admonished the Red Coats about, back in the day. Even pros sometimes "know not of what they speak," as I believe either a biblical prophet or The Bard had coined, back in the real olden days.
Generally, though, my analysis (or "rant") received many compliments, the majority from like-minded people, some of whom also got long in their companies of preference shortly thereafter.
Beneath the superficial-seeming commentary were the hidden gems, the crux of a number of scenarios - possible plans of action taken on behalf of cartel members in CanPotex, the individual fertilizer companies, the powerful array of end-customers, big-name influencers and leaders, movers and shakers at large, and even governments far and wide, and allies and enemies alike, all who likely would have their respective interests roiled, made uncertain by this development.
Some of these presupposed scenarios are starting to solidify and pan out, at least in a general way, which is all anyone, including government leaders and economists, senior managements of the fertilizer and agricultural companies, and even braggadocio-encumbered European hedge fund traders could have put forth with any degree of accuracy.
The underpinnings I posed included double-crosses, asset-seizures and other forms and shapes of treachery, and the most recent month's articles published on SA have missed some of these aspects, to my knowledge. I have to write to bring the most notable and telling news t that came out, as no one has commented this vital piece of my asserted theme song, entitled "RANT."
From SA Market Currents; Mon., August 26, 2013: Report:
Belarus intends to seize Uralkali assets • 3:15 PM

The potash spat continues to get uglier, as Belarus investigators reportedly intend to seize property and assets of Russia's Uralkali (OTC:URALL) following the collapse of the joint Russian-Belarussian potash venture.

Investigators say Uralkali had inflicted $100M in damages to Belarussian interests.

Belarus earlier today detained Uralkali chief Vladislav Baumgertner, drawing a fierce rebuke from Moscow. [POT +2.9%, MOS +1.7%, AGU +3.6%, IPI +2.5%, RNF +4.6%]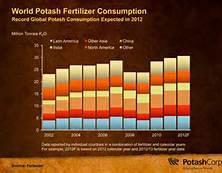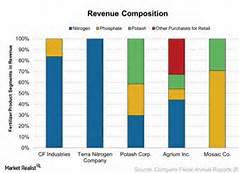 Political ramifications (of a nasty intent), indeed!
Update on the Stocks-The Widely-Owned Players
Since I am only long in POT, I know more about the company-specific news (Bill Doyle, POT's CEO virtual web conference Q & A), versus the other industry giants, although I watch the market and price action, and trading activity of those companies as well. Potash Corp. has held up well, aside from a few days where the shares fell below my buys on July 30th (of $29.19). The stock has held above that price, edging close lately though, in light of the correction that has dominated the markets at large during the past three weeks. Generally the $30.00 level has acted as support.
Potash One Year Chart With Lower Indicators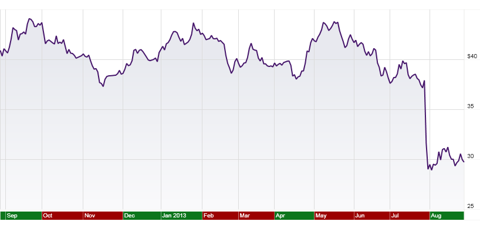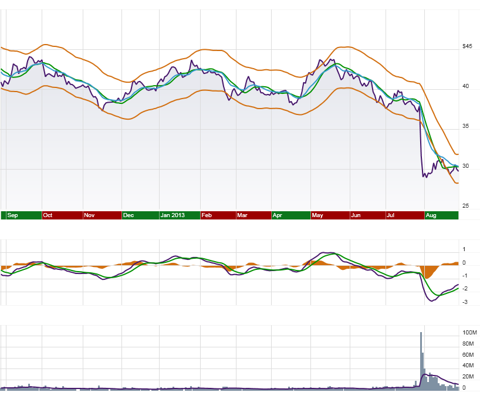 52wk Low/Date
$28.55 / 8/2/2013
% off 52wk High: -33.33%
% off 52wk Low: 4.06%
POT 5 Day Simple Chart-Aug. 22-Aug. 28 Close
(click to enlarge)
Potash has also maintained the current dividend distribution amount and the dividend policy, and had announced a large $2 billion buyback shortly after the selloff. Since the last earnings report was held just before the cartel break-up, we'll likely have to wait until October to hear news about the buyback's progress, or the quarterly filing for the quarter. I would hope that the company has been buying in at these levels on weak market days. The one real bit of negative news was this downgrade:
Thursday, August 8th, 2013; 11:41 AM

Potash Corp. bonds near junk status on price-cut threat

Potash (POT +3%) bonds teeter near junk status as traders bet the breakup of a cartel for the crop nutrient will lead to lower prices; POT's implied rating has dropped to BBB-, one level above junk, based on the cost to insure against losses in its bonds. "What is very helpful in a cartel-like environment is stability - when that unwinds, it can be very volatile and violent," a trader says; POT says its ability to raise cash in the debt market is "not in question." S&P cut its outlook on POT's credit rating to negative from stable on Aug. 6, citing the threat of lower prices.
Fertilizer-Agriculture Stocks: July 30-Current (August 29th)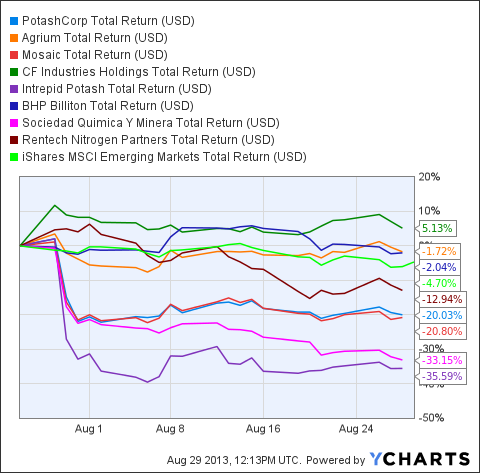 POT Total Return Price data by YCharts
Mosaic (NYSE:MOS), Agrium (NYSE:AGU), Intrepid Potash (IPI) and CF Industries (NYSE:CF) have been moving and trading hand-in-hand, with AGU, BHP and Rentech Nitrogen Partners LP (NYSE:RNF) trading the best, losing the least and rebounding the most since July 30th. IPI has sold off a lot more in the post-news period, as would be expected from a smaller, less established company with mine projects still in development. BHP Billiton Ltd. (NYSE:BHP) announced plans to proceed with its Jansen Mine Project in Saskatchewan, Canada, potentially tapping the largest and longest-lasting supply in the world known at this time. Scotiabank (NYSE:BNS) recently commented on Jansen, stating that the added supply "could add the equivalent of 18%-20% of the potash market over recent years." Nearly all of the companies mentioned have had a pretty predictable mix of upgrades and downgrades. That's what makes a market.
The Former "Cartel Club" BPC
Meanwhile, Uralkali, or Uralkaliy OAO, in the Russian Cyrillic Slavonic language, is down -37.90% YTD, right along with its cohort in North America.
Uralkali URALL One Year Chart Aug. 29 2012 to Current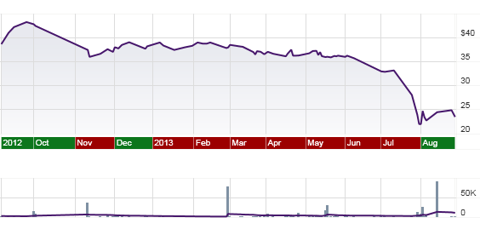 On the breaking news of the BPC break-up, and in my reactionary investment thesis of stability, equilibrium and long-term prosperity in most of the established, diversified potash suppliers, I posited in-depth about the likelihood of "self-sabotage" set into motion by both Uralkali and Belaruskali. My thesis is panning out with some expected developments, namely double-crossing, treachery and political repercussions. On the clear basis of the ongoing and escalating events coming out from the Russian corporations and governments, it appears that my initial views and suspicions are indisputably panning out to be true.
I hinted at ulterior motives, back-channel international discussions and persuasion, informal and secretive, possibly duplicative, deals, asset seizure [s], and these types of actions have started and continue to occur on a regular and more rapid basis. My scenario is starting to gel. Judge for yourselves:
"Putin Sway over Lukashenko Strengthens as Potash Bet Backfires"
By Scott Rose & Aliaksandr Kudrytski - Aug 1, 2013 2:00 PM PT
That sounds like a bad move for Belarus. They're now obligated to Putin/Russia. He's "reelin' them in." Wait until they start depending on China to buy their assets at a discount, and then get their shot at enacting an import tariff, or some other sly move, "Free Trade," China-style. I made these comments on SA on 9 Aug, (07:37 AM). Real time quotes helps flesh out a timeline, and it never hurts.
More Recent News
(All news from SA Market Currents): Friday, Aug 16th, 2013; 3:12 PM
Potash miners under pressure as Indian buyers demand discounts

Indian potash buyers, the second biggest source of potash demand after China, are demanding deep discounts as Russian miner Uralkali, which shook up the sector's cartel system last month, hikes production to full capacity and threatens to send prices plunging. The moves will further pressure shares of global potash miners, who have already lost up to 20% of their stock market value since the breakup of the cartel.

Monday, Aug 26, 2013; 8:56 AM

Uralkali CEO detained in Belarus

The head of Russian potash producer Uralkali has been detained in Belarus on suspicion of abusing his position and official powers. Belarus is a staunch Russian ally, but Uralkali's surprise decision to quit the potash trading venture with BPC in July strained relations between the two countries; a cheaper potash price could hit the value of Belarus' currency. Separately, Uralkali reportedly is in talks to buy distributors on key markets to maximize sales, part of its new low-cost strategy.

Tuesday, Aug 27, 2013; 10:34 AM

Russia-Belarus potash dispute sparks diplomatic row

Potash companies slide as yesterday's arrest in Belarus of the head of the Russian potash company Uralkali threatens to turn into a major diplomatic row. The recriminations, and a threat by Belarus to hold CEO Vladislav Baumgertner for at least two months, suggest there is little hope of an early reconciliation in the potash dispute that has already lowered prices. The break-up of Belarusian Potash could have serious consequences for Belarus, where potash made up more than 7% of exports last year.

Wednesday, Aug 28, 2013; 2:59 PM

No resolution of Russia-Belarus potash spat in sight

Tensions between Russia and Belarus continue to escalate after the arrest of Uralkali's CEO, as Russia reportedly orders its oil companies to cut supplies to Belarus by 25%. BMO says Belarus likely will be pressured into releasing the CEO but not likely that the cartel-like potash arrangement can be re-formed given the "breakdown in trust"; the issue going forward is whether Uralkali's stance on potash volumes is maintained or revised.
These two countries are behaving like the Hatfields and the McCoys!
I'm not assured of a Russian/Belarus cartel, China persuading the President of Belarus to compel the partnership to split, as if he and China will exert more control over the single company, the likelihood that the Belarus President has other ulterior motives on exporting more potash on sheer volume, (probably to enact an export tax on them), as the Belarus government is dirt poor and needs tax revenues, and potash sales are about 10% of the country's total GNP. China's and India's Debt-to-Equity of 0.3 will probably hit them with new import taxes.
Neither of those two nations will rely on 100% of their potash to be supplied exclusively by a corrupt nation whom they just influenced to give away 8-10% of their wealth. China and India can't hedge potash costs in Belarus currency, but can in the U.S. and Canadian Dollars. Should I continue to list the Belarus-Russian headwinds?
I believe CanPotex can form another functioning co-op that will effectively offset any adverse effects of the current situation.
In a loosely related write-up, "Cheap Corn, Weak Wheat, Stockpiles Of Soy: A Bet On The 'Softs' With A Commodity Fund," Aug. 6 2013; (includes: ADZ, AGA, AGF, CBOE, CME, DAG, ICE, MOO, PAGG, RJA), I covered the Deutsche Bank PowerShares DB (NYSE:DB) Agriculture Fund. (NYSEARCA:DBA) is based on Deutsche Bank's Liquid Commodity Index Diversified Agriculture Excess Return™ and managed by DB Commodity Services LLC. This, and the other ETFs, ETNs and funds included in the byline are all decent ways to play the agriculture "softs" and livestock markets, if that's what investors want to gain more exposure to.
It's gratifying and satisfying to see that the Western Hemisphere players haven't had to lift a finger yet to watch the self-sabotage occur with increasing momentum. They are just quietly going about their business. When will we hear "Checkmate?"
Smart long-term investors that have held, added or initiated long positions in any of this collection can rest and stay assured the food will never go out of style or demand. I intend to hold Potash and any of the other companies for a lifetime for that reason alone, or at least a twenty to thirty year period. Where do you think crop and food trends are going to go out that far?
Even so, a bullish investor with less conviction should consider hedging either through short positions, pair trades, ETFs (and the inverse brethren), pure commodity derivatives, futures, and/or options strategies.
In my initial article I wrote, referring to the fertilizer companies outside of the Russo-Belarus cartel, BPC, "Can't these other large and equally powerful potash and agri-companies come together and reform a cooperative agreement, and get back to business in a reasonable time frame? I'm sure it can be done. Can they form their own cartel, get government aid, and/or other interests to also invest in a set of infrastructure solutions to fill the supply-demand void. Probably. Many other stakeholders have self-interests to protect.

Some of them are already on the phone, working up spreadsheets, trying to create a new line of business as we speak. Would investors like Warren Buffett and Wilber Ross, T. Boone Pickens and who-know-who seize the opportunity to lease ships, consult with a dozen global ports, railroads, trucking companies, and logistics corporations, as well as warehouses in Turkey, England, China, Panama, etc.?

Why don't we reach out to Monsanto (NYSE:MON), Syngenta (NYSE:SYT), Deere (NYSE:DE), DuPont (NYSE:DD), Kroger (NYSE:KR), Kellogg (NYSE:K), General Mills (NYSE:GIS), and the other grocery chains, Wal-Mart (NYSE:WMT), Target (NYSE:TGT), Costco (NASDAQ:COST), Panera (NASDAQ:PNRA), Amazon (NASDAQ:AMZN)…..you get the picture.

Let's call the Department of Commerce, Dept. of Agriculture, the FDA, Homeland Security, the IMF, the Eurozone PMs and sovereign leaders, the Israeli govt., the Brazilian, Mexican, Argentinean, Peruvian, and Chilean governments, China and Japan, Ireland, Canadian administratiosn. We can start a grass roots farmers' co-op., spur the Obama Administration restart talks on an infrastructure bank. Would the ethanol producers, refiners, and end customers help us with this project?

Since price imbalance at prolonged low rates could put us out of business, we need to assure any possible partnerships that, if they can help ensure the normalization of supply levels and resume the sales channels, we can shut operations, store lots of gross supply, and regulate the price structure the same way that is has been maintained, and business as usual. Food security is vital to all of us."
Luckily, the major fertilizers haven't had to take any of these defensive measures, and the former BPC implosion has gathered a nasty momentum. Putting aside the large and important humane aspects, political and future repercussions and my own personal sentiments, from a purely economic side regarding potash stability, I would like to see:
1) Imposed limits and restrictions on India, limiting the nation to fertilizer purchases mainly from the Belarus or Russian suppliers. That will impose a lesson on "demanding" lower prices. You got the news, the quotes, the source, and the "promise," so stick with your discount store, India. This will reinforce the futility of front-running the balance and reliability that came from the stable agreements and supply channels in place prior. Plus, your Rupee isn't worth much nowadays, and it's sliding in the wrong direction…down.
2) The North American and allied national suppliers reroute supply channels into and out of Israel. This will be a strategic move, bypassing all the hot and hostile Middle Eastern nations. It would pave a new "Silk Route," via potash. This distribution point would serve Turkey and all the Mediterranean and MENA-based customers. The results would be a decreased dependence on the Russian and Belarusian potash miners. The additional safety would generate interest and higher demand from some of the Eastern European and peripheral nations.
3) Leverage the bargaining and renegotiate terms with other large and high-demand customers, like China and Brazil. Renew and secure stable contracts. Start at lower price points with them if necessary, but demand an "Escarole Fee" in a safe bank, ensuring no backing out of contracts that escalate prices per ton in the out years.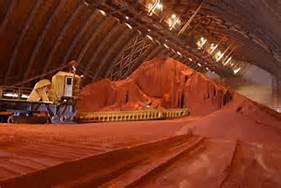 Conclusions
There are none, simply put. As has been phrased ad nausea lately regarding "tapering," Syria," the "Debt Ceiling," etc., there are too many unknowns, "known unknowns," "unknown unknowns," and all the other fear and uncertainty descriptors and derivatives in the potash saga. The main instigators are both wildly unpredictable, and that's predictable in and of itself. They are "sterlingly"-established at conjuring the X Factor in any political, quasi-political and economic factors.
China needs potash, potassium and nitrogen in nearly every viable and practical form, as the nation's land is nutrient and mineral poor, at least for crop production. The land has been farmed for thousands of years by a huge population throughout and before modern history, and the people have largely been farmers in the historically predominant agri-centered society.
No nation, especially one as large as China, the second largest economy in the world with the largest population, will ever, ever depend on a sole supplier for any commodity that it needs such a great amount of. Especially when both food dependence and the very poor quality of its own domestic food supply is so vital.
North America in itself has a huge demand that can support all of the western companies, and farming is virtually year around. The demand comes renewed every year, barring crop specific headwinds. Potash wasn't traditionally sold into the Indian markets for that long, relatively, and producers survived without their demand. We also have well-established Latin American and European customers, enough to anchor some support level for these companies.
On those fundamentals, and with that as the backdrop, I remain as staunchly bullish as ever. Agriculture and food themes, in light of growing populations and demand for food and crop production, is as safe a long term thesis as anyone can invest into, right up there with death and taxes.
Recommendation
With the Majors reading at roughly the same low points that the sector reached around the July 30th news, and the escalating unraveling and uncertainty crowding the stage in the Belarus/Russia "Fertilizer Wars," that skirmish should provide support to the viability and longevity of stable potash sales volumes for the CanPotex and independent North American companies, particularly the firms that sell the broader products into the agriculture channels. Accumulate on weakness, with ears and eyes open for any headwinds implied by future news events.
Should this thesis fail, we all will have bigger problems. That's the time to invest in the gun manufacturers, attack dog breeders, big, bad friends, armored vehicles and concrete and steel bunkers.
Good Luck to All on Seeking Alpha!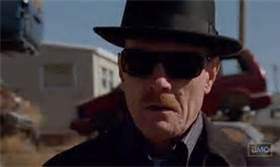 Disclaimer: The opinions in this document are for informational and educational purposes only and should not be construed as a recommendation to buy or sell the stocks mentioned or to solicit transactions or clients. Past performance of the companies discussed may not continue as implied, projected, or assumed. Any investment information contained within these materials are not an intention to advise individuals to invest, sell, promote, market or advertise any company or investment products.
These are the writer's opinions, personal recommendation, are based on individual analysis, and material facts contained within all contained and related content may differ materially, is subject to change, and taken from multiple sources. All investors should do suitable due diligence before making any investment decisions as a result of any facts, information, or opinions in this article. Information in this analysis and report should be used as only a single factor in making their investment decision.
The Contributor-Author is not responsible for any error which may be occasioned at the time of printing of this document or any error, mistake or shortcoming. No liability is accepted whatsoever for any direct, indirect or consequential loss arising from the use of this report. The author expressly disclaims any fiduciary responsibility or liability for any consequences, financial or otherwise arising from any reliance placed on the information in this document. The author does not (1) guarantee the accuracy, timeliness, completeness or correct sequencing of the information, or (2) warrant any results from use of the information. The included information is subject to change without notice.
Disclosure: I am long PNRA, POT. I wrote this article myself, and it expresses my own opinions. I am not receiving compensation for it (other than from Seeking Alpha). I have no business relationship with any company whose stock is mentioned in this article.