Hyundai Motor Company (OTC:HYMTF) is a South Korean based company, being the world's most profitable major automaker measured by operating profit margin. The company has achieved over the past few years an operating profit margin of about 10%, which is much higher than its global competitors average, which includes Ford (NYSE:F), General Motors (NYSE:GM), Toyota (TM) or Honda (NYSE:HMC). Moreover, Hyundai is also trading at lower multiples than its peers, making it a compelling value investment for long-term investors. The company has a market capitalization of $24.7 billion, and is traded in the U.S. in the over-the-counter market.
Company Profile
Hyundai, together with its subsidiaries, engages in the manufacturing and distribution of motor vehicles and parts across the globe. Hyundai was founded in 1967, making cars in Korea for Ford. At the end of 2012, Hyundai had almost 100,000 employees. Its main shareholders are Hyundai Mobis with an equity stake of 20.78% and Mong-Koo Chung with a stake of 5.17%. Hyundai Motor is the largest automaker in Korea, with almost 50% of domestic market share. The company also owns 38% of Kia, the second-largest automaker in Korea. Together, Hyundai/Kia is the world's fifth largest auto manufacturer based on annual sales volume. The company entered in the U.S. market in 1986 and opened its first local factory in 2005.
Hyundai's business segments comprise automotive, financial and others. Automotive accounts for about 84% of the company's sales, followed by financing with a 10% weight on sales. The company sells mainly compact cars, mid-size cars and SUVs, which jointly account for more than 90% of Hyundai's automotive sales. Over the last few years, Hyundai has been able to achieve good volume growth, with unit sales increasing each year since 2007. Even during the global financial crisis of 2008-09, when most of its peers saw significant unit declines and major U.S. automakers were at the brink of bankruptcy, Hyundai was able to post small unit growth. In 2012, Hyundai sold almost 4.4 million cars worldwide, an increase of 7.1% from the previous year, accounting for about 5.7% of the global market. This good performance is justified by the company's improved quality and enhanced brand image achieved over the last few years, making its product range much more competitive on a global basis.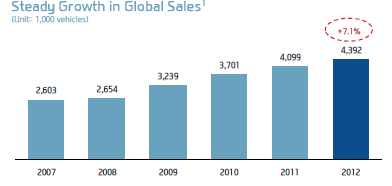 Source: Hyundai
Geographically, Hyundai's sales are very well diversified around the globe. China is the company's largest individual market accounting for 19% of its sales, and should continue to boost Hyundai's growth over the coming years. Its second largest market is the U.S. having a weight of 16%, followed by Korea and Europe. Other markets, including Africa and Latin America, account for 26% of Hyundai's sales as shown in the next graph.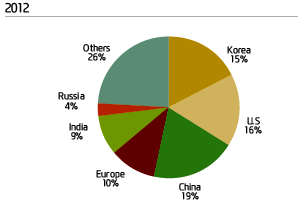 Source: Hyundai
The company's production is also spread around the globe, with Korea accounting for 43% of cars manufactured, 19.4% in China, and 14.5% in India. Hyundai has also some production in the U.S., Czech Republic, Russia, Brazil and Turkey.
Financial Overview
In 2012, Hyundai's sales amounted to $75.6 billion, an increase of 8.4% from the previous year. Its operating income was about $7.55 billion, or an operating margin of close to 10%. This high operating margin is by far the highest among major automakers, and close to premium car makers like BMW (BAMXY.PK). Over the past few years, Hyundai has shown the most consistent operating performance relative to its closest competitors, at close to 10%.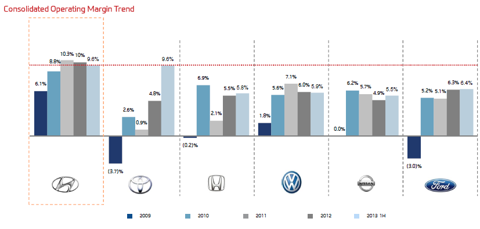 Source: Hyundai
This strong profitability is partially explained by the company's higher than average capacity utilization and low inventory levels. This enables Hyundai to be more efficient than most mass-market automakers, especially compared to its European peers that suffer from structural overcapacity. Moreover, due to its low inventory levels, there is less need to mark down prices to boost sales, leading to high structural operating margins. Its vertical integrated business model, given that Hyundai Steel is its major supplier of raw material, also allows the company to have lower costs than peers, leading to a structural cost advantage.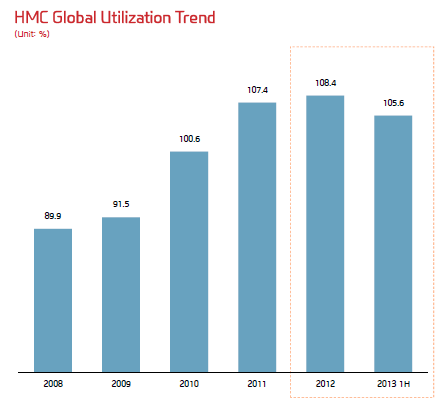 Source: Hyundai
During the first six months of 2013, Hyundai was able to maintain its growth path despite weak auto markets, especially in Europe. Its sales increased by 5.8% to $40 billion compared to the first six months of 2012, but its operating profit declined by 7.7% to $3.8 billion. Nevertheless, this still represents an operating margin of 9.6%, which is impressive for a major automaker.
On the negative side, given its global footprint Hyundai is naturally exposed to currency fluctuations, which can impact the company's sales, earnings and cash flows. However, to mitigate these risks, Hyundai has implemented hedging, settlement currency diversification, and reduced exports from Korea. Nevertheless, especially on a quarterly basis, the company's results can be volatile due to currency movements against its reporting currency, the South Korean Won.
Going forward, Hyundai expects to achieve growth and higher profitability through improvement in brand value, new products and an enhanced cost structure. In 2013, the company expects to sell more than 4.66 million cars worldwide, a 5.6% increase compared to 2012. The company is also developing "green cars" through the development of hybrid and fuel cell electric technologies, but this still represents a small percentage of the company's sales.
Valuation
Hyundai is currently trading at relatively low valuation multiples compared to its peers Volkswagen (OTCPK:VLKAY), Ford, Toyota, Honda Motors and General Motors. Currently, Hyundai is trading at only 6.9x its 2013 estimated earnings, a 30% discount to its peers. Based on enterprise value multiples its valuation also appears to be undemanding. It is trading at only 3.2x EV/EBITDA, and only 0.4x EV/Sales, significantly lower than its peers group despite its much higher operating margins. Only based on the price to sales ratio and dividend yield is Hyundai trading more expensive than its peers' average. Moreover, Hyundai has been able to reduce its indebtedness over the last few quarters, and has currently a net debt to EBITDA ratio of 2.3x which is acceptable given its good profitability and growth prospects.

Source data: Bloomberg
Conclusion
Hyundai offers a compelling value opportunity, posting good sales growth, the best profitability among major global auto makers and a very cheap valuation. In the short-term, the company may be effected by negative news flow due to labor strikes in Korea, but given its undemanding valuation investors should focus on the long-term value proposition. Therefore, Hyundai seems to be a buy on dips for long-term value-driven investors.
Disclosure: I have no positions in any stocks mentioned, and no plans to initiate any positions within the next 72 hours. I wrote this article myself, and it expresses my own opinions. I am not receiving compensation for it (other than from Seeking Alpha). I have no business relationship with any company whose stock is mentioned in this article.